Cast Interviews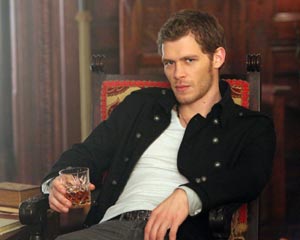 EW has an interview with Torrey DeVitto.
Check it all out here.
Here is an excerpt:
ENTERTAINMENT WEEKLY: Last week's episode established that Dr. Fell is a member of a Founding Family and on the Council. So has she been in town for awhile and we just haven't met her until now?
TORREY DEVITTO: When I talked to [exec producer Julie Plec], my take on it was that she's obviously from there, left and went to medical school, and she's just coming back into town.
———————————————————————————————————————–
TV Line has an interview with Joseph Morgan.
Check it all out here.
Here is an excerpt:

TVLINE | They're introducing your brothers, Kol and Finn. What's Klaus' dynamic with them like?
What's wonderful about that is that the writers have really worked to make these two guys individual. It's not just like there are these two badasses, and they're both the same and you can't tell them apart. They really have distinct personalities ,just like Elijah and Klaus are very different. … You can't say Kol is "kind of like Damon" or Kol is "kind of like" that. They're really not. They're on their own, and they have distinct motives and relationships. It's just been really interesting bringing in, again, a new dynamic. I feel like we're getting closer and closer to a spin-off.
———————————————————————————————————————-
E! Online has an interview with Candice Accola.
Check it all out here.
Here is an excerpt:

"I'm really excited there's an episode where there's a ball. Everyone got to get all dressed up," she says. "We took ball dancing lessons. It was really fun. I'm excited for people to see that episode for many more reasons besides the fact that we got to get dressed up, but I don't want to give those reasons away. I'm just going to say because we got all dressed up, which is code for a lot of s–t goes down."

———————————————————————————————————————-
Collider has an interview with Joseph Morgan.
Check it all out here.
Here is an excerpt:
Question: When you play a character that's lived for so long, how do you approach the backstory for that much time?
JOSEPH MORGAN: It does go on forever. There's a certain amount that's developed for you, through the flashbacks, and then you fill in some of the gaps. I tend not to make up too many solid events that he's been through because then that informs what I'm playing, and then that's redefined by the writers anyway. When I joined the show, I didn't know that Stefan and Klaus had a history together. My first few scenes that I was playing with him, I had no idea that it was going to go back and that you would find out that we knew each other, for years. Back in the '20s, we were friends. So, it's useful, to a certain extent, to make backstory and think about that, but to create anything that's too solid is detrimental, when you're playing things, later on.