Season 1 » The Turning Point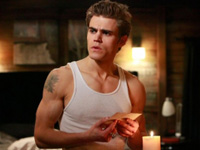 Logan is frustrated when he finds that he can't convince Jenna to invite him into the house. Leaving, he comes across a jogger and luckily for him is also a fan of his. Fangs bared, he sinks his teeth deep into her throat to quench his new ravenous thirst.
While looking through old boxes of his family's history, Jeremy stumbles upon many drawings of demons and other dar4k creatures. Reading old journals of John Gilbert's, Jeremy becomes more and more fascinated. Soon, he drags out his sketch pad and begins to draw images.
Sheriff Forbes stops by to tell Damon that they found another body drained of blood and their throat ripped out. This of course concerns Damon immediately since he knows it wasn't him this time. That means there's another Vampire in town and he has no idea who he or she is.
Stefan surprises Elena at school but sadly he is only there to tell her that he will not be leaving town until they figure out who this new Vampire threat is.
Once again, Damon compels Caroline to help him use the Gilbert watch to locate the new Vampire's lair. Once discovered, he has her go home unharmed. Walking into the dark warehouse, Damon is suddenly struck by wooden bullets. Logan is sure that Damon is the one that made him a Vampire and he's not quite happy about it. Damon tells Logan that it wasn't him that turned him and he has no idea who did.
At the Career Night at school, Caroline feels a bit uncomfortable when she sees Elena and Matt talking privately together. Matt tells Elena that he and Caroline are just friends. Their conversation comes to a complete stop when Elena sees Stefan standing in the door way. Walking over to him, she finds out that he's just there to watch over her.
Jenna shows up to ask them to help hide her from Logan. This, of course makes Stefan nervous since he's the one that killed Logan. Stepping into the hallway, he sees Logan and Logan gives him a little wave. Stefan warns Elena to make sure that she and Jenna stay away from Logan.
Excited, Caroline brings her mother over to the career booth that she wants to pursue…broadcast journalism. Her mother's only reply is "you don't even read the newspaper". Upset, Caroline walks away from her mother.
Turning around, Sheriff Forbes is stunned to see Logan in front of her. She knows he should be dead and now knows who the latest Vampire is in Mystic Falls. Convinced that she betrayed him, he threatens her and walks away.
Jeremy sees Tyler's drawings at the booth and decides to comment about them to him. One thing leads to another and soon the two are fighting again about Vicky. Tyler's father, Mayor Lockwood and Jeremy's teacher, Ric break up the fight. Mayor Lockwood takes the boys outside to handle the situation.
Waiting outside for Bonnie to come pick her up, Caroline runs into Logan. He insists that he be the one to give her a ride home. Once in and buckled up, Logan waste no time in striking her and knocking her out. His goal of course is revenge against Sheriff Forbes by turning her daughter into a Vampire.
Outside the school, Mayor Lockwood has decided to have the boys fight it out like "real" men. Of course, the "boys" Tyler and Jeremy really want no part of that. Mayor Lockwood becomes more insistent and forceful before Ric shows up to have his say. Not liking anyone butting in, Mayor Lockwood threatens Ric with his job for interrupting but that doesn't stop Ric. He manages to avoid the boys fighting each other but has definitely made an enemy out of the mayor.
Sheriff Forbes receives a call from Logan and finds out that he has taken Caroline and is threatening to turn her into a Vampire. Before he could say one more word, he is ripped out of his car by Damon and shot with wooden bullets. Getting on the phone, Damon assures Sheriff Forbes that Caroline is alright and that Stefan was taking her to the hospital.
Damon still tries to find out who the Vampire was that turned Logan but he will not say. After much more of Damon's "insisting", Logan tells him that there is someone else like him trying to get into the tomb under the old tomb. This of course peeks Damon's interest immediately. Hearing sirens coming closer, Logan tells him to meet him at the church later and Damon quickly agrees. Staging a fight for the police's sake, Logan is able to escape.
Seeing Tyler alone outside, Jeremy approaches him and asks him if his father is like that all the time. If he is, Jeremy says that it must be hard and he understands. Of course, Tyler doesn't want anyone's pity and reacts the wrong way by punching Jeremy in the face.
At the hospital, Elena meets up with Stefan and finds out that Caroline is going to be fine. Refusing at first but soon agrees, Stefan allows Elena to drive him home. Stefan tells Elena that he is leaving to protect her and that he's doing all for her. At his house, he steps out of the car and walks away. Elena too steps out of the car because she too has something to say. She tells him that she loves him. Not being able to control himself any longer, Stefan turns around and walks back to her. Embracing each other, they begin to kiss passionately.
Once inside, the two kiss their way up to his bedroom. Suddenly, Stefan turns his face from her. His face changes when he feels strong emotions and he didn't want to scare Elena. Elena knows this and gently takes his face and looks into his eyes and begins to kiss him again. Soon they are both on the bed together and they begin to make love.
Soon after, Stefan heads down stairs to get Elena something to drink. Alone in his room, Elena takes this time to look around. She soon comes upon the picture of Katherine. She is visibly upset to see that Katherine looks just like her. A few minutes later, Stefan enters the room to find Elena gone. He sees the photo of Katherine, realizing why she left but he also notices Elena left the necklace with the Verbena there too.
Leaving the abandoned warehouse to meet up with Damon, Logan is shocked to see Ric standing before him. Ric is there to warn Logan away from Jenna. Wanting to use his "new" powers, Logan bares his fangs to teach this guy a lesson but it is he who learns a lesson. Ric pierced Logan's chest with a sharp dagger and he drops to ground and soon dies.
Heading out to the old church to meet up with Logan, Damon gets a call from Sheriff Forbes about Logan's death and all the bodies they found in the warehouse. Closing the phone, Damon now has no one to tell him who the newest Vampire was that turned Logan since Logan himself was now dead.
Driving home from Stefan's, Elena was quite upset. The road was dark and the fog was rolling in now. Suddenly, a man appears in the middle of the road. Hitting him, she ends up going off the road and rolling down the side of the hill. Shaken and still strapped into her seatbelt, Elena sees the man straighten up all his broken bones and get up and walk towards her. She begins to scream.
The Turning Point Pictures