Season 3 » Smells Like Teen Spirit
The Vampire Diaries Season 3 Episode 6 Synopsis, Pictures & Soundtrack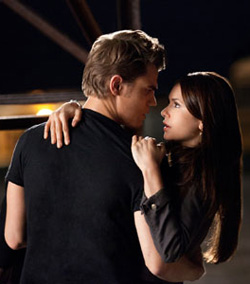 Alaric takes Elena out into the woods to teach her how to defend herself against Vampires. Seeing that her she is not as strong as she should be, he tells her to start lifting weights.
First day of school and Bonnie, Caroline and Elena reflect on the fact that they were all seniors now and how much their lives had changed. Elena becomes quiet and reflects on the fact that it was one year ago she had first met Stefan. Not wanting to dwell on it, she tells them "new year, new life".
Damon is not too happy when he sees how disrespectful Stefan's friends are being with their home. Telling Damon it was his home too, Stefan continues with his debauchery. Answering the door doesn't improve his mood when he sees Rebecca standing there. Barging in, she informs them both that Klaus left her and she plans on living there with them.
Pulling his old truck into a parking spot at school, Matt begins to think of Vicky and she soon appears. Seeing his loneliness, Vicky tells him that there is a way for her to come back. Before he can ask her how, Tyler pounds on his hood.
After Damon talks to Katherine regarding the Michael situation, he calls Elena. He wanted to warn her that Rebecca was now his unwanted house guest.
Elena sees Caroline hanging posters for that nights bomb fire when Tyler shows up. Giving Caroline a kiss and making her very angry when she tastes blood on his lips. She becomes more upset when she sees blood on his shirt. They both push him into the bathroom. There he confesses to drinking from a blood bag that Rebecca gave him.
Leaving the bathroom, Elena bumps into Stefan who is being his obnoxious self. Grabbing her arm, he tries to direct her but she tries to refuse. Soon Alaric shows up and finally manages to get Stefan to leave.
Matt walks out into the stoners yard at school in hopes of seeing Vicky. Seeing her, he asks her to explain how it would be possible for her to come back. Telling him she has help from the other side but they are soon interrupted by Jeremy. Jeremy acts like he does not see Vicky and walks away. He tells Anna that he saw Matt talking to Vicky and she was telling him about trying to come back.
Vicky finally explains to Matt that was a witch on the other side that can help her. There was a ritual that he will have to perform though. Not wanting to be alone anymore, Matt agrees to help.
Caroline is not too happy when Rebecca shows up at cheer practice. Caroline tells her that she just can't show up and infiltrate all of their lives. Rebecca informs her that it was only her life she wanted, especially her boyfriend. Making her angry even more when she watches Rebecca do a few difficult moves and winning over the rest of the squad.
Katherine tries once again to feed Michael blood and begins to drip it into his mouth. Soon it works and Michael awakens and demands her to stop feeding him.
Damon finds Elena in the weight room and teases her about being Buffy. Not wanting to be teased, Elena tells him that she wants to trap Stefan and lock him up. Looking into her eyes, Damon promises that no one will hurt her and he will do whatever she asks of him.
The bomb fire is in full swing and the group gathers in a private room to discuss the plan to trap Stefan. Tyler shows up and tells them that they cannot hurt Stefan. Seeing that Tyler seems unusually loyal to Klaus, he tells them all that it is because Tyler drank some of Klaus's blood. Not knowing anything else to do, Damon injects him with verbena and knocks him out.
At Matt's house, Vicky watches on as Matt performs the ritual. Telling Matt to focus on her, Matt grabs a knife and cuts open his hand. He drips the blood onto a portrait of him and Vicky. Next, she tells him to say that he "accepts him". Soon after saying the words, Matt feels the atmosphere change. Finally being able to touch Vicky, he quickly embraces her.
Turning around with a large wrench in her hands, Vicky tells Matt that she had made a deal with the witch. Asking her what kind of deal, Vicky tells him that Elena must be killed. Trying to stop her, Vicky swings the wrench at Matt and knocks him to the ground.
Seeing Rebecca all alone trying to roast marshmallows, Damon sits next to her. Grabbing her roasting stick, he shows her the correct way to do it. Realizing that he was trying to distract him, Rebecca stands up and plunges the stick into Damon's chest.
Tyler finally wakes up and sees Caroline waiting for him. She explains to him that since he was "sired" by Klaus, he has been acting like his old obnoxious self again and she wants no part of it. Ready to storm out, Tyler grabs her and promises to change because he never wants to be that guy again. Seeing that he was being sincere, Caroline begins to kiss him.
Stefan finds Elena at the top of the bleachers and she was acting pretty drunk. He tries to demand that she come down but Elena has other plans. Elena begins to hang off the side of the bleachers and tease him that she is going to fall. Pretending to lose her grip, Elena soon goes flying backwards. Before she hits the ground, Stefan is there to catch her. His body soon stiffens when Alaric shoots him with Verbena.
Alaric lays Stefan in the back of his SUV and Elena jumps in the front seat. Vicky watches on with a lit cigarette. She tosses it into the puddle of gasoline next to her and soon it erupts into flames. The stream of gasoline leads to the SUV and soon the vehicle goes up in flames. Alaric tries everything but the car doors will not open.
At this very time, after Matt's frantic phone call, Bonnie heads over to help him. He explains what had happened and Bonnie soon finds a spell that might help break the spell and send Vicky back. Bonnie begins to read the spell. Vicky begs Matt not to send her back but he says "good bye" and she soon vanishes.
Gasping for air, Elena is having trouble breathing in all of the smoke. She struggles to get to Stefan and make sure he was ok. Bonnie's spell soon breaks the witch's hold and Alaric is able to open the back of the SUV and get Elena out. They both reach in and pull Stefan out and to safety. Moments later, the vehicle blows up.
After Caroline leaves, Tyler gets an unwanted visit from Rebecca. She tells him she has brought him a present and he sees it's a young lady with a bite mark on her neck. Not being able to resist any longer, Tyler joins her in feeding off of the lady.
Promising that he will kill Klaus, Michael asks Katherine to release him from the chains. Looking down at his weak body, she tells him that blood would help. Telling her that he doesn't feed on living things, he reaches for her and begins to feed hungrily. Katherine struggles but soon collapses.
On her way out of the Salvatore home, Elena is stopped by Stefan. He asks her why she just didn't let him die in the fire. She tells him that she still has hope and will not give up. Stefan calls her pathetic which angers Elena enough that she stabs him with the Verbena.
Damon tries to clean up when he hears vases crashing to the ground. Yelling for Stefan to stop, Damon gets a shock when he looks up and sees it was Mason Lockwood. Catching him by surprise, Mason throws Damon hard to the ground.