The Vampire Diaries Episode 22 Synopsis, Pictures & Soundtrack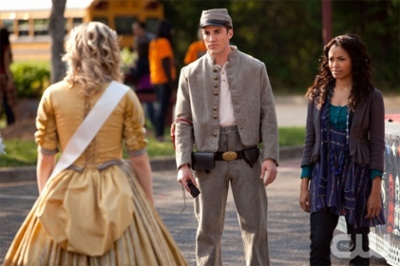 It's the day of the Founder's Day celebration and Elena is getting tied into her corset. Dressed in her period costume makes her look exactly like Katherine. Arriving at the town hall, Elena sees Stefan who is also dressed in his period costume. Damon approaches Stefan in his modern clothes and once again uses this time to tease Stefan about stealing Elena away from him. Elena begins to approach the Salvatore brothers and Damon and Stefan stop talking. They are both speechless because Elena resembles Katherine so much at that moment.
Back home, Jeremy too is getting ready for the parade. Turning around, he is happy to see Anna standing there. She tells him that she knows it was his Uncle John that killed her mother. Not wanting to defend John's actions but Jeremy tries to explain why he thinks John did it. He's afraid that the tomb Vampires want revenge on the town. Anna confirms it by telling Jeremy that John is right…the tomb Vampires do want revenge.
Anna informs Jeremy that she plans on leaving town and that she wants him to go with her. She tells him that she can turn him and they could be together. Anna hands over to him a vile of her blood telling him that it must be in his system before he dies so that the change can happen. Seeing his uncertain reaction, Anna leaves the room.
Back at the celebration, Stefan tells Elena that John is her birth father. Not knowing if she should confront John now because she is still trying to men her relationship with Jeremy. Telling Stefan that she doesn't think Jeremy will ever forgive her for erasing his memory of what happened to Vicky.
Caroline has Bonnie take a picture of her and Matt in their costumes. Now, wanting a picture of her and Bonnie, Tyler steps in to help. Seeing him, Matt leaves. Caroline informs Tyler that he will have to do more than just apologize to Matt for what he did.
The parade is underway and Bonnie sees Elena and Caroline on the Miss Mystic Falls float. Waving to them until Damon steps in and waves back at Elena. Telling him to go away, Bonnie walks off. Convincing her to listen to him, Damon wants to sincerely thank her for her help in undoing the spell on the device. Seeing he is truly thankful, Bonnie begins to have doubts about not actually doing just that. Before Damon walks off, he tells her that he owes her one.
Inside the vacant Gilbert office, John explains to Mayor Lockwood what will happen with the device. By inserting the key, there will be a high pitched frequency that only Vampires can hear. They will only have 5 minutes to act fast and inject all the incapacitated Vampires with verbena and drag them off to a deserted basement. Once in the basement, they will set the whole place on fire. He will activate the device as soon as the fireworks start.
Meanwhile, in another deserted room, the tomb Vampires are indeed planning an attack on the founding fathers and their families as soon as the fireworks start. The Vampires are shocked when Anna walks in. Seeing what they have planned, Anna breaks away to warn Jeremy.
Later at the Mystic Grill, Elena runs into Damon and he tells her that she looks better in modern clothing than the period clothing. Elena tells him that she's not sure if that was a compliment or an insult. Damon assures her that it was a compliment. Feeling that now would be a good time to discuss his "flirting" with her, she asks him to please stop because it is upsetting Stefan.
Seeing Jeremy behind Damon, Elena once again approaches Jeremy and tries to make amends but once again Jeremy wants no part of it. He even goes as far as telling her to "go to hell" and walks away.
Seeing this, Damon follows Jeremy and tells him to lay off of Elena. Damon stresses to Jeremy that it was not Elena's fault. That he himself is the one that erased his memory of Vickie. Stefan approaches and tells Jeremy that it was he who actually killed Vicky. Stefan tells him that it had to be done because Vicky was a danger to Elena and him. Not wanting to hear anymore, Jeremy walks away.
Once Sheriff Forbes learns of John and Mayor Lockwood's plans, she is completely against it. She is extremely upset that they even went behind her back and recruited all her deputies' to help out. Telling them that she is the Sheriff and she has the final say and it's no. Not liking her response, John asks Mayor Lockwood if he could talk with her privately. Once alone, John approaches Sheriff Lockwood and knocks her out. Taking her limp wrist, he handcuffs her to the desk and walks away.
Anna pulls Damon aside and informs him of the tomb Vampires plans to attack the town and kill the founding families. Damon races off and locates Alaric. He asks him if he has any of his "Vamp" weapons and tells him what the tomb Vampires have planned. Seeing Elena and Stefan, Damon warns them about the impending attack. They take off to find Jeremy.
Mayor Lockwood finds Tyler at the Mystic Grill and demands that he go home. Tyler tells him no until he realizes that his father is serious and that something is seriously wrong. Tyler agrees and the Mayor has him take Caroline and Matt with him too.
Just before John starts the device, he gets a visit from Damon. Damon has no time to convince John not to go through with his plan. Soon, John has started the device and Damon drops to his knees, holding his head in pain. Seeing his opportunity, John approaches Damon and injects him with verbena before dragging him off to the deserted basement.
Seeing Jeremy at the Mystic Grill, she takes him into the ladies room to tell him what's going on. Soon, she too is holding her head and cringing in pain. Jeremy tries to help her but has no idea what to do. The bathroom door opens and the deputies inject her and drag her out.
After the Mayors speech and the fireworks start, he takes his wife away quickly to hide in safety till it's all over. Before long, the Mayor himself drops to his knees in pain while his wife looks on helplessly. Calling for help, deputies show up and inject verbena into him and drag him off also. Driving home, Tyler too begins to feel the effects of the device. Holding his head in pain, he asks if Caroline and Matt can also hear the sound. They both say no. Moments later, Tyler is holding his head and can no longer steer the car. The car starts to swerve and within moments they all crash into a fence.
Stefan is also on his knees in pain and Elena has no idea what to do. A deputy approaches them but Alaric intercedes and tells the deputy that he has this one. The deputy goes off to locate anymore Vampires. They bring Stefan to a private staircase. They realize now that Bonnie had not reversed the spell on the device.
John closes up the device and heads down to the basement. Once there, he has the deputy pour gasoline on all the Vampires. Preparing to leave, John feels a hand grab his leg. Looking down, he sees it is Anna. He tells the deputy to leave and he will finish up. Once alone, John pulls out a wooden stake and plunges it into Anna's chest while Damon looks on helplessly. Setting the fire, John leaves the basement.
Mrs. Lockwood finds Sheriff Forbes and unlocks her. She tells her that the deputies have taken the Mayor and she has no idea why. They both head out together to locate the Mayor and figure out what's going on.
Down in the basement, the Vampires all begin to cry out in pain. Mayor Lockwood sees Damon and asks "what he is doing there"? Damon, in his usual way says he's a Vampire. Seeing it's the Mayor himself, Damon asks the Mayor what his excuse. Damon notices that the verbena had no effect on the Mayor and asks him "what are you"? Trying to crawl away, the Mayor soon finds himself confronted by an angry Vampire who quickly snaps his neck.
Ambulances arrive at the accident scene where Tyler is laying in a stretcher unconscious. Matt asks Caroline if she's alright and she tells him she's fine. Matt than approaches Tyler. The paramedics are working on Tyler but they get a shock when they check his pupils and see that they have changed to an vibrant amber color. A moment later, Tyler takes a giant breath and wakes up. Soon they hear a cry for assistance. It appears that Caroline was more hurt than she let on because she has passed out.
Using his heightened senses, Stefan tries to locate Damon. He soon discovers where he is and he and Elena head off. Soon, they are confronted by John. He tells Stefan to go ahead and race into the burning building because it will just save him the trouble of killing him himself. Elena tries to rush after Stefan but John tells her that if she does, he will call the deputies to follow Stefan. Asking him not to do it because he's her father, John let's her go.
At the back entrance to the basement, Stefan runs into Bonnie who warns him not to enter. He tells her that he needs to save his brother and doesn't listen to her warning and enters the burning building. Elena tries to also follow but Bonnie stops her. Bonnie begins to chant a spell that makes the flames stop long enough for Stefan to save Damon.
Later, Stefan tries to explain to Elena that he tries not to care about Damon but it is impossible. She tells him it's because he cares what happens to Damon and so does she. Seeing his face, Elena tries to convince Stefan that it is he that she loves. Kissing him, she tells Stefan that she needs to go to the school and get her costume and clothes before heading home to check on Jeremy.
Alone in his room, Jeremy gets a visit from Damon. Damon is there to tell him that Anna was dead and he saw her get killed. He explains that he wanted to help her so bad but because of the verbena, he was unable to.
Damon offers to erase the memory for Jeremy but Jeremy tells him no. Jeremy explains that it never really erases the memories or the suffering. It is always with him and he feels it every second. Jeremy asks Damon if Vampires can really shut off their emotions and Damon tells him yes. Damon tells him that he did it for a long time and it did make life more bearable.
At the hospital, Tyler tries to apologize to Matt about the accident. Telling him not to worry about it, the two seem to have mended their friendship. Sheriff Forbes arrives to inform them that Caroline has internal bleeding and that she is in surgery. Seeing Tyler there, she tells him that he needs to call his mother because she needs to tell him about his father.
Jeremy picks up the vile of Anna's blood and drinks it all down. Rummaging through Elena's bathroom, he finds her bottle of pain pills. One by one, he swallows them down with a glass of water. Once finished, he gently lays down on his bed and waits for the change.
Stefan approaches Bonnie and tells her how thankful he is that she helped them. She tells him that she did it for Elena. Bonnie tells him that Damon needs to change his ways. She tells him that she knows who she is now and understands her powers. She warns him that if Damon spills one drop of innocent blood, she will kill them both.
Elena arrives on her front porch to see Damon leaving. Asking him what he's doing there? He tells her that he was making a feeble attempt at doing the right thing. He tells her that at first, he came to the town to destroy it but tonight, he found that he wanted to protect it.
Telling her that he's not a hero and that he doesn't do good, that's it's not in him. That, it's Stefan's job to be the good one. Elena tells him that maybe it is in him. Moving in closer, Damon bends over to kiss her on the cheek. Soon, he begins kissing her on the lips. The kiss deepens until Jenna opens the front door. Jenna tells her that it's time she came in and Elena grabs her clothes and walks in the door. Walking away, Damon touches his lips and seems confused by the kiss.
Once inside, Jenna asks what's she's doing and Elena tells her that she doesn't want to talk about it. Elena enters the kitchen and sees John getting a drink. She begins to put away the knives while John tries to explain why he did what he did tonight. Elena finally replies "thank you" and John asks if he could help her. Looking down at his ring finger, she says yes. As soon as he turns, she uses one of the knives and cuts off his finger. Crying out in pain, John looks at her and says "Katherine"? Katherine tells him "hello John"…"goodbye John" and plunges the knife into his chest.
Arriving home, Elena chats with Stefan on the phone and tells him that someone had stolen her clothes. Not wanting to dwell on it, they agree to meet later at the hospital after she checks in on Jeremy. Walking into the foyer, Elena calls for Jeremy until she hears a crash in the kitchen.
Founder's Day Pictures