Season 3 Episode 22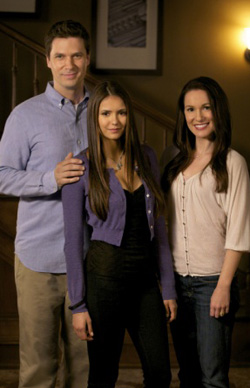 Dreaming, Elena flashes back to the time when her parents were still alive and her Aunt Jenna was at their home visiting. Waking up, she realizes that she was actually in a hospital. Meredith tells Jeremy that Elena was going to be fine and that she just collapsed and bumped her head. Jeremy calls Damon and Stefan to inform them on what had happened. They are immediately upset and tell Jeremy to get Elena out of the hospital immediately.
In her office, Meredith is not too happy when she turns around and sees Alaric standing there. As he begins to pour out her stock of Vampire blood, Alaric tells her that the council will be notifying the medical board and getting her medical license suspended.
Alaric also happily tells her that the council knows all about Sherriff Forbes and Mayor Lockwood and the fact that they were parents of a Vampire and a Werewolf. Informing Meredith that the council be removing them of their duties. As Elena's legal guardian, Alaric tells Meredith to release Elena to his care. When he enters the room, he is not happy to see that Elena was already gone.
Caroline, Tyler, Matt and Jeremy all bring Elena home and set her up on the couch comfortably. Jeremy heads out to get some food. Once again, Elena flashes back to when she was a sophomore in high school and a cheerleader with Bonnie. Walking hand in hand with Matt until he tells her he has to talk to the coach. Before walking away, Matt tells her that he loves her. Elena just smiles and doesn't return the sentiment. Bonnie tells her that it wasn't right to string him along. Changing the subject, Bonnie asks if she was going to the bomb fire that evening. Elena tells her that Aunt Jenna was in town and they were having a family night.
Waking up, Elena sees Matt sitting by her side. She takes this time to apologize to him for treated him the way she did. Also realizing that she was stringing Damon and Stefan along too. She knows now that she must make a decision and choose which one she has to let go.
Jeremy stops by the Mystic Grill to pick up a To Go order of food. Turning around, he sees Alaric. Alaric tells him that they needed to talk. Alaric tries to convince Jeremy to tell him where Klaus's body was hidden. Showing Jeremy the final white oak stake, he tells him that it is the only way to make Elena safe allow her to live a long healthy life.
Not wanting to lie around anymore, Elena answers the door and sees Elijah standing there. Allowing him inside, Elijah explains that he needs their help to obtain the white oak stake. He promises that once he has it, he and his family will vanish and they will never see them again. Having been listening on speaker phone, Damon tells them no. Trusting Elijah, Elena agrees to help Elijah.
Caroline and Tyler arrive at the Lockwood home to see their mother's waiting for them. Mayor Lockwood tells them that the council knows all about them and what they are. The only way to protect them is for Tyler and Caroline to leave town. Mayor Lockwood hands them an envelope of money and tells them that Sherriff Forbes will get them new identities. Tyler and Caroline resist at first but soon realize it's what they must do.
Sitting outside on the porch, Matt and Jeremy talk about how to protect Elena. Jeremy tells Matt about his visit with Alaric. They both feel that taking Elena away for a while would be the best idea. Jeremy calls up Alaric and tells him where to find Klaus's body. After hanging up, Jeremy turns around and tells Elijah and the others that Alaric bought it.
Damon and Bonnie arrive at the Storage facility where Klaus's body was being hidden. Opening up the correct locker, Bonnie tells Damon that she would like a minute alone with Klaus before she puts the locator spell on him.
After Jeremy leaves, Elena tells Stefan that lately, every time someone leaves the house, she is worried that they will never come back. Stefan tells Elena that he will do everything in his power to keep Jeremy safe. Looking at Stefan, Elena begins to tell him something but tells him to forget it. Stefan begins to leave the room but returns suddenly and kisses her passionately.
After finishing talking to Stefan, Damon hears a noise outside the locker and assumes it's Rebecca. Stepping outside, Damon is soon attacked by Alaric. Alaric demands that Damon tell him which locker Klaus was but Damon doesn't give in. Alaric snaps his neck and Damon collapses to the ground.
After explaining to Matt that she knew she must choose between Damon and Stefan, Elena flashes back to when she was at the bomb fire and her and Matt had just had a fight because he was putting pressure on her about their future. Calling up her mom to get some advice, her mother tells her that she wouldn't be losing Matt but that she would be setting him free. Elena wakes up and realizes that Matt had drugged her tea because she was now with Matt in his truck heading out of town.
Seeing Rebecca step out of the elevator, Alaric goes after her. Rebecca begins to call out Damon's name and is soon quieted when Damon pulls her aside and clamps his hand over her mouth. Soon, Alaric finally finds the correct storage unit but discovers the coffin has already been removed.
In the back, Rebecca and Damon try to hurry and put Klaus's coffin in the vehicle before Alaric arrives. Alaric shows up and tosses Rebecca aside. Alaric pulls out the stake and plunges the stake into Klaus's chest. Klaus's body bursts into flames and Rebecca cries out. Damon tells Rebecca to run and Damon soon becomes Alaric's next target.
Finally alone and battered, Damon calls Stefan and tells him that Klaus was dead. Knowing they will soon die too, they both wonder who Elena will come to see. After hanging up with Damon, Stefan turns around and sees Jeremy. Jeremy informs him that Matt was taking Elena out of town.
Knowing that she only had time to reach one of them, Elena calls Damon while she drives back towards Stefan. Elena tells Damon that she cares for him but Stefan has always been there for her. She tells him that maybe if she had met him first, things would have been different.
Caroline heads to the cavern to meet Tyler. Seeing him, she runs to him and tearfully tells him that Klaus was dead. Tyler soon begins to groan in pain. Caroline watches on helplessly and realizes that she herself was not having any problems. Knowing he was going to die, Tyler tells Caroline to tell his mother that he left town and not to say he was dead. After yelling for her to leave, Caroline runs away crying.
Rebecca arrives home and tearfully tells Elijah that Klaus was killed. Hugging her close, Elijah tells her that only Tyler died. They both acknowledge that they weren't the ones that turned Damon and Stefan. They both can't figure out why the others were still alive.
Bonnie enters the cavern and sees Tyler, very much alive. He tells her that she did a very good job. Addressing him as Klaus, Bonnie tells him she only did this to save her friends. Rebecca calls Stefan and tells him that since Klaus was dead, the deal was off. She planned on killing Alaric and the only way to do that was to kill Elena.
Matt and Elena are just about to cross the bridge when Rebecca appears in the middle of the road. Matt swerves to avoid her and crashes into the guard rail and over the bridge, into the river.
Flashing back, Elena remembers when she was at the bomb fire, waiting for her parents to arrive. She sees Damon standing there and the two start to chat. After a few minutes, Damon tells her that she deserved a love that would consume her. Hearing the honk of her parents car, Elena tells Damon good bye. Before she leaves, Damon erases her memory so that she wouldn't remember meeting him.
On the way home from the bomb fire, her parents crash and end up in the river. Stefan jumps into the river and begins to save her father. Elena's father tells him no and to save her. Present time, Elena struggles to wake up Matt with no luck. She tries to break the glass but finds she has no strength too. Once again, Stefan jumps into the water and reaches over to pull Elena out. Elena tells him no and has him save Matt instead. Elena's lungs soon begin to fill up with water until she is no longer breathing.
Back at the storage unit, Alaric begins to slow down and Damon realizes that he is dying. Damon grabs Alaric but sees that it was too late to save him. At home, Jeremy looks up and sees Alaric standing there. Alaric tells Jeremy that everything was going to be alright and that he will always look after him. Jeremy finally sees that it is Alaric's spirit and is devastated when he realizes that it meant that Elena was also dead.
At the hospital, Stefan watches Elena's lifeless body on the bed. Outside the room, Meredith pulls Damon aside and tells him that Elena didn't just collapse earlier but that she had a cerebral hemorrhage. She tells Damon that she helped heal Elena. Suddenly, Elena wakes up gasping for air.