Buzzfeed has up a great article titled, 15 Things Every "Vampire Diaries" Fan Is Looking Forward To In Season Six. From the witch twins to flashbacks and Stelena to Delena there is sure to be some more amazing moments ahead of us in season 6 of the show.
Head on over to Buzzfeed to see everything they list.
What are you looking forward to seeing this season on the show?
I cannot wait for all my Alaric moments since my fave new vamp is back. I'm also super excited about getting to see more of Enzo. Once Damon gets back from the other side I expect to see many bromance moments between the trio

The CW has posted another clip from the season 6 premiere of The Vampire Diaries titled, I'll Remember. The season 6 premiere will air Thursday, October 2nd at 8 pm on The CW. In the clip Caroline and her mom have a picnic and talk about what happened in last year's finale and since then.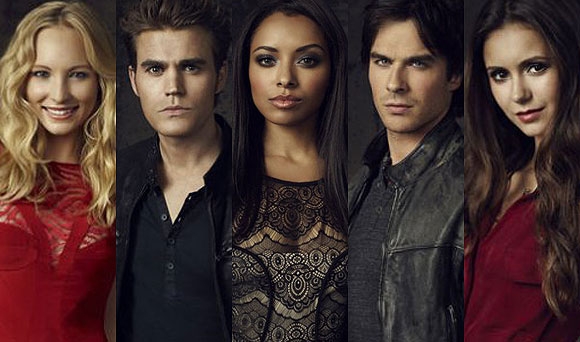 The CW has released a synopsis for episode 6.02 of The Vampire Diaries titled, Yellow Ledbetter. The episode is scheduled to air on October 2nd on The CW. Read the synopsis below to see what will be going down:
A LONG WAY HOME — Knowing she needs to come to terms with the loss of Damon (Ian Somerhalder), Elena (Nina Dobrev) turns to Alaric (Matt Davis) to help her move on with her life. Enzo (Michael Malarkey) convinces Caroline (Candice Accola) to join him as he tracks down a lead to get Damon and Bonnie (Kat Graham) back, but Caroline is shocked when they make an unexpected detour and uncover what Stefan (Paul Wesley) has been up to. Meanwhile, Matt (Zach Roerig) worries about Jeremy (Steven R. McQueen) who is spending time with Sarah (guest star Gabrielle Walsh), a mysterious girl who has recently arrived in Mystic Falls. Elsewhere, Tripp (guest star Colin Ferguson), leader of the community protection program, makes an interesting confession to Matt about his connection to the town. Lastly, with the Other Side destroyed and gone for good, Damon and Bonnie reluctantly band together to uncover the mystery of where they are and how they are going to get back home.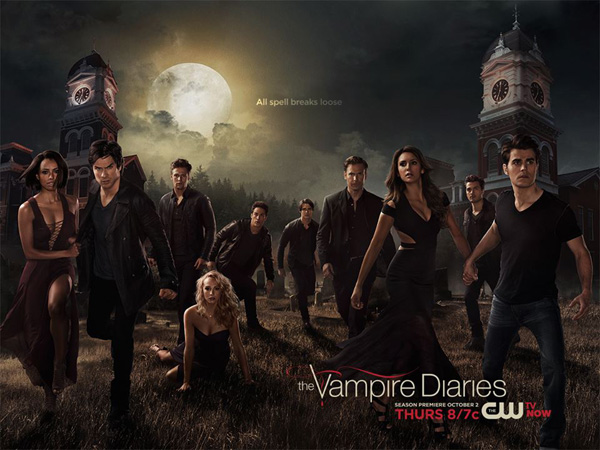 I got a smorgasbord of spoilers on The Vampire Diaries for you. There's scoop on what Alaric, Matt, Caroline and Stefan are up to and news on this seasons brand new villain character! Check out all the SPOILERS below.
TVD news via E! Online:
Teddy1308: Any chance Stefan and Caroline might be a thing this season on The Vampire Diaries?
Do you want the bad news or the terrible news? The bad news is that there's no plan in sight for any kind of Stefan/Caroline romance. The worse news is that their frienship might be Kaputzville too! At least, that's what's up for the beginning of the season, according to the show's Big Boss Momma Bossy Pants (that's not her real titlem and she is anything but bossy), Julie Plec, who tells me: "Caroline isn't going to let Stefan off the hook very easily. In fact, his determination to move on and start a new life after the loss of his brother may ultimately ruin the friendship he's built with her over the years." So. Not Cool. Unless you are a Klaus and Caroline or Tyler and Caroline shipper, at which point you are probably chanting "nanny nanny boo boo" right now.

MichelleGr: What's up for Alaric on TVD this season?
Some juicy storylines, with a sweet side of little angst, of course. Plec teases, "Alaric is having a hard time reconciling his former self with his new vampire identity. And when he meets a fascinating and smart new woman, it makes it even more difficult." Feast your eyes on the first pic of Alaric with his new woah-man.
TVD spoilers via EW:
Would love to get any The Vampire Diaries scoop that's not related to romantic relationships. — Lola
How about some information on this season's villain? When my colleague Samantha Highfill spoke to Julie Plec about a new big bad, she claimed this season was going to have a number of "conflict providers." Still, "There is a villain-esque person in this season that I'm particularly excited about because it does break the mold a little bit of our villains, which seem to be often very redeemable in their own way," she says. "And we get to explore the deep, dark minds of a psychopathic personality, so I'm very excited about that." In other words, this is one bad guy who won't find redemption through a spin-off.
TVD Scoop via TV Guide:

Any Vampire Diaries scoop for me? — Brittany
Sure! As our boy Matt becomes more involved in Mystic Falls, he'll realize that Colin Ferguson's Tripp has an important family connection to the town. Just wait until you hear Tripp's real name. Then it'll make more sense that he's keeping quiet about some extracurricular activities that could put Matt's closest friends in extreme peril.
The new fall season of The CW begins October 2nd and they have released a video showcasing their shows. The Originals and The Vampire Diaries are included and it looks like their whole line-up is hot! Can't wait to start watching the new episodes on my small screen

It's time for dinner with another member of The Vampire Diaries Cast. This time we sit down for some wine and conversation with the lovely Nina Dobrev. While enjoying some fine wine she answers fan questions including selfies and fav characters.