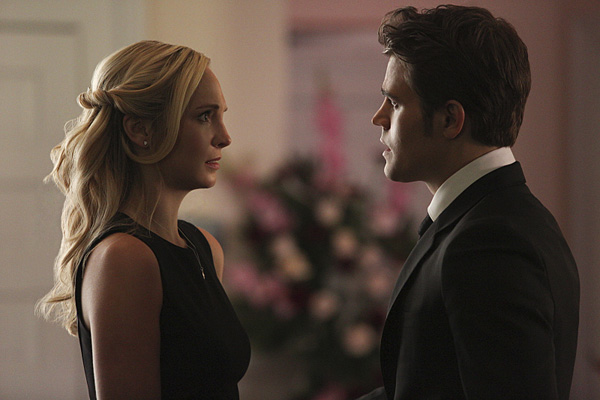 The CW has released a synopsis for episode 6.18 of The Vampire Diaries titled, I Could Never Love Like That. I wonder how long Stefan and Caroline are going be on this murderous rampage?
KILLER KARAOKE – With their humanity turned off, Stefan (Paul Wesley) and Caroline (Candice Accola) begin wreaking havoc at Whitmore, leaving Damon (Ian Somerhalder) to come up with a risky plan involving Lily (guest star Annie Wersching). After rushing to help Jo (guest star Jodi Lyn O'Keefe) treat victims of Stefan and Caroline's latest killing spree, Elena (Nina Dobrev) discovers Jo is pregnant, prompting her to reevaluate her own life as a vampire. Meanwhile, when Sarah (guest star Tristan Mays) boldly turns the tables on an unsuspecting Enzo (Michael Malarkey), he is forced to open up about his tragic past. Lastly, at Scull Bar, a twisted round of karaoke leaves Tyler (Michael Trevino) and Matt (Zach Roerig) in a dangerous situation.
Arielle Kebbel is back to recap last week's episode of The Vampire Diaries titled, A Bird in a Gilded Cage. Avoid the video if you haven't seen the episode yet or you will be completely spoiled!
All new episodes of The Vampire Diaries returns April 16th and I wanna know why is there a break again

The next episode back is titled, I Never Could Love Like That.
A new episode of The Vampire Diaries airs tonight on the CW at 8 pm.
The episode is called Bird in a Gilded Cage.
Head on over to our episode guide to see stills and synopsis for the episode.
After watching the episode head back here and let us know what you think in the comments.
Also if you aren't already follow us on Facebook and Twitter to keep up to date on all our latest posts for all your Vampire Diaries news!
You love her…you hate her…you wish she was back!
That's how I feel and I'm sure many others do about Miss Katherine Pierce. Bustle posted an article listing 10 reasons they love Miss Pierce and wish she was back. Check it out here. Do you miss Katherine?
The Vampire Diaries executive producers Julie Plec and Caroline Dries give us an inside look at the next all new episode of the show titled, Bird in a Gilded Cage. Looks like mama Salvatore is coming home!