The CW has posted a trailer for the next all new episode of The Vampire Diaries titled, I'd Leave My Happy Home For You. Will they take the cure?
A new episode of The Vampire Diaries airs tonight on the CW at 8 pm.
The episode is called Because.
Head on over to our episode guide to see stills and synopsis for the episode.
After watching the episode head back here and let us know what you think in the comments.
Also if you aren't already follow us on Facebook and Twitter to keep up to date on all our latest posts for all your Vampire Diaries news!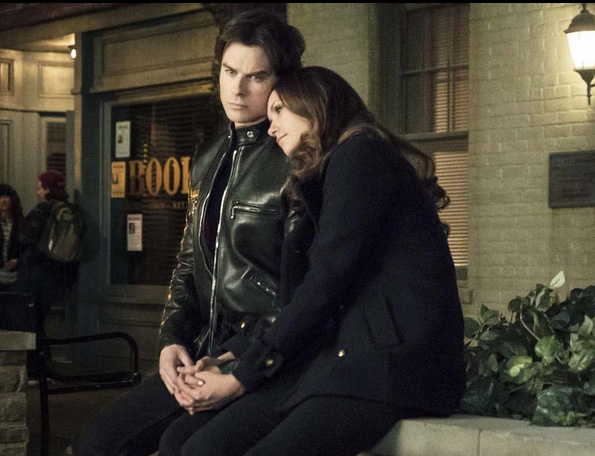 It's that time of year again, May sweeps and season finales. TV Guide and TV Line both have scoop on The Vampire Diaries season 6 finale which airs on Thursday, May 14th. Click on the links above to see what they have to say, but beware of spoilers! How will the show say good-bye to its leading lady?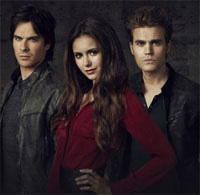 E! Online has some scoop on a possible hook-up for Enzo and closure on Forwood before Tyler's departure from Mystic Falls!
SPOILERS!
Chrissy: With Michael Trevino leaving TVD, will we get to see a goodbye of some kind between Tyler and Caroline?
Remember Forwood?! Memories, huh? "Michael [Trevino] and I do have some scenes coming up. We're going to be reminded of the journey that they've had up to this point," Candice Accola teases. "It's just very real. It was a very honest moment between the characters. It was just very simple and honest of where these characters are at this point in their lives."
Seamus: So glad we finally got to learn more about Enzo on TVD. But is he going to hook up with Damon's mom?!
That's exactly the question the show wants you to be asking about Enzo and Lily (Lilenzo?). "You're not quite sure where the relationship is going to go. It could lead to a number of things," Michael Malarkey says. "We've intentionally left that open. There's moments in upcoming episodes where you see real chemistry real there, where you think, 'Oh maybe it could be something more than just friendship.' We've left the door open." As for how Damon will react to his mom and his BFF's connection? "We don't explore it too much, but I'm sure we're going to be delving more into it in season seven. It's briefly touched upon, but not really enough to comment on!"
TV Line has posted a clip from tonight's all new episode of The Vampire Diaries titled, Because. It's a very touching clip of Damon and Elena talking about their future together, including kids, if they were human.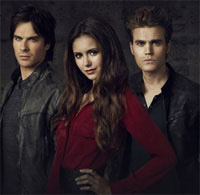 The CW has released a synopsis for the season 6 finale of The Vampire Diaries and it is titled, I'll Be Thinking Of You All The While. Goodbye Elena Gilbert!
GOODBYE, MYSTIC FALLS — In the aftermath of Alaric (Matt Davis) and Jo's (guest star Jodi Lyn O'Keefe) powerful nuptials, things take a dramatic turn when an uninvited guest shows up, leaving Elena (Nina Dobrev) in terrible jeopardy. Despite Matt's (Zach Roerig) advice to leave town to protect herself, a defiant Bonnie (Kat Graham) takes matters into her own hands after finding herself on the receiving end of a twisted plan. As Stefan (Paul Wesley) and Caroline (Candice Accola) reach an emotional crossroad in their relationship, a reunion with Liv (guest star Penelope Mitchell) leaves Tyler (Michael Trevino) faced with a decision that could change his life forever. Meanwhile, Lily's (guest star Annie Wersching) reckless actions cause Stefan to realize the lengths to which his mother will go to reunite with her "family." Finally, after a devastating chain of events, Damon (Ian Somerhalder) is forced to make the most difficult decision of his life.