Season 2 » The House Guest
The Vampire Diaries Season 2 Episode 16 Synopsis, Pictures & Soundtrack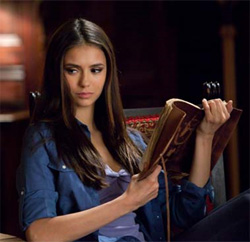 Going downstairs, Elena sees Damon and says goodbye. Damon jumps up and in seconds has Elena up against the wall, gripping her throat. He begins to accuse her of being Katherine. Finally convincing him that she was Elena, Stefan races upstairs and grabs who he thinks is Katherine and threatens her. Moment later, the real Katherine walks in the room and tells them that it was getting easier to act like Elena.
Damon explains to them all the reason why Katherine was out of the tomb. Telling them that once Elijah was killed, the spell was broken on the tomb and eventually freed Katherine. Elena of course, demands that Katherine leave but Katherine soon convinces them that they are going to need her help killing Klaus.
Caroline comes across Matt putting up flyers at school notifying kids that at the Grill tonight, there was going to be a live band. Matt asks her if she knows anything about Tyler because he left town and was concerned. Caroline tells him that she has no idea.
Alaric discusses with Elena the fact that he won't be able to keep the truth from Jenna about Isobel much longer. He tells Elena that him and Jenna are through. Telling Elena also that he gave John Gilbert back his ring.
Dr. Martin and Luca meet Stefan at the Grill to discuss Elijah. Dr. Martin was not happy at all that Elijah was dead. Stefan and Bonnie try to convince him that they all could work together to destroy Klaus but Dr. Martin wants no help from them.
Katherine comes across Damon reading through the Gilbert journals. He is trying to figure out where the witches were massacred so many years before. Katherine shares with him that if you find the spot where a witch had died, it will be a spot where mystical energy and power is.
Stefan arrives and tells Damon that Elijah didn't have a weapon to kill Klaus with. Elijah believed that a witch could channel enough power, he wouldn't need the special dagger.
Dr. Martin and Luca decide that they are going to need Elijah's help in destroying Klaus. They will need to find his body and remove the dagger.
Caroline, Bonnie and Elena decide to have a girls night. Jenna walks in depressed and they soon convince her to stay and join them. Trying to decide what to do, Caroline tells them about the band playing down at the Mystic Grill and they all decide to head on out.
Luca and Dr. Martin join hands together and begin to chant to try and locate Elijah's body. Soon, Luca is in the Salvatore home but they can't see him. Luca soon sets out to try and find where they are keeping Elijah's body.
Katherine tells Damon she's hungry and heads on down to the cellar to get some blood. Sensing that she was not alone, Katherine looks in the cell and sees the knife moving out of Elijah's chest. Thinking fast, she jumps on the knife and tries to force it back in. Dr. Martin tells Luca to grab a stake and kill Katherine. Luca pulls away and locates a stake and stabs Katherine. Damon arrives and sees Katherine on the floor. Reacting fast, he grabs a flame thrower and sets Elijah's body on fire, which also set Luca on fire as well and killing him.
The girls head to the Grill and see that it is packed. Caroline sees Matt but he walks on making her feel strange. Jenna sees Alaric and she heads off to the bar. Caroline decides to take matters into her own hands and steps onto the stage. She explains to the crowd that she needs to express to her boyfriend how she feels about him and she was going to sing.
The band tries to get her off stage but Caroline soon compels them into being her backup band. She begins to sing and surprises everyone with her great voice. Matt stops and listens also. Before you know it, he is on the stage and pulls her into his arms and kisses Caroline while the crowd cheered.
Furious over Luca's death, Dr. Martin retrieves Elena's personal items and begins to chant. Stefan arrives but Dr. Martin is too powerful and uses his powers against Stefan. Soon, Stefan grabs his head in pain and Dr. Martin takes off for the Grill.
Elena walks in on Matt and Caroline in the ladies room. Walking slowly back out, she bumps into Bonnie who asks her how she would feel if she started seeing Jeremy. Elena tells Bonnie that Jeremy has had so much pain in his life that he deserves to be happy with someone as amazing as her.
Bonnie sees Dr. Martin enter the Grill and walks over to him to try and convince him that it wasn't their fault and that she wants to help him get his daughter back. Dr. Martin doesn't hear her and soon the lights up above start to explode. People begin to scream and leave. Placing his hands on her head, Dr. Martin makes Bonnie collapse. Fires begin to break out all around and Dr. Martin sets out to find Elena.
Seeing Dr. Martin, Elena and Stefan try to also convince him that they can help him get his daughter back but he does not listen. Caroline takes this opportunity to jump on him and try to bite him. Once again using his powers, Caroline rolls away in pain. Matt sees this and tries to help but Dr. Martin grabs him and pierces his neck with a broken bottle.
Seeing Matt on the floor dying, Caroline bites open her wrist and insists that Matt drink her blood. Matt is scared when he sees Caroline's face change but soon she has him drink from her wrist.
Stefan and Elena arrive at her home to see Jeremy and Bonnie already there. Elena heads upstairs where she is soon attacked by Dr. Martin. It is he that gets the surprise when he finds out that it is Katherine and not Elena. Baring her fangs, Katherine bites him.
Bonnie kneels beside his prone body and attempts to close his eyes. Seconds later, he sits up straight and grabs her head between his hands. Holding her motionless for a minute until Stefan pulls him off and falls to the floor dead this time.
Alaric brings Jenna home. He tries to explain to her that Isobel was dead but there are things surrounding her death that he just can't share with her. One thing he does share before he leaves is that he loves her.
Up in his room, Jeremy tries to talk to Bonnie about being in denial about losing her powers. She puts her hands to his chest and soon the lights flicker. Going up to his ear, she whispers that Dr. Martin gave her powers back. He also told her how to kill Klaus.
Matt wakes up and is scared of Caroline because he saw her face change. Also knowing that she had him drink her blood. Caroline tells him that she is a Vampire and it was her blood that saved him. Hearing the word Vampire, he begins to freak out. Now he believes Vicky when she told him that she was attacked by a Vampire. Matt asks Caroline if she killed Vicky and she quickly tells him no. Matt tries to escape but Caroline stops him.
At home, Jenna and Elena enjoy a late night snack of ice cream when they hear the doorbell ring. Opening the door, Elena is surprised when she sees it is Isobel. Isobel tells Jenna that she is Elena's mother. Jenna just stares back at Elena very confused.