________________________________________________________________________________
Michael Malarkey and Zach Roerig sat down with OK! Magazine at the Savannah College of Art and Design's TVFest about the show and cast of The Vampire Diaries.
Kat Graham plays the :30 Red Carpet Fashion Challenge and picks her favorite three looks from last year's Oscars red carpet with Just Jared.
Vampire Diaries executive producer Caroline Dries talks about upcoming episodes of the show. She teases Damon's deadly new disease, Elena's return and more. Click on the links below to check out the interviews and beware of spoilers!
TV Guide: Vampire Diaries' Caroline Dries on Damon's Deadly Disease, Future with Elena
TV Line: Vampire Diaries EP on Katherine's 'Final' Move, Damon's Salvation, Forwood's Future and More
Candice Accola shared some Traveler and Virus scoop with TV Guide:
I can't believe Damon is feeding on vampires! What's coming up now on The Vampire Diaries? — Simon
Everyone better stay away! Of course the gang will do just the opposite. "Caroline will focus her attention on finding out what this virus is capable of," Candice Accola says. "We're [also] going to have a big wake-up call to the new mythology we've slowly gotten to learn about over the season with the Travelers, as well as the who, the what and the why of it all." Let me guess, they're not part of a traveling circus?
MTV chatted with Nina Dobrev about the whole Elena/Katherine hijacking situation, favorite Katherine moment and more. You can read the article at MTV and watch the video above.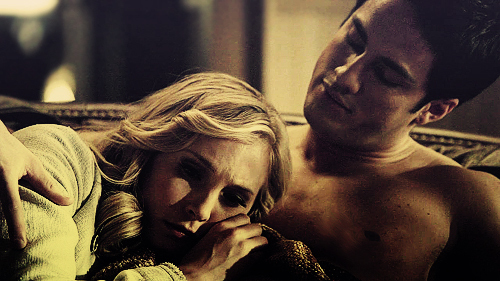 Candice Accola chatted with TV Guide about the future of Caroline and Tyler's relationship and finally hooking up with Klaus! I'm hoping that's not the last time we will be seeing Klaus and Caroline together.
See what she has to say here.
Below is an excerpt:
Klaus and Caroline finally had sex — hot sex. Were you happy they went there?
Candice Accola: Yes. When I get very into a storyline as a TV viewer and want something to happen so bad and there's so much build-up, it's exciting to watch. To my knowledge, the writers never had any intention of bringing those two together, especially with the spin-off, so I think it was a great moment and I think the whole 100th episode was written with the viewers in mind to give them what they wanted.