Season 1 » The Night of the Comet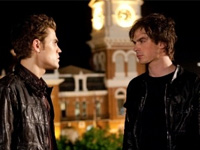 In the woods, a couple are snuggling in a tent. Deciding he needs to get something from the car, the man leaves. Hearing a dripping sound on the tent, the lady goes out to check it out. Seeing that it's her boyfriend in a tree and he is dripping blood from a vicious wound, she runs for the car. Appearing out of nowhere, Damon goes in for the kill.
Waking up that next morning, Elena feels rejuvenated and has a feeling that today is going to be a great day. Stefan too wakes up feeling wonderful. Both of them smile, knowing that they will soon see each other again.
Aunt Jenna prepares herself to have a parent teacher conference with Jeremy's teacher Mr. Tanner. She tries to dress conservative so she will appear like a "responsible" adult. Meanwhile, Jeremy rushes to the hospital to see how Vicky is doing.
At school, Mr. Tanner informs Aunt Jenna that Jeremy has been skipping school and that when he does come to school, he's high. Feeling like a failure, Aunt Jenna gets an earful from Mr. Tanner about how she is failing as a guardian.
Jeremy heads out to confront Tyler about not visiting Vicky in the hospital. Tyler tries to blow him off but Jeremy won't back down. Finally, Jeremy threatens Tyler. Telling him that if he hurts Vicky, he will kill him.
Stefan overhears Matt telling Elena that Vicky said it was a Vampire that attacked her. He immediately rushes off to the hospital to erase any memory of the attack. He puts in a new memory, telling her it was an animal attack and that she blacked out afterwards.
In the park as they are passing out flyers about the evening festivities (The viewing of the comet), Caroline and Bonnie try to convince Elena to pursue Stefan a little more aggressively. Feeling as though they are right, Elena heads over to Stefan's house. Caroline sees Damon a ways off and walks over to greet him. She is surprised to look up next and he is gone.
During Matt's visit with his sister at the hospital, Jeremy arrives. Feeling like a third wheel, Matt heads on out to give them some privacy. Vicky is surprised to find out that it was Jeremy who found her in the woods and carried her out.
Walking into Stefan's house after no one answers the door, Elena is shocked to see Damon and find out that he's Stefan's brother. Damon, in his devious ways tells Elena that Stefan is recovering from a bad break-up and that she would be considered the "rebound" girl. Not liking the sound of that, Elena leaves.
Jeremy arrives late at home again and Aunt Jenna has had enough. Walking on by and ignoring her, Aunt Jenna decides throwing a piece of fruit at his head will get his attention. He stops and turns around to stare at her. She informs him that if he skips another class, she will ground him.
At the Mystic Grill where Vicky works, Jeremy again tries to talk to her. She says she feels lousy so he hands over a few pills to ease her pain. She tells him that she will meet him later so that they can view the comet together.
Outside, everyone is lighting their candles in preparation of the comet. Stefan approaches Elena. Elena tells him that maybe their relationship was not meant to be.
Noticing Damon by the pool tables, Vicky approaches him and tells him that she knows him from somewhere but she's not sure where. Overwhelmed, Vicky heads to the ladies room to take the last pills she had from Jeremy. Coming up from drinking some water, Vicky screams. Damon is standing there with his fangs out.
Jeremy decides to tell Tyler and the others that he and Vicky had a relationship over the summer. Of course, no one believes him. Feeling upset, he also lets it slip that they had a sexual relationship as well.
After being confronted by Matt about Elena, Stefan hears Damon and Vicky on the roof. Rushing off to save Vicky, Stefan sees Damon threatening to throw Vicky off. Wanting to hurt Stefan, he tells Vicky that it was Stefan that attacked her and that he's a Vampire.
Stefan tells him that if she believes that, the whole town will take him and chain him up. They would also put a stake through his heart , killing him instantly. Damon, not liking that idea, tells Vicky again that it was an animal attack and releases her from his spell.
Stefan finds Bonnie and Caroline and asks them where he can find Elena. Handing him a piece of paper with Elena's cell phone number on it, Bonnie's hand touches Stefan's and she pulls back suddenly. She got a mysterious "vibe" from him and asks him "what happened to you?".
Elena comes home to find Aunt Jenna searching Jeremy's room for drug paraphernalia. Shocked but not surprised, she finds what she's looking for. Elena tries to reassure her that she is doing a good job taking care of them. Of course, Aunt Jenna still feels like a failure.
Walking to her car, Caroline has the feeling that someone is following her. Out of nowhere, Damon appears. She was startled but quickly it turns to happiness. The two head off together.
Elena decides to pay Stefan a late night visit. Appearing at his door step, She asks him to come out and view the comet together. Elena decides that she can't fight her feelings and tells him that she wants to be with him. They begin to kiss.
Later, at Caroline's room, her and Damon are making out. Feeling quite dazed, Damon scares her when his head comes up and his fangs are out. He sinks his fangs into her neck and Caroline begins to scream.
The Night of the Comet Pictures