Season 1 » There Goes The Neighborhood
The Vampire Diaries Episode Sixteen Synopsis, Pictures & Soundtrack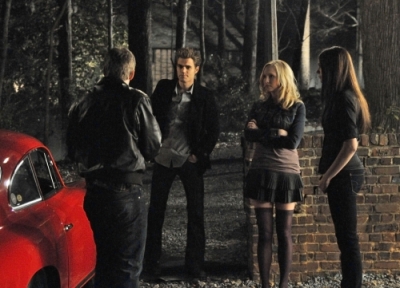 At Miss Gibbons farm house, the Vampires that were released from the tomb are all trying to adjust to the new circumstances they now find themselves in. With Pearl teaching them how to text and Anna showing them how to work the remote control to the TV.
Anna and Pearl head on out to do some errands in town when one of the more aggressive Vampires Frederick questions them. Pearl tells him to stay put and to watch over the others. He does not enjoy being a babysitter. Seeing the tension, Harper steps in and says he will watch over the house while they are out.
Back at school, Caroline convinces Elena and Stefan to double date with her and Matt that evening. She wants to break through the awkwardness that seems to hang over the new couples.
Damon arrives home to find that he has a few visitors waiting for him. Pearl and Anna are there to question him about who he supplies verbena to and to stop doing it. They also seem quite interested in his house and the fact that it is only has Damon and Stefan living there. Pearl also demands to know who all the council members are. Damon asked what she needs all this information for. Apparently, she wants her town back and will stop at nothing to let the Vampires roam free through Mystic Falls again.
Damon, not liking being ordered about makes a move to strangle Pearl. Pearl, being at least 400 years older than Damon fights back easily. Soon, she is using his fingers and applying pressure to his eyes, making them begin to bleed. Finally releasing him, they go and leave a wounded Damon to himself.
Later, outside of an old shop, Pearl meets up with Jenna. Pearl is interested in renting the old Apothecary shop. Jenna tells her that it has been in the Gilbert family for generations. Of course Pearl already knows this since she had met the very first owner many years earlier.
At the Mystic Grill, Kelly decides to join Damon for a few drinks. Damon is there drowning his sorrows and flirting with a woman couldn't hurt. Soon, Jenna shows up and is surprised to see Kelly after her being away for so long. Before you know it, all three of them are pouring shots and having a good time.
At Miss Gibbons farm house, Harper and Frederick soon get into another fight over Frederick once again wanting to leave. Pearl arrives to tell him no and that they all need to keep a low profile for a bit longer. Frederick backs off again.
Elena and Stefan meet up with Caroline and Matt at the Mystic Grill for their double date. Soon, Caroline begins to get upset because Elena and Matt keep chatting about the times they hung out together. Hearing laughter at the bar, they all look up to see Kelly, Jenna and Damon drinking together. This of course upsets Matt and makes him embarrassed.
At the farm house, feeling cooped up and antsy ,Frederick wants to leave. Frederick wants to go into town and Harper tries to warn him not to. Disregarding Pearl's orders, Frederick leaves with Beth Anne and they soon go into town.
Alone at home, Jeremy gets a shock when he sees Anna at the front door. She informs him that she and her mother are not moving away and that she will be attending high school with him. Jeremy tells her that is great and that he is happy because he would like to ask her a bunch more questions about Vampires. Anna tries to tell him that it's all a myth and that Vampires don't really exist. Anna has no idea that Jeremy suspects that she's a real Vampire.
After getting frustrated with the way the conversation is going, Caroline goes to the ladies room and asks Elena to join her. Once there, Caroline confronts Elena about going down memory lane with Matt. She tells Elena that the purpose of the double date is for all them to feel comfortable together. Having Elena and Matt chat about the good old days isn't helping.
On their way out of the bathroom, Elena is stopped by Frederick. He calls her Katherine but she tells him he has the wrong person. Once she is by Stefan's side, Elena texts him and tells him what just happened. When Stefan looks up, Frederick is already gone.
They all decide to head over to Stefan's house to watch a movie. Once inside, Matt remarks on Stefan's model car collection. Seeing Matt's interest, Stefan takes them all out to the garage to show them a classic car he has. Caroline remarks that she doesn't really like sports cars because it's hard to make out in them. Matt speaks up and says that he and Elena never had a problem. Of course, this upsets Caroline and she walks outside. Elena goes out to check on her. Stefan tells Matt that the car isn't running so Matt checks to see what he can do about it.
Outside, Caroline confronts Elena. She knows she's feeling jealous. Elena tells her that she has nothing to worry about. Matt and her are just really good friends. Caroline lets Elena know that she feels like her back-up friend and Matt's back-up girl friend. Caroline tells Elena that she is always everyone's first choice.
Back at the Mystic Grill, Jenna starts to feel like a third wheel and decides to head on home. Stepping outside a bit unsteady, Jenna breaks her heel of her shoe off. Unfortunately, Frederick is there to assist her. Trying to be smooth, Frederick tries to flirt with her. He attempts to compel her but finds that it doesn't work. Noticing a strange scent, he discovers she is wearing verbena. Not having none of his charm, Jenna laughs it off and hops into her cab quickly.
At Stefan's, Matt gets the car working. They drive it out of the garage right up to Elena and Caroline. Seeing that maybe Matt and Caroline need some alone time, Stefan gives the keys to Matt and tells him he should go for a ride in it with Caroline. After a short drive, Matt pulls over and tells Caroline that he knows she was trying to test him tonight around Elena. He reassures her that she is the only one he wants to be with. Feeling better, the two begin to kiss.
Jeremy is in the kitchen with Anna and they have decided to make a late snack. When Anna's back is turned, Jeremy purposely cuts himself. Anna sees right away the blood and tries to stay put. Jeremy keeps asking her to get him a towel and he comes closer. Soon, he tells Anna that he knows she's a Vampire and wants her to feed off of him. Trying to resist proves to be too much and soon Anna gives in and begins to drink. The two are interrupted by Jenna. Jeremy tells Jenna everything is fine. Once he is back in the kitchen, he sees that Anna is gone.
Damon decides to bring Kelly back to his house for a drink and a little fun. The two begin to kiss passionately until they get a few unwanted visitors. Matt, Elena, Stefan and Caroline walk in on them and Kelly is mortified. She says she's sorry and races out of the house.
After they all leave, Stefan tries to confront Damon about what just happened. Before he could even get a word out, they are soon attacked by Frederick and Beth Anne. Trying to fight off Beth Anne, Stefan soon is able to grab a stake and plunge it into her chest. Damon and Frederick are still fighting until Frederick realizes it will be 2 against one now. He soon flees.
At Matt's house, he tries to talk to his mother about her recent behavior. Telling her that he is supposed to be the child and she's supposed to be the parent. Expressing to her that he has to work fulltime to pay all the bills on top of going to school.
Frederick arrives back at Miss Gibbons and tells Pearl that Beth Anne is dead. He tells Pearl that she was right about them leaving the house so soon. Appearing to forgive him, Pearl offers him a goblet of blood. Turning around to hand it to him, she plunges a stake into his side instead. Not killing him but telling him that it is a warning to never disobey her again.
Walking into his darkened bedroom, Jeremy sees Anna waiting for him. She wants to know how he knew she was a Vampire. Jeremy explains about Vicky and how he thought it was a Vampire attack that made her act the way she did. He asks her why she didn't just kill him. Anna explains that maybe she likes the fact that he seemed lonely and maybe a bit lost and that was what attracted him to her. This time Anna gets a big shock when Jeremy asks her to make him into a Vampire.
There Goes The Neighborhood Pictures