The Vampire Diaries Season 2 Episode 12 Synopsis, Pictures & Soundtrack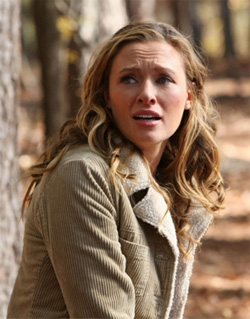 Jules wakes up to find herself naked and blood on her face and hands. Looking around, she now sees the damage she caused to a campers tent. The site was trashed from a visible struggle and there were 2 dead bodies by the tent opening. Thinking fast, she dresses and starts to try and burn all of the evidence. Before she has a chance to burn the bodies, a cop car stops by. Walking up to her, Jules reacts fast and begins to cry. Looking up at the cop, she cries to him that her friends were attacked by a wolf. Heading to the car to call it in, Jules is suddenly there and bashes hi head in with a large rock.
Elena wakes up in a good mood knowing that Stefan is free and safe. Her mood soon changes when he tells her that he wants to locate Isabel to see if she can help him locate Klaus and put an end to all of this. Elena doesn't trust Katherine who planted this idea in Stefan's head in the first place.
Damon gives Rose a glass of blood hoping that it will help heal her bite. After taking a sip, Rose remarks that it must be working because she was feeling better. Damon slides her robe from her shoulder to examine the bite and is stunned to see that the bite is much worse.
Elena drops by to check up on Rose. Seeing the bit for herself, Elena looks to Damon to see what he wants o do. The bite has become significantly worse and Elena stops Damon in the hall before he leaves. He tells her that the bite is now infected and getting much worse. He leaves Elena to watch over Rose while he runs out to find Jules.
Caroline checks in on Tyler at school to see how he is doing. Other than a very sore body, he tells her he is doing fine. He thanks her again for all of the help she gave him during the full moon. Caroline feels a bit uncomfortable with his attention. Soon Matt shows up and Tyler leaves. Matt tries to express to Caroline that he misses her and how he feels about her. Caroline tells him that she loves him and Matt kisses her. Knowing that all she would bring him is misery, Caroline turns and leaves also.
Stopping by the Mystic Grill, Jules sees Sheriff Forbes and asks if they have found anything out about Mason. Sheriff Forbes informs Jules that they have filed a missing persons report and they will let her know if they have any new information. Seeing Jules, Alaric calls Damon to let him know that Jules is down there. Stefan drops in on Alaric to ask him for Isabel's phone number.
Bringing Rose to Damon's room to be more comfortable, Elena is stunned to see that his bedroom was nice. After giving Rose some more blood, Elena gets ready to leave the room but stops when she heats Rose coughing. Looking back, she sees Rose coughing up the blood.
Going to get some towels, Elena turns to leave but Rose is at the door faster than she could get there. Rose has a strange look on her face and Elena realizes that Rose is delusional and thinks that she is Katherine. Trying to get it through to her that she is Elena and not Katherine, Elena finally gets Rose to settle down.
Stefan receives a text from Alaric with Isobel's number and immediately dials her number. Not answering her phone, Stefan goes ahead and leaves her a message. Damon shows up and goes straight to Jules but Stefan stops him. Promising not to kill her in front of all the people at the Grill, Stefan let's Damon go. Stefan walks away when he gets a call from Isobel's phone.
Once at her table, Damon tells Jules that he will not kill her if she tells him how to heal the bite. Jules responds by telling him to bite her. Getting up to leave, Damon puts his hand on her arm to stop her. He tries once again to try and get her help. Jules looks into his eyes and tells him the only way to cure the bite is to drive a stake through her heart.
Walking into the bedroom with fresh clean sheets, Elena stops suddenly when she sees Rose is gone. Elena sets out to try and find her. Hearing a noise in the cellar, Elena heads down there. She comes across Rose crouched down and drinking the blood from Damon's stash.
Rose looks up at Elena and wants again thinks it's Katherine. Seeing her look, Elena takes off running but Rose catches her. Trying to escape, Elena digs her nails into Rose's bite wound. Running off again, Elena heads into a small room upstairs. Barricading the door, Elena breaks a small table to make a stake. Running to the balcony doors, Elena opens them wide, allowing the sun to shine in.
Finally feeling brave enough and not hearing anything from Rose, Elena unlocks the door and proceeds cautiously downstairs. Rose is nowhere to be found. Turning around, Elena gets frightened when she bumps into Damon. Telling Damon that she has no idea where Rose went to, they both take off to search for her.
Rose begins to cough up the blood again while she is hiding behind some dumpsters. A maintenance man discovers her there and offers to help her. Seeing him, Rose pounces on him and bites his neck.
Damon sees Sheriff Forbes and offers to help find the Vampire responsible for the man's death. In the meantime, Rose strikes again and kills a young couple. Damon tackles her and finally gets through to her about what she has done.
Bringing her back home, Damon lays her down in his bed and tries to console her. Rose begins to scream out in pain again and Damon feels helpless but knows deep down inside what he must do.
Tyler finds Caroline later and confronts her about why she is helping him out so much and why she would risk her life for his. Telling him that she cares about him and knows that he could use a friend. Not knowing what else to say, Tyler grabs Caroline and begins to kiss her. Caroline kisses him back but soon pulls away and before she enters her house and says "everyone needs to just stop kissing me"!
While in Damon's arms, Rose starts to feel more and more relaxed. Damon is using his Vampire magic and has her in a nice dream where he too can enter. They are in a field near where Rose grew up. Rose and Damon sit down together and Rose lifts up her face and enjoys the sun on her skin. She tells him that she doesn't feel any pain and thanks him. While she is in her dream like state, Damon reaches for the wooden stake and drives it through her heart. Damon sheds some tears as he holds her now still body close. Meeting with Sheriff Forbes later, Damon shows her the body of Rose and tells her that he caught the Vampire responsible for the recent killings.
Back at the Mystic Grill, Jules meets up with Tyler. She explains to him that she was a friend of Mason's but that Mason is dead. Tyler doesn't believe her. Jules also tells him that she knows what he and Mason are and not to trust Caroline. Tyler is not sure if he can trust her and is skeptical when she tells him that Caroline was one of the Vampires that killed Mason. Warning him that there are many Vampires in Mystic Falls but not to worry because there were many werewolves coming to help.
Elena meets Damon at his home to make sure he was ok. He admits to her that since that attack was meant for him, he feels responsible for Rose's death. Trying to console him, Elena gives him a hug before heading on out. When Elena gets home, she sees Stefan and is surprised that he has brought Uncle John back instead of Isobel.
Laying in the middle of the road, Damon gets a passing motorist to stop. A woman named Jessica gets out of her car to see if he's alright. Once she sees he is and that he is actually drunk, she tries to make it back to her car. Damon beats her back to the door and soon compels her to stay still. In his drunken state, Damon begins to let out all of his frustrations which only scare Jessica even more. He confesses that he misses being a human. Finally, he decides to release her. A moment later, he is at her throat, biting her.