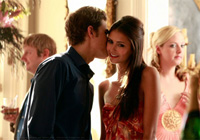 Waking up suddenly after having a strange dream, Stefan spots Damon watching him. Damon informs Stefan that he plans on sticking around. Damon also tells Stefan that he fixed the situation with all the "animal attack" victims. He has everyone now believing it was a mountain lion that did all the attacks and it was caught and shot.
Polishing some of her family heirlooms, Elena plans to let them be borrowed for the "Founders" party. Jeremy tries to take the watch but Elena won't budge. She accuses him of wanting to sell it for drugs. Turns out, his father was supposed to pass it down to him but that won't happen now since their parents are deceased. Hearing the door, Elena runs to greet Stefan warmly with a kiss. Getting a little hot and heavy, they decide to slow it down. Elena takes this moment to ask him to escort her to the "Founders" party. He gladly accepts.
At the Mystic Grill, Tyler is sitting with his uptight parents. His father just happens to also be the mayor. Approaching the table, Vicky hopes that Tyler will introduce her as his girlfriend but he ignores instead. After his parents leave, Vicky confronts him about it. Of course, he denies it and proves that he isn't embarrassed of her, he invites her to the "Founders" party too.
Uncle Zachary asks Damon why he's here. Upsetting Damon because he does not like being questioned, Damon rushes over and begins to choke his uncle. Luckily, Stefan arrives just in time to stop it. After Damon leaves, Uncle Zachary shows Stefan his secret chamber in the basement where he is growing a large amount of Verbena. Verbena will be the only thing that could slow Damon down. Deciding to try and slip some in Damon's drink, Stefan formulates a plan with his uncle.
In her bedroom trying on dresses for the "Founders" party, Caroline discussing being a "Vampire" with Damon. Using his compulsion, Damon is able to get Caroline to help him put doubt in Elena's mind about Stefan.
Later, Caroline tells Bonnie a few things about Stefan and makes her promise not to tell Elena. Of course, Caroline knows darn well that Bonnie will tell Elena immediately. When she sees her, Bonnie tells Elena that both Damon and Stefan loved Katherine. Katherine finally chose Damon and that Stefan was very jealous. Stefan tried very hard afterwards to break them up, he finally got his way and Katherine went with Stefan. Not wanting to believe this, Elena still couldn't help but feel slightly doubtful.
At the "Founders" party, Tyler takes Vicky through a less "public" entrance. After feeling as though he was hiding her during the entire party, Vicky demands to be introduced to his parents. Beating her to it, Tyler's mother approaches them. Apologizing for her son, she introduces herself. Vicky soon leaves and Tyler's mother doesn't waste any time to call her "trash".
Damon and Caroline walk up to Stefan and Elena at the party. Caroline is upset that Damon will not dance with her. Stefan steps in and dances with her instead. Leading her to the dance floor, Stefan decides to give her a glass of champagne instead. She enjoys it and has another glass.
Dancing with Stefan later, Elena begins to ask him questions about Katherine. Stefan says he's not ready to open up about her just yet. This of course makes Elena upset because she feels he keeps putting up walls about his past with Katherine. Stefan knows she's been talking to Damon and warns her not to listen to him. Not wanting to hear anymore, Elena walks off.
Sitting alone at the table, Bonnie feels quite left out. Feeling a breeze, she sees her candle go out. Staring at it intensely, she makes it light again. Not really believing it, she walks into the mansion. Seeing the server getting yelled at by Tyler's mother about the candles being all out, the servant races to get some matches. Bonnie approaches and tries to light it with her thoughts but this time it doesn't work. As she turns to walk away, she notices a glow. Turning around, she sees all the candles are lit now.
Elena sees Caroline in the ladies room and she notices the marks on her neck. Elena asks Caroline about them but she won't say what they are from. She sees more bite marks but Caroline refuses to talk about it and she runs out.
Feeling as though Caroline has betrayed him, Damon seeks Caroline out to speak with her. Caroline swears to him that she didn't say a word. Not believing her, Damon turns her around and bites deeply into her neck. After a few minutes, Damon falls to the ground. Apparently, Stefan had spiked Caroline's champagne knowing that Damon would drink her blood eventually. Seeing him in a weakened state, Stefan is able to bring Damon home and lock him in the basement with all the Verbena plants.
In a room at the mansion, Caroline's mother, the sheriff and the mayor and his wife discuss the watch that they need from Elena. They also discuss the recent deaths of locals in the areas. Voicing that they were all drained of their blood, they all are in agreement that they know the Vampires are back.
Family Ties Pictures