Season 3 Episode 21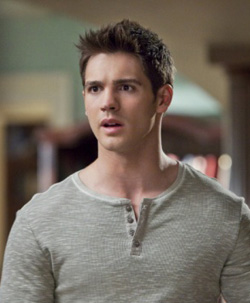 Caroline arrives at the school to help with the clean up from the dance. Tyler calls and tells her that he can't help her because he was stuck helping Klaus move. Hanging up, Caroline stops for a minute when she thinks she hears a noise. Not seeing anything, she proceeds to the room where Rebecca is already there.
Rebecca is not too happy that Caroline showed up late to help with the clean up. Caroline tells her that she was only 2 minutes late. Knowing about her mother, Caroline tells Rebecca that she was sorry for what happened. Rebecca leaves and heads to the gym to begin clean up in there.
Once in the hall way, Rebecca is attacked by Alaric. Hearing the struggle, Caroline arrives and attacks Alaric and pulls him off of Rebecca. They manage together to grab his stake and try to plunge it into his chest. However, Alaric is much stronger than them and manages to pull out the stake.
Rebecca and Caroline take off. Caroline almost makes it to her car but soon Alaric is upon her. His skin begins to burn from the sun but that doesn't stop him, he grabs Caroline and drags her back to the school while Rebecca watches.
Elena and Jeremy decide to paint Alaric's room so they can move on. Soon Stefan shows up and Jeremy is not happy. He tells Stefan that can't they just have one day that doesn't involve Vampires. Feeling frustrated, Jeremy leaves. Stefan hears the doorbell and heads down to answer it.
Opening up the door, he sees Damon and Bonnie standing there. Walking in, Damon tells him that they have a problem. He explains that Alaric was still alive.
Rebecca also heads home and informs Klaus that Alaric was still alive and now a Vampire. She explains that he is much stronger than them thanks to their mother. Rebecca tries to convince Klaus that they needed to leave town immediately. She wants to leave while the sun is still up and Alaric is trapped at the school. Klaus tells her that he is not leaving without Elena. Rebecca gives him an ultimatum, either he leaves with her or he gets Elena. Klaus of course chooses Elena.
Bonnie and the others try to figure out what to do about Alaric when the doorbell rings again. This time it is Klaus asking for Elena. Damon and Stefan tell Klaus to leave and there was no chance he was getting to Elena.
Trying to continue painting, Elena receives a surprising call from Alaric telling her to come to the school because he had Caroline. After closing the door, they go upstairs to make sure Elena was safe. Coming back downstairs, they realize that Elena had already left and they had no idea where she was.
Klaus however was not too happy about not being allowed in. He grabs up a newspaper and whips it through a window, sending glass everywhere. Still not getting their attention, he grabs up some of the neighbors fence and begins to send the stakes into the house.
Elena arrives at the school and finds that Alaric had Caroline tied to a chair and with sharp pencils piercing both of her hands. She watches on helplessly as Alaric soaks a rag in verbena and wraps it around Caroline's mouth, causing her to scream out in pain.
At the Gilbert house, during Klaus's assault, Stefan receives a call from Alaric telling him that he would release Caroline and Elena if he brought Klaus to him. After hanging up, Stefan heads outside and informs Klaus that Alaric wants Klaus to turn himself into him.
Bonnie tells Damon and the others that her mother used a desiccation spell on Michael and maybe that is what she could do also. She just needs to send for her mother.
Stefan and Klaus arrive at the school and wait for the others. While waiting, Klaus informs Stefan that after Alaric is killed, he still planned on taking Elena. Surprising him, Stefan tells Klaus then he will go to and protect Elena.
Abby arrives and sees that Bonnie is still very hurt by her leaving. Entering the home, Abby explains to Bonnie that it is a very dangerous thing to do. In order to do the spell, Bonnie will have to tap into her dark side. The spell will allow her to stop a Vampires heart but there are consequences. She tells her that in order for the Vampire to die, a human heart will also have to stop too.
They decide to use Jeremy since he had the ring that allows him to come back to life. They all join Klaus and Stefan outside of the school. Bonnie pulls out a small bottle of her blood and tells them that they all must drink it. It will bridge them all together and when she stops Jeremy's heart, she will also be able to stop Alaric's.
In the classroom, Alaric tells Elena that in order to be a true Vampire hunter like she was training to be, she needed to kill Caroline. Of course Elena refuses. Placing the stake in her hands, he tells her that if she doesn't do it, he will and it will be very painful.
Gripping the stake, Elena turns around and attempts to stab Alaric instead. He is too strong for her and manages to stop her. Struggling against him, Elena grabs up the glass of verbena and breaks the glass on his face.
While he struggles with the pain, she unties Caroline and they run out into the hall way. Caroline runs right into Klaus's arms and he tells her to go straight home. Telling him thank you, Caroline runs out of the school.
Alaric catches Elena and throws her against the lockers. Grabbing her by her neck, he tells her that she is the worst of them all and she deserved to die. Provoking him, she tells him to go ahead and kill her.
Before his anger allows him to do just that, Alaric releases her. Turning around, he is soon attacked by Damon and Stefan. In no time, Alaric has them knocked out unconscious. Klaus also arrives and attempts to place his hand over Alaric's heart.
In the nearby woods, Jeremy lays on the ground while Bonnie begins her spell. Feeling she is close, she continues the spell. Soon, she stops because she has lost the connection.
Back at the school, Alaric grabs hold of Klaus and throws him to the ground. He picks up the stake and tries to pierce Klaus's chest. Elena shows up with a piece of broken glass against her neck. She tells him to let Klaus go or she was going to kill herself.
Elena tells him that she now understands why Esther used her blood. She wanted to link her to Alaric. She didn't want Alaric to be immortal so if she dies, so does she. Not believing she would do it, Elena surprises him by beginning to cut her neck. Alaric yells for her to stop. In his distraction, he doesn't realize that Klaus has escaped. Looking back up, he sees that Klaus escaped with Elena.
Klaus arrives at home and wastes no time tying Elena up. With the help of a compelled nurse, he begins to drain her of blood. Looking at Tyler, Elena pleads for him to go tell Damon and Stefan. Klaus demands that Tyler stay put and continue packing. Knowing that he must keep up the façade of having the sire bond, Tyler continues to pack.
Damon and Stefan slowly begin to regain consciousness when Alaric arrives. He tells them that Klaus now had Elena and was going to kill her. Alaric tells them to do what they do best and go save Elena. He explains to them that Klaus now knows that if Elena dies, Alaric will die too. They immediately take off.
Once Klaus leaves the room, Tyler rushes over to untie Elena. Klaus comes back and sees this. Tyler tells Klaus that he wasn't his little slave anymore. Tyler tries once again to finish untying Elena until Klaus begins to attack him. Caught in the middle, Elena's chair is knocked over and she bumps her head, causing her to pass out.
Damon and Stefan show up and help Tyler. Tyler and Damon hold Klaus down while Stefan puts his hand over Klaus's heart. Feeling his heartbeat, Stefan watches Klaus closely as his heart slows down.
Meanwhile, Bonnie feels once again the connection and starts the spell. Jeremy begins to also feel his heart slow down. As Bonnie continues with the spell, Jeremy's heart stops and his body goes still.
Stefan looks into Klaus's eyes and watches as he breathes his last breath. Bonnie begins to panic when she sees that Jeremy has not come back to life yet. She begins to shake him until finally he opens his eyes. She hugs him with great relief.
Elena wakes up and is very weak from the blood loss. Damon and Stefan drive her home. At the door, she tells them that she is really confused and doesn't know what to do. She fears that if she chooses one, she will lose the other and she can't bear the thought of losing either one.
After leaving Damon and Stefan, Elena walks into the kitchen and sees all of her friends waiting there for her. They tell her they are celebrating Klaus's death. They all drink a shot to a Klaus free life.
Sheriff Forbes arrives later that night at Mayor Lockwood's home. Entering the home, Sheriff Forbes asks why she called a council meeting so late. Mayor Lockwood replies that it wasn't her, it was Alaric.
Walking into the den, Alaric begins and informs all of the council members that the Sheriff and Mayor were hypocrites. Telling them all that the sheriff had a daughter that was a Vampire and the mayor had a son that was part Vampire and part Werewolf. They try to leave but Alaric stops them.
On their way to dispose of Klaus's body, Damon and Stefan discuss what to do about Elena's final decision. They agree that whomever she chooses, the other will leave town.
Finally alone, Jeremy tells Elena that he will always be there to protect her. Heading up to Alaric's old room, Elena looks around but suddenly grabs her head. The pain is so bad that she collapses on the floor.