The Vampire Diaries Episode 21 Synopsis, Pictures & Soundtrack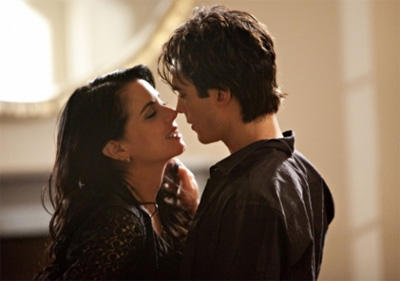 Alaric is still in shocked to be seeing his wife Isobel. Of course, Isobel doesn't seem to really care. She tells him that she wanted to become a Vampire. Isobel also wants Alaric to arrange a meeting between her and Elena. Alaric tells her no and leaves the bar. A moment later, Isobel is there be his car too and this time she's not asking him, she's telling him to arrange a meeting. She threatens to start killing off the towns people, starting with his students if he doesn't help.
The next day at school, Alaric announces to a group of students that Tyler will be in charge of the History departments float for the Founder's Day parade. Tyler tries to say no but Alaric tells him he's seen his drawings and knows he's perfect for the job.
Seeing Elena, Alaric brings her to his class room to discuss what Isobel wants. Damon and Stefan are also there. They all begin to try and figure out what to do about Isobel. No one trusts Isobel and Damon seems a bit too concerned for Elena's safety. This causes Stefan to stare at Damon. Elena announces that she has no choice and that she will meet with Isobel.
At a foreclosed home on the outside of town, John pulls up and walks in. Inside, he finds Isobel being entertained by a sexy couple dancing for her. Her "minions" are obviously being compelled by her. John tells her that she shouldn't treat people like dolls. Isobel shows no remorse and questions him about the device.
Isobel expresses to John that she is not happy with the way he has been handling things. Smarting off to Isobel doesn't make her any happier and Isobel slaps him across the face. John lands on the floor and Isobel announces that she will take over now.
While Elena is inside the Mystic Grill waiting for Isobel, Alaric and Damon wait across the street at a park. Damon explains to Alaric why Isobel is acting the way she is. He tells her that Isobel has taken the easy way and has switched off any human emotions. She has learned to feel no guilt, shame or regret.
Inside the Mystic Grill, Elena waits for Isobel to show up while Stefan stands in the back keeping an eye on her. Soon, Isobel appears and sits down. Elena tries to ask many questions but Isobel has no intention of supplying any answers. One of the questions asked was who her father was. Isobel does tell her that he was a boy who had a crush on her when she used to live in Mystic Falls. He was also the one that first told her all about Vampires and the history of them in the town. Once again, Isobel demands that Elena get the device from Damon or the blood will be on her hands.
Once Isobel leaves, Elena is visibly upset. Turning around, she sees Bonnie at the door. Bonnie sees that Elena is really upset and fights the urge to go to her. Deciding against it once she sees Stefan behind Elena. Bonnie turns around and leaves without saying a word.
Back home, Jeremy is still trying to get a hold of Anna but no having any luck. John enters the kitchen and begins to question Jeremy about Anna. John tells Jeremy that he can come to him if ever needs to talk. Of course, Jeremy doesn't trust John and tells John he's good and walks out of the kitchen.
At Isobel's house, Damon has made himself comfortable and is playing a game of strip poker with Isobel's female friend. Before getting ready to take his pants off, Isobel arrives and soon the game comes to a stop. Dismissing the girl, Isobel asks Damon for the device. Of course Damon isn't that easy. The two suddenly have a rather sexy battle and soon Damon has Isobel on the floor and his hands wrapped around her neck. Damon warns her to stay away from his town and to leave Elena alone.
Elena opens the door at home and is surprised to see Bonnie standing there. Seeing how upset she is, Bonnie embraces Elena. Elena fills her in with all that has happened. Meeting back at school, Bonnie tells Elena that she has been reading Emily's spell book. She also tells her that Jonathan Gilbert never actually invented these magical devices but that Emily had put spells on them so he thought he had.
Bonnie informs her that the device Isobel wants is actually a weapon. It was meant to kill Vampires.
Later, outside in the school parking lot, the students were all working on their floats. Tyler tries once again to apologize to Matt about what happened with his mother. Matt still wants nothing to do with him and walks away.
Seeing Elena there, Jeremy asks her if she's seen Elena. Trying to warn him away from Anna doesn't work on Jeremy and he informs Elena that he and Anna have gotten very close. Not knowing if he could trust Elena, he asks her again and she still tells him no. Jeremy walks away.
Turning around, Elena bumps into Isobel. In her subtle way, Isobel threatens Elena into getting Damon to handing over the device. Isobel has her look all around them and see all the people Elena cares for and wouldn't want to see get hurt. Glancing over at Matt, Isobel tells her that there is a problem with the rusty wheel on his float. Seeing one of Isobel's minions there, Elena cries out when this man jumps on the float and it falls on Matt's arm. Not letting her go to help, Isobel shows her Jeremy and threatens her to hand over the device. Understanding what Isobel will do, Elena glances back over at Jeremy and realizes that he has disappeared and so has Isobel.
John arrives at Isobel's temporary home and discovers that she has Jeremy tied up. John is furious and tries to convince Isobel to release him. Speaking in French, Isobel has her minions knock John on the head with a blunt object. John falls to the floor and they begin to beat him. Isobel kneels down and grabs his ring off of his finger.
Back at the Salvatore house, Damon, Stefan, Elena and Bonnie discuss how they can save Jeremy. Elena tells them that Bonnie can reverse the spell on the device and then they can hand over the device to Isobel. It would be useless now but Isobel would have no idea. Damon of course doesn't trust Bonnie. Seeing they have no choice, Bonnie begins the chanting spell. After some flashes of the lights and the fire flickering, Bonnie tells them it has been done.
Meeting up with Isobel later at a park, Elena asks to see Jeremy. Isobel asks for the device. Seeing that they were getting nowhere, Isobel tells her to call home. Elena does and is happy when she hears Jeremy's voice.
Asking why Isobel trusted Damon, Isobel answers her by saying, she knew that Damon was in love with her. Elena is not sure what to say to that news. Damon looks over at Stefan who seems to be a bit uncomfortable with that revelation. Before leaving, Isobel tells Elena that as long as she has a Salvatore on each arm, she is doomed.
Walking out of classroom, Alaric gets a surprise visit from Isobel. Isobel tells him that she's leaving but Alaric doesn't seem to care. He tells her that the woman he married and loved is no longer real and that this new Isobel is a completely different person. Taking his ring off and removing his Verbena, he tells her to go ahead and kill him now. Isobel rushes up to him and he is shoved against the lockers. She tells him that it was her mistake and not his. A mistake that she will regret for the rest of her life. She compels him and tells him to forget her and move on with his life. She than places the ring back on his finger and disappears.
Jeremy enters his room and turns off the light. Turning around, he gets a shock when he sees Anna waiting there for him. She tells him that her mother is dead. She begins to cry and tells him that she doesn't know what to do or where to go. Embracing her, Jeremy knows that he will take care of her.
Stefan confronts Damon about his interest in Elena. Damon, in his usual snarky way tells Stefan that he and Elena are just friends. Stefan informs Damon that history will not be repeating itself. Choosing this opportunity, Damon asks Stefan how he is going to tell Elena that John Gilbert is her father?
At home, John gets a call from Isobel. She tells him that the items he wanted are outside on his doorstep. Opening the door, John gets the envelope that contains the device and his ring. Telling him not to fail, Isobel tells him again that Katherine wants all the Vampires from the tomb killed. Isobel also tells him to add Stefan and Damon Salvatore to the list. Telling him that Elena is their daughter and they must do whatever it takes to protect her.
Bonnie and Caroline are down at the Mystic Grill and Caroline is still trying to get Bonnie to tell her why she's upset with Elena. Bonnie finally breaks down and tells Caroline that she did something really bad. Bonnie tells Caroline that she lied to Elena and told her she did something but she really didn't. Once Elena finds out, Bonnie tells Caroline that Elena will never forgive her.
Isobel Pictures