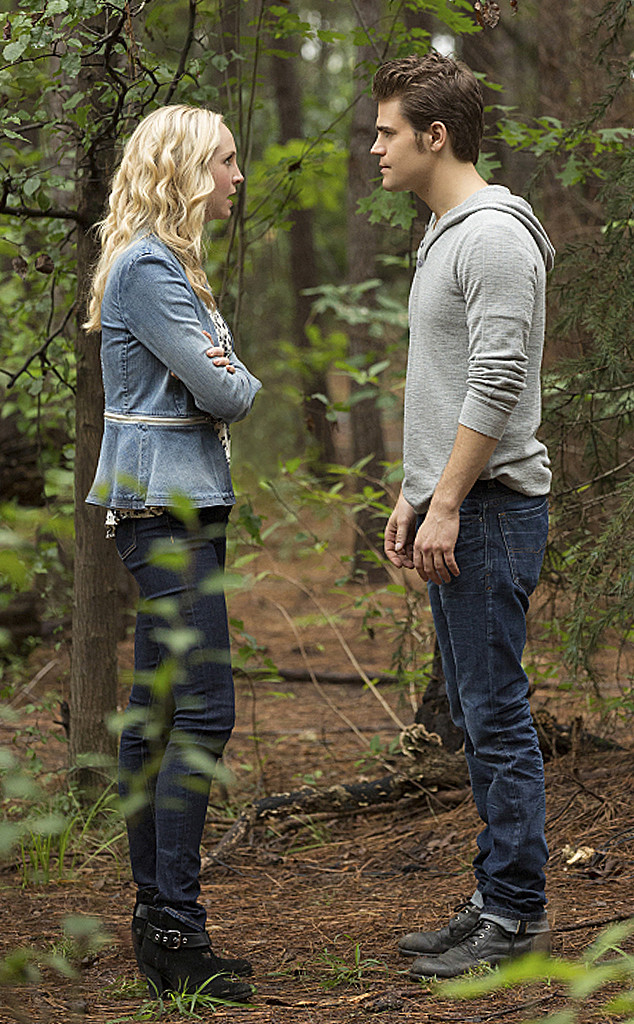 Got some very, very, very juicy spoilers for you below on tonight's mid-season finale of The Vampire Diaries. Read at your own risk!
Scoop via TV Guide:
Any scoop on The Vampire Diaries' midseason finale? — Amy
While much of the episode is about crazy Kai on the loose, the episode's big shocker doesn't involve him at all. Instead, look for some really bad news to bring two people closer than ever. On a slightly more positive note, the episode will feature one of the best scenes between the Salvatore brothers we've had in a long time.
Spoilers via E! Online:
Caitlin901: How many people are going to die in #TVD mid-season finale?
Prepare for a heartbreaking death to rock your world, people! "Dude, there's always deaths, there is a big one coming up, I will say that, there is a big one that's really going to break the people's hearts," Paul Wesley warned of an impending death on the hit CW series.
peaceloveeAngie: The Steroline fans are going crazy over this hug in the promo, can you tell us anything on that??? #SpoilerChat #TVD
Greedy fans that we are, we also asked Wesley for Stefan and Caroline scoop. His sentiment? Patience is a virtue. "There's some beautiful moments and I do think ultimately that something will happen. It's just a slow burn," he said.
We just wanted to wish all the fans of Vampire Diaries a Happy Thanksgiving. Have a great holiday.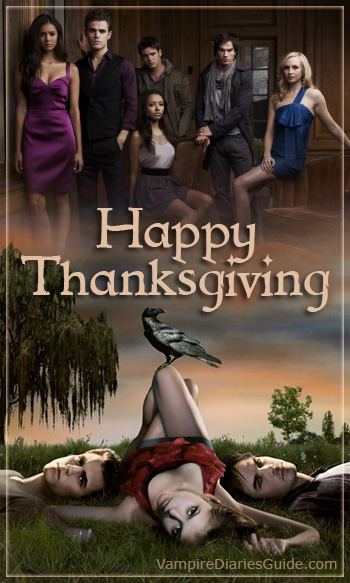 Share Graphic: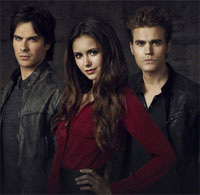 Got some juicy Vampire Diaries scoop for you. Read below to get some news on Stefan/Caroline and Damon/Elena.
Spoilers from TV Guide:

Are Elena's memories of Damon really gone for good on The Vampire Diaries? — Jenna
Looks like it! But when has Damon ever backed down from a challenge? In a swoon-worthy scene, Damon will fill Elena in on some of their relationship's pivotal moments, Season 3's hot hotel makeout included. But it's Elena whose frustration gets the best of her, and she ends up risking her life to get those memories back. Will it work? Just when they — and viewers — have given up hope, prepare for a scene that will leave you screaming. (Or is it squealing?)
Scoop via E! Online:
peaceloveeAngie: is there any chance Stefan and Caroline are going to reconcile and is there any hope for them #spoilerchat #TVDS6
Raise your hand if you kind of hate Stefan right now and think Caroline deserves way better than the jerk he's been this season?! "Caroline hoped that if Damon ever came back, she would get Stefan back too," executive producer Julie Plec tells me. "She's still very hurt, and he has amends to make, so we'll see in the coming episodes whether they can find a way to repair their friendship." And for all you Steroline fans, they need to repair the friendship first if they ever hope to have anything more than that between them.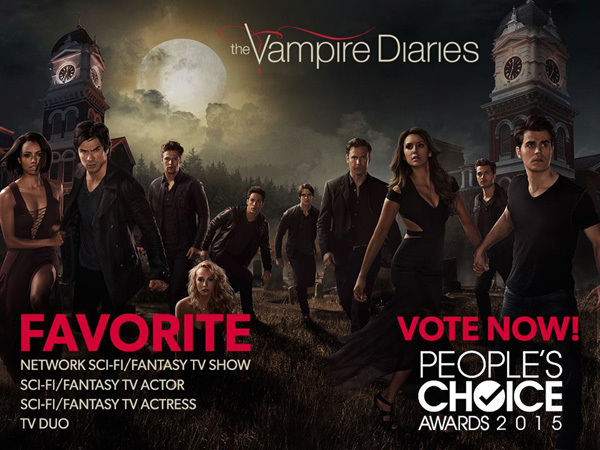 The 2015 People's Choice Awards nominations were announced and the cast and crew of The Vampire Diaries nabbed a total of 5 nominations! Below is a list of the nominations:
Favorite Network Sci-Fi/Fantasy TV Show – The Vampire Diaries
Favorite Sci-Fi/Fantasy TV Actor – Paul Wesley
Favorite Sci-Fi/Fantasy TV Actor – Ian Somerhalder
Favorite Sci-Fi/Fantasy TV Actress – Nina Dobrev –
Favorite TV Duo – Nina Dobrev and Ian Somerhlader
The People's Choice Awards is scheduled to air on January 7th on CBS. Go here to cast your votes.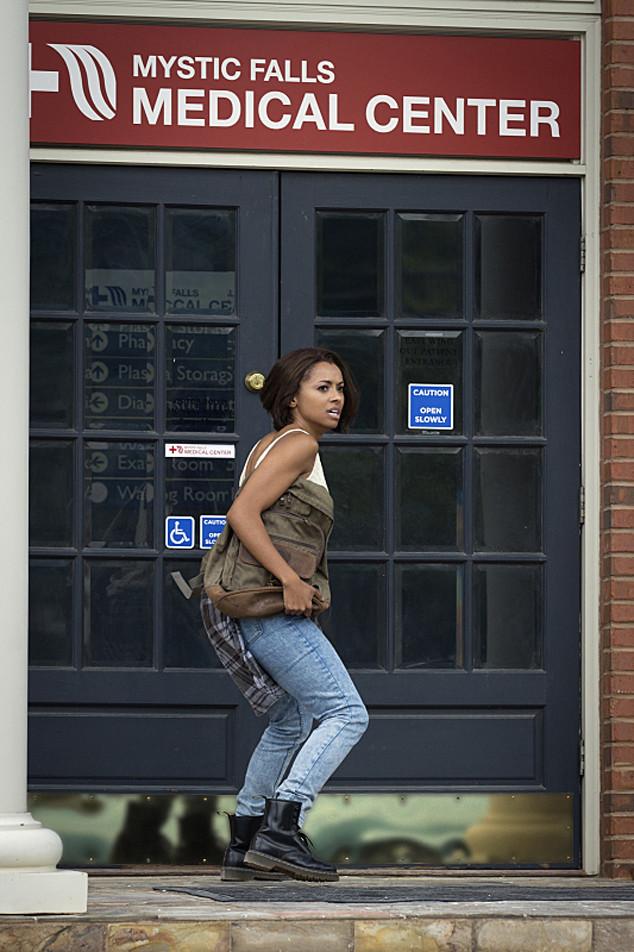 E! Online has a bunch of spoilers for upcoming episodes of The Vampire Diaries. Read below for scoop on Bonnie, Kai and Damon's reunions with love ones.
Sara Sabulsky: Any scoop on when or how Damon and Elena's reuniting will go?! And how will Stefan deal with him coming back? #broment
From Vampire Diaries queen Julie Plec herself: "Now that Damon's finally back, he won't waste another second being without Elena. But with her memories compelled away, she's not nearly as enthused by the prospect of seeing him. Stefan was feeling lost, but the look on his face when Damon returned in last week's episode says it all. The bond between these brothers is stronger than ever." Julie adds, "When it comes to Damon, without the good, there's a whole lot of bad. And Elena's still very much focused on that. However, not knowing the full story of their relationship will eventually begin to gnaw at her, and she'll have to decide if that's something she can live with."
Danielle: Now that Bonnie sent Damon home, have we seen the last of Kai on The Vampire Diaries?
Doesn't sound like it! Christopher Wood, the totally sane (and hot!) guy behind the mass-murdering, family-killing sociopath, told us we're going to learn more about Kai's past. "We know that the reason that he's locked in this prison world is because he massacred his family," Wood said. "But we don't necessarily quite know much about what he was like before that incident. Was he a good kid? Was he normal? Did something happen to him? Or was he always difficult and challenging and this was just one of many things that happened? We'll learn more about that as the show goes on."

Theresa: I'm kind of scared by how much I'm loving Kai on The Vampire Diaries. What's he really up to?
We've been wondering that very same thing, so we went straight to the mass-murdering, sociopathic witch himself! "For me the most fun elements of Kai is learning what he can, can't and is trying to do," Chris Wood told us. "Nothing is ever what it seems with Kai and I think that his connection to Bonnie and Damon at the moment and what he wants to do and plans to do when he gets out of this prison world is going to be very exciting for fans to see."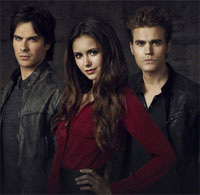 Got some juicy scoop for you on the flashback episode this week on The Vampire Diaries as well as info on witch Annie. Read the spoilers below for all the details.
Scoop via TV Line:
Do you have any scoop on either of these new Vampire Diaries and The Originals characters, Annie Nelson or Scarlett? –lilslim
I choose Door No. 1! A photography student whose life will be turned upside-down as she unravels the mystery of her true parentage, TVD's Annie also seems headed for romance – with a fella who perhaps shares a name with yours truly.
Spoilers via TV Guide:
Any more scoop on The Vampire Diaries? — Makayla
Get ready to see some old familiar faces when two characters (and no, we're not talking about Bonnie and Damon) return to the show. As for this week's big '90s flashback, not only will you get to see Damon flirting with a young (and long-haired!) Liz Forbes, but you can also expect a major hint about sketchy newcomer Sarah's past. (It could even link her to the Salvatores.)