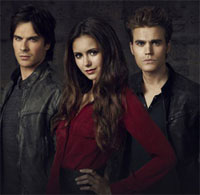 EW has some season 6 Delena scoop from The Vampire Diaries executive producer Caroline Dries. Even with Damon in 'who knows where' we will still get our treasured Delena moments

Any spoilers on The Vampire Diaries' Delena y'all can share would be delightful! What can Delena fans look forward to season 6? — Margarita
Considering that Damon is stuck, well, wherever he is, getting back to Elena isn't going to be easy. However, when my colleague Samantha Highfill asked executive producer Caroline Dries about potential Delena flashbacks to hold the fans over, she promised there will be something for the 'shippers. "I've been getting all of these hate messages like, 'You think you can do a season without Delena? You're crazy,'" Dries says. "The fans have nothing to worry about. We know what we're doing. Nobody's going to abandon any love triangle. Everything will be fine. There will be plenty of Delena goodness for people." So now the question is: Will it involve rain?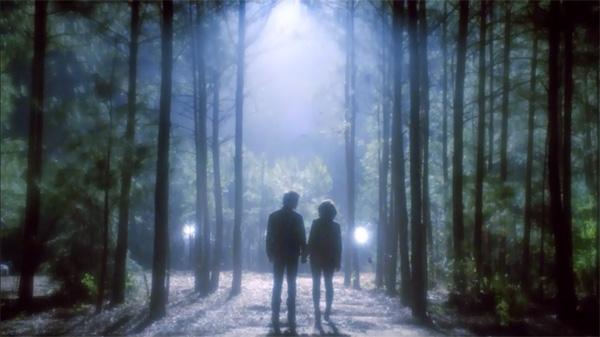 TV Guide has up an article talking about the returning TV shows. They discuss where we left off in the finales and what we can expect to see when the shows return this Fall. Head on over to TV Guide to see what they have to spill about The Vampire Diaries.
Alaric is back and I cannot wait to see him on the show again. I'm hoping for a lot of bro moments between him, Enzo and Damon (as soon as Damon gets back of course).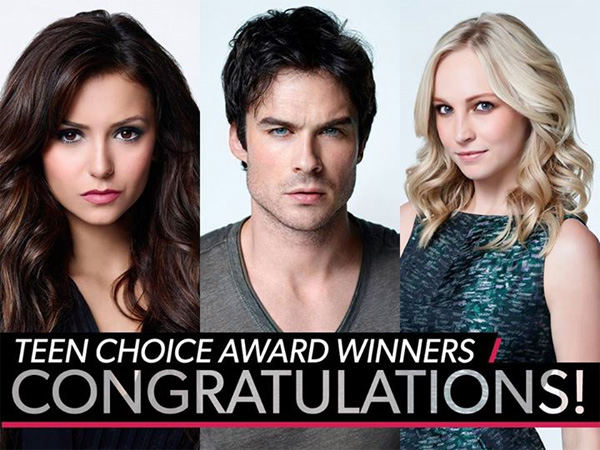 I know I'm a bit behind on posting this and anything on the site just been busy with real life stuff, but should be back to the regular updating now. Congratulations to Nina Dobrev, Candice Accola and Ian Somerhalder for their Teen Choice Awards wins. The show also won an award. Below are the winning categories:
Choice TV Actress: Sci-Fi/Fantasy
Nina Dobrev
Choice TV Actor: Sci-Fi/Fantasy
Ian Somerhalder
Choice TV Female Scene Stealer
Candice Accola
Choice TV Show: Fantasy/Sci-Fi
"The Vampire Diaries"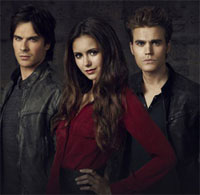 TV Guide has some scoop on Caroline when The Vampire Diaries returns in October. Looks like she is still trying to be the glue that holds everyone together.
What is coming up for Caroline on The Vampire Diaries? — Cara, via Twitter
It should come as no surprise that the most anal-retentive vampire will have specific thoughts on how to soldier through the finale's tragedies. "[She is] trying to hold the whole group together and is just, in her mind, failing miserably and really struggling," executive producer Julie Plec says. Her job will be made especially difficult when it comes to dealing with Stefan, who "reacts to Damon's loss in ways we wouldn't expect," Plec teases.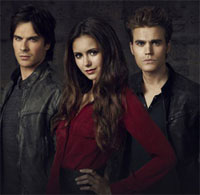 Looks like when season 6 of The Vampire Diaries comes back Elena is gonna be focusing on her schoolwork in an attempt to get over Damon. Julie Plec gave TV Line a little input into Elena's new medical path.
What coping mechanisms will Elena from The Vampire Diaries be using to deal with the fact she lost Damon (seemingly) forever? –Ana
It sounds like she'll be burying her nose in the books, of the medical stripe. As indicated by a flurry of recent castings – and likely a pure coincidence now that TVD has Grey's Anatomy as a time slot rival — "When we come back, we'll see that Elena is actively pursuing a degree in pre-med," show boss Julie Plec told us. "She's a smart girl, and Elena's father was a doctor, so she's trying to figure out how to help people and save people, just as her family did." And merely as an added bonus, "We'll meet some hot young pre-med guys and sexy doctors" as she does so.
Every Year TV Guide and Warner Bros. join forces to produce special covers for their Comic-Con issue and this year The Vampire Diaries will once again be gracing one of those covers. The magazine will hit newsstands July 22nd and be available at SDCC.
What do you think of the cover?
Are any of you making it to SDCC?
One year I would love to go