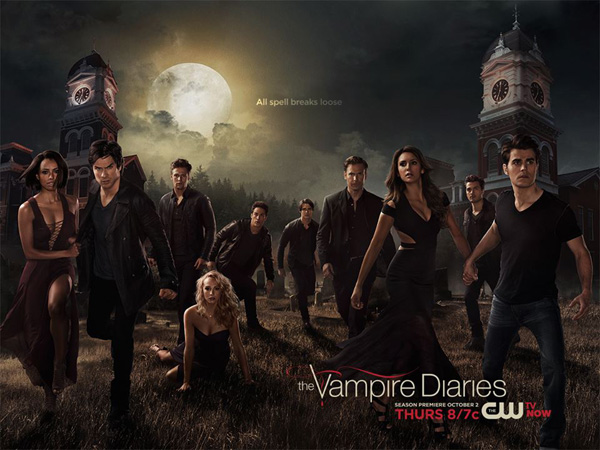 I got a smorgasbord of spoilers on The Vampire Diaries for you. There's scoop on what Alaric, Matt, Caroline and Stefan are up to and news on this seasons brand new villain character! Check out all the SPOILERS below.
TVD news via E! Online:
Teddy1308: Any chance Stefan and Caroline might be a thing this season on The Vampire Diaries?
Do you want the bad news or the terrible news? The bad news is that there's no plan in sight for any kind of Stefan/Caroline romance. The worse news is that their frienship might be Kaputzville too! At least, that's what's up for the beginning of the season, according to the show's Big Boss Momma Bossy Pants (that's not her real titlem and she is anything but bossy), Julie Plec, who tells me: "Caroline isn't going to let Stefan off the hook very easily. In fact, his determination to move on and start a new life after the loss of his brother may ultimately ruin the friendship he's built with her over the years." So. Not Cool. Unless you are a Klaus and Caroline or Tyler and Caroline shipper, at which point you are probably chanting "nanny nanny boo boo" right now.

MichelleGr: What's up for Alaric on TVD this season?
Some juicy storylines, with a sweet side of little angst, of course. Plec teases, "Alaric is having a hard time reconciling his former self with his new vampire identity. And when he meets a fascinating and smart new woman, it makes it even more difficult." Feast your eyes on the first pic of Alaric with his new woah-man.
TVD spoilers via EW:
Would love to get any The Vampire Diaries scoop that's not related to romantic relationships. — Lola
How about some information on this season's villain? When my colleague Samantha Highfill spoke to Julie Plec about a new big bad, she claimed this season was going to have a number of "conflict providers." Still, "There is a villain-esque person in this season that I'm particularly excited about because it does break the mold a little bit of our villains, which seem to be often very redeemable in their own way," she says. "And we get to explore the deep, dark minds of a psychopathic personality, so I'm very excited about that." In other words, this is one bad guy who won't find redemption through a spin-off.
TVD Scoop via TV Guide:

Any Vampire Diaries scoop for me? — Brittany
Sure! As our boy Matt becomes more involved in Mystic Falls, he'll realize that Colin Ferguson's Tripp has an important family connection to the town. Just wait until you hear Tripp's real name. Then it'll make more sense that he's keeping quiet about some extracurricular activities that could put Matt's closest friends in extreme peril.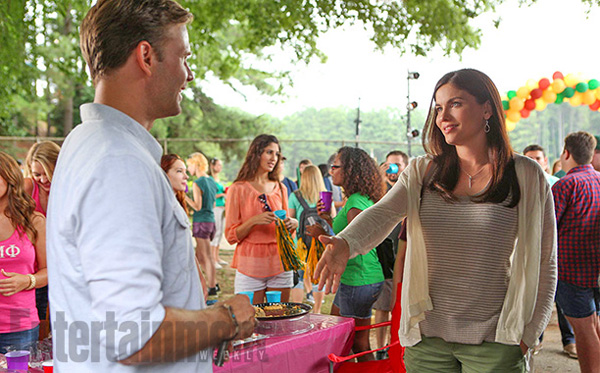 EW has our very first look at Jodi Lyn O'Keefe on The Vampire Diaries. She will be playing Jo, "a tough and accomplished doctor at the university hospital", who will make her debut in the season 6 premiere of the show. From the still it looks like she will be getting to know our beloved Alaric. Could Alaric find love again? Head on over to EW for more scoop on Jodi Lyn O'Keefe's character and what Alaric is up to when The Vampire Diaries returns.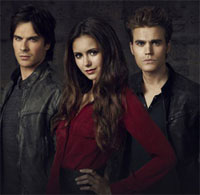 Vampire Diaries executive producer Caroline Dries gave TV Line some scoop on the witch twins, Luke and Liv's, mysterious coven:

On The Vampire Diaries this season, will we be meeting the leader of Luke and Liv's coven? –Tom
We'll learn a lot more about the Wonder Twins in Season 6, but before we meet their mysterious leader, we'll first discover what said coven is all about. "It's linked heavily into the deeper mythology of the show this season," executive producer Caroline Dries says. "Once we start understanding why the heck we're at Whitmore and what their coven is all about, we'll really understand their plight in life and how it affects our characters."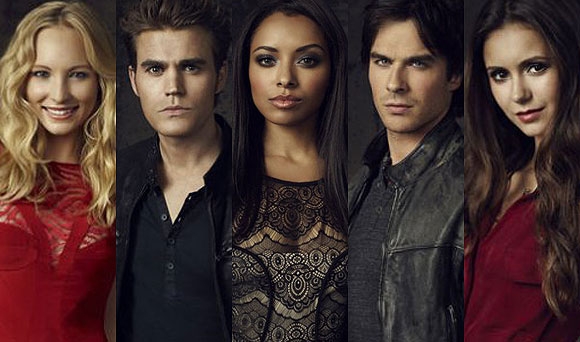 ET has more news on season 6 of The Vampire Diaries. It's been 4 months since events of the finale took place and everything is still out of whack. Our residents are still grieving, missing and relocating. More importantly…flashbacks of the Salvatore brothers in the 90′s. That is something I can't wait to see!
Get all the spoilers at ET.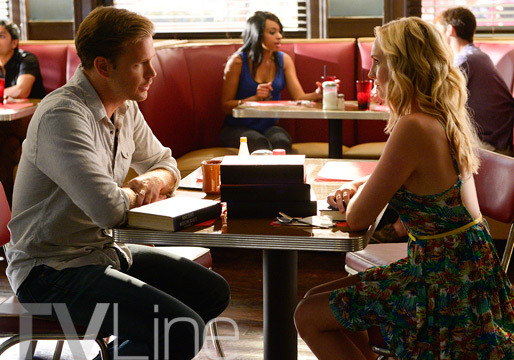 TV Line has some scoop on season 6 of The Vampire Diaries and our first look at the season. The still features Alaric (so glad he is back) and Caroline sitting down for a talk at a diner.
Executive producer Caroline Dries gave TV Line some scoop about what we will be seeing when the show returns in October. Looks like it picks up 4 months after the other side fell. Get the scoop here. Beware those pesky spoilers!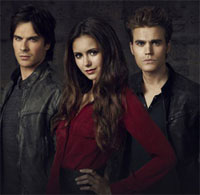 Got a few more season 6 spoilers for The Vampire Diaries for you guys to dig into. Looks like Alaric and Stefan are gonna be chasing down some new professions and Damon and Stefan are gonna be having a brotherly moment.
Spoilers from TV Guide:
Any scoop on The Vampire Diaries? — Jessica
You've probably already Season 6′s first teaser, which features Stefan telling Elena to move on. Well, there's a reason their convo wasn't face-to-face. When the season begins, Stefan will definitely not be anywhere near Mystic Falls. In fact, he will have taken up a surprising new profession in his new "home." And while we're the topic of professions, Alaric also has a new job. Hey, newly resurrected vampires have rent to pay too!

Scoop from EW:
Any word on how long until Damon's back in Mystic Falls on The Vampire Diaries? — Jenna
Since Mystic Falls is still being cloaked by the Travelers' spell that will kill any vampire who steps foot in town, probably not anytime soon. However, Damon could actually come face-to-face with someone in the land of the living fairly quickly. (And no, that's not counting Elena using some witchy drug to hallucinate him.) Ian Somerhalder teased that brother bonding isn't far off. "I had some really great scenes with Paul [Wesley] not too long ago, like last week," he says. "You definitely see some great stuff with those boys. It's good when they're not at one another's throats." So unless Stefan joins Elena's drug trip, it sounds like we could have a Salvatore reunion within the first batch of episodes.