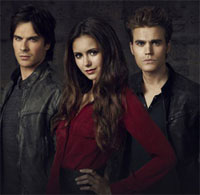 Looks like when season 6 of The Vampire Diaries comes back Elena is gonna be focusing on her schoolwork in an attempt to get over Damon. Julie Plec gave TV Line a little input into Elena's new medical path.
What coping mechanisms will Elena from The Vampire Diaries be using to deal with the fact she lost Damon (seemingly) forever? –Ana
It sounds like she'll be burying her nose in the books, of the medical stripe. As indicated by a flurry of recent castings – and likely a pure coincidence now that TVD has Grey's Anatomy as a time slot rival — "When we come back, we'll see that Elena is actively pursuing a degree in pre-med," show boss Julie Plec told us. "She's a smart girl, and Elena's father was a doctor, so she's trying to figure out how to help people and save people, just as her family did." And merely as an added bonus, "We'll meet some hot young pre-med guys and sexy doctors" as she does so.
Every Year TV Guide and Warner Bros. join forces to produce special covers for their Comic-Con issue and this year The Vampire Diaries will once again be gracing one of those covers. The magazine will hit newsstands July 22nd and be available at SDCC.
What do you think of the cover?
Are any of you making it to SDCC?
One year I would love to go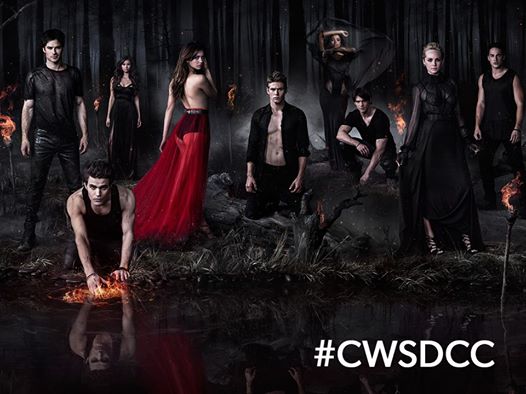 The Vampire Diaries cast will be heading to the San Diego Comic Con again this year to treat fans to a Q&A panel and signing. Julie Plec, Ian Somerhalder, Paul Wesley, Nina Dobrev and Kat Graham are scheduled to appear. There will be a video presentation followed by a Q&A panel in Ballroom 20 on Saturday July 26th – 4:00pm to 4:45pm PT.
TV Line has a tiny bit of TVD season 6 scoop on Stefan:
Question: Anything about The Vampire Diaries Season 6? —Valentina
Ausiello: Devastated over the (apparent) loss of his brother, look for Stefan to turn to a surprising source for comfort.
Who do you think it is?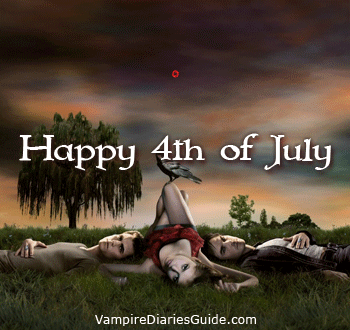 Graphic Code:


Wishing you all a safe and fun 4th of July!
Kat Graham assured TV Line that Bonnie will be back for season 6 of The Vampire Diaries (as if there was any doubt).
Question: Got any Vampire Diaries scoop? —Lakshana
Ausiello: Do I ever, Lakshana. I know fans have been concerned about Kat Graham not returning to the show next season, following Bonnie's trip into oblivion with Damon, but the series vet assures us we have nothing to worry about. "She is [back next season], but I don't know in what form or for how long," Graham teases, adding that she was "just as shocked as the next person" when she first heard about the ending. "I've been on the show for five years, and I cried when I watched the finale."