Season 2 » Bad Moon Rising
The Vampire Diaries Season 2 Episode 3 Synopsis, Pictures & Soundtrack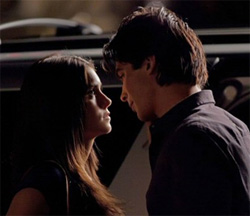 Alaric shows up to help Damon and Stefan figure out what the secret is that the Lockwood's family has. Alaric tells them that local folklore talks of Lycanthropes being in the Mystic Falls history. Knowing that Isobel must have some information in her research back at Duke, Damon, Alaric and Elena decide to take a ride to Duke to find out more information. Stefan decides to stay behind and look after Caroline.
Meanwhile, Mason goes out for a jog in the woods surrounding the old Lockwood Estate that was burned down many years ago. Mason has no idea that Tyler is following him. Tyler watches on as Mason enters an old cellar. When Mason reappears and takes off, Tyler heads down into the old cellar and discovers scratch marks on the walls.
Alaric stops by to pick up Elena and bumps into Jenna. He tries to tell her that he's sorry the way he left her hanging. Alaric explains that he would like to start again but Jenna tells him not to make any promises until he straightens out the situation with his wife.
At the Mystic Grill, Stefan asks Bonnie to help Caroline out and put a spell on another ring so Caroline could walk in the sun. At first, Bonnie refuses because she saw Caroline kill a man and is afraid she will do it again. Soon, Stefan convinces her to help out. Later, in Caroline's room , Bonnie prepares to put a spell on the ring. Caroline complains that the ring is ugly and Bonnie almost refuses to help again. Caroline keeps her mouth shut and Bonnie proceeds to place a spell on the ring.
Alaric, Elena and Damon arrive at the Anthropology Dept at Duke and are greeted by Isobel's research assistant Vanessa. Vanessa shows them to Isobel's office and steps out for a moment. A minute later, Vanessa comes back in and fires off an arrow from a cross bow at Elena. Damon steps in it's path and is shot in the back. Alaric races over and stops Vanessa before she could shoot again. Later, Vanessa explains that she thought Elena was Katherine. They all explain who they are and what they are looking for and Vanessa pitches in to help.
Stefan takes Caroline out to teach her how to hunt for small animals to feed from. She whines about being stuck doing that instead of going to the swimming hole with the rest of her friends. Stefan compromises and tells her that after she feeds, he will take her to the party.
At the swimming hole, Tyler enjoys a few beers with his friends when gets a surprise visit from his Uncle Mason. Mason warns him to make sure everyone is gone before dark. Tyler reluctantly tells him that he will make sure of it.
Caroline sees Matt talking to Amy and becomes quite jealous. Stefan warned her earlier that her feelings are now heightened since she is a Vampire. Rushing over, Caroline uses her ability to compel and soon gets rid of Amy. Matt is disgusted with her jealous behavior and storms off.
Reading through Isobel's notes, they soon discover that Werewolves were thought to have been extinct. Their bite can be fatal to Vampires so the Vampires tried to make sure all Werewolves were dead.
Preparing for the full moon, Mason heads down to the old cellar and begins to chain himself up. As Mason tries to finish chaining himself up, he hears someone coming and quickly prepares to leave. Heading back to his truck, Mason discovers that it's too late for him to try and chain himself to a tree so he jumps in his truck. Once inside, the transformation begins.
The party begins to wind on down and Caroline approaches Matt to try and apologize for her earlier behavior. Matt tells her that he wants no more drama and Caroline promises to be drama free. Matt and Caroline head off into the woods to have some private time.
Elena calls Stefan to warn him what they found out about Werewolves. Not seeing Caroline, Stefan races off to search for her. Stefan hears a noise and cautiously approaches Mason's truck. Looking into the back window, Stefan sees two yellow eyes staring back. Suddenly, a Werewolf jumps out of the back window, knocking Stefan down. The Werewolf takes off.
Unlocking the car door for Elena, Damon tries to use his charm on her so she wouldn't be mad at him anymore. Needing to know the truth, Elena asks Damon if he knew that Jeremy was wearing the ring when he killed him. Damon tells her truthfully that he did not know. Elena thanks him for his honesty but tells him that he has lost her as a friend forever.
Matt and Caroline are alone in the woods and they begin to kiss. Because of her heightened emotions, Caroline becomes aggressive and shoves Matt against a tree, causing him to cut his hand. Seeing the blood, Caroline begins to lick it up. Soon, she is out of control and begins to bite his neck and feed off of him.
Luckily, Stefan appears and quickly shoves Caroline off of Matt. Matt falls to the ground weak from loss of blood. Caroline is horrified that she did that. Suddenly, they both hear a growl in the woods. Knowing what it is, Stefan tells Caroline that they must run really fast to take the Werewolf away from Matt.
Stopping after a minute, Stefan tells Caroline that a Werewolf is after them. Just then, Tyler shows up and asks them what is going on. A moment later, Caroline is struck down by the Werewolf. Understanding who it is, Tyler yells "no" and the wolf stops and runs off.
Caroline finds Matt and compels him so he thinks he was attacked by an animal. Seeing that she almost killed Matt, Caroline knows now that she must break it off with him to protect him. Back at Mason's truck, Tyler is not surprised when he sees Mason appear naked and filthy. Tyler tells Mason that he knows the Werewolf was him and Mason agrees.
Later at the Mystic Grill, Caroline sees Matt talking with Amy and decides that now would be the perfect time to cause a scene and make Matt break it off with her. Approaching the table, Caroline asks like the jealous girlfriend knowing that Matt hates the drama and sure enough it works. Matt tells her he's had enough and breaks up. After they leave, Caroline sits down alone and is very sad but knows it was for the best.
Alaric drops Elena off at home and once alone, takes Jenna in his arms and begins to kiss her passionately. He tells her that he should have done that earlier. Outside, Damon confronts Elena and tells her he felt used by her. Damon tells Elena that she has more in common with Katherine than she thinks and walks off.
Caroline wakes up the next morning to see Katherine waiting by her bed. Smiling, Katherine tells her that they are going to have so much fun together.
Bad Moon Rising Pictures