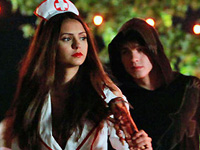 Finishing up football practice, Tyler gets a surprise when he sees Vicky sitting in the back seat of his car. He doesn't know what to do or think when she keeps telling him she can't control herself and that she is so hungry. Baring her fangs, Vicky lunges for Tyler but he is saved just in time by Damon and Stefan. While Stefan takes care of Vicky, Damon erases Tyler's memory of what just happened.
Back at the Salvatore house, Stefan and Damon try to keep a close eye on Vicky. They tell her that she is transitioning into a Vampire and that she will not be feeling well until it is complete. Stefan tries to tell her that she needs to control her urges and only drink animal blood. Damon , however tells her that drinking human blood is the best than you can just erase the victims memory. Vicky seems to favor his advice more than Stefan's.
While reading the paper, Damon notices that there is no mention of Logan's murder. Which of course leads him to believe that is being covered up by someone. Damon takes off for the Mystic Grill and soon overhears Mayor Lockwood and his wife discussing the murder and now he knows whose trying to cover it up.
At her grandmother's house, Bonnie tries to obtain more information about their family and their history with witchcraft. Not feeling like she is getting anywhere with her grandmother, Bonnie heads off to school. Once there, she bumps into Caroline who hands her the costume she wants her to wear. Bonnie sees that it is a witch's costume and the necklace that Damon gave Caroline is also in there too.
Elena arrives at Stefan's house to see how Vicky is doing. Telling her the latest, he tells Elena that he needs to step out to get more animal blood for Vicky. Once left alone, Elena tells Vicky that until she is better, that she needs to stay away from Jeremy. Not enjoying taking orders from Elena, Vicky grabs her by the throat and tells her she will see whomever she pleases. Stefan arrives just in time.
Later, Damon finds Vicky alone in his bedroom bored. She confronts him about why he made her a Vampire. He responds by telling her he was "bored". Sensing that she is very restless, he decides to take her outside to show her a few Vampire perks. Stefan doesn't like the idea but steps outside too. Damon shows her his ability to move extremely fast. That was probably a bad idea because within seconds, she used this new perk and escaped.
Vicky arrives at her house and finds the secret key they have hidden under a flower urn. Unlocking the door and trying to enter, Vicky soon discovers that until she is "invited" in, she cannot enter. Matt is there and soon invites her in. He is happy to see her but soon they get into a fight about her behavior lately. Matt storms out.
Later on at home, Elena hears Jeremy leaving a message for Vicky. Elena tries to tell Jeremy to stay away from Vicky until she is feeling better. Jeremy tells her that the only time he's been happy is when he's with Vicky. She convinces him to go to the Halloween party in town. A moment later, Jeremy receives a text from Vicky telling him to meet her at the party too.
At Mystic Grill, Damon manages to sit next to Mrs. Lockwood who is having a Martini alone. Flirting a little, he tries to obtain information about who is hunting the Vampires. He tries to "compel" her but finds that it doesn't work. Then, he notices she is wearing a bracelet with Verbena in it. He soon discovers after she's had a few drinks that his uncle was going to supply members of a special council with Verbena also. Unfortunately, he is not able to get the names of anyone in the council. He soon escorts her to the party.
Elena and Jeremy arrive at the Halloween party and she bumps into Matt. Jeremy soon takes off to find Vicky without telling Elena. Matt informs Elena that Vicky is indeed at the party and she's dressed as a Vampire. Elena rushes off to find Jeremy.
With the large crowd all around her, Vicky starts to feel uncomfortable and the beginnings of the "hunger" for human blood. Stefan appears and pulls her aside and tries to explain to her what she's feeling and that it is dangerous for her to be there. He'' afraid that she is going to hurt someone.
After escorting Mrs. Lockwood to her party, Damon bumps into Bonnie. He notices the necklace he gave Caroline around her neck. Asking her for it back, Bonnie refuses. Not getting nowhere, Damon decides to take it off himself. As soon as he touches it, it seems to burn his hand and he pulls back as if he is actually burned. Not understanding and feeling a bit scared, Bonnie takes off to her grandmother's house. Once there, she questions her grandmother about the necklace and she tells her that it has been in their family for centuries.
Once again, Vicky manages to escape Stefan and goes out in search of Jeremy. She soon sees him and pulls him outside. Vicky and Jeremy begin to make out by the buses. Getting a little rough, Vicky bites Jeremy's lip and draws blood. She begins to lick it up and soon gets in a frenzy and bares her fangs. Shocked, Jeremy stumbles away. Thankfully, Elena and Stefan arrive just in time. Vicky throws Elena and pushes past Stefan to escape.
Telling Vicky and Jeremy to leave, Stefan heads out to find Vicky. Elena and Jeremy just about make it to the door when Vicky pulls Jeremy back and lunges for Elena. Vicky sinks her fangs into Elena. Before she has a chance to drink too much, she is stopped suddenly by the wooden stake Stefan pierced her heart with. Stefan calls Damon to help get rid of Vicky while he escorts Elena and Jeremy home. Once at home, Elena sees that Jeremy is very distraught and feels that he might not recover from this. Making a hard decision, she has Damon erase any memory of the attack and to plant a new memory of Vicky. Telling Jeremy that Vicky left town and that it is better this way and not to worry about her.
Elena confronts Stefan and tells him that she wishes he could erase all her memories of everything too. Elena tells him this but also tells him that she would never let it happen though because she doesn't want to lose any memories she has of him. This seems to make him a little bit happier.