The Vampire Diaries Season 3 Episode 9 Synopsis, Pictures & Soundtrack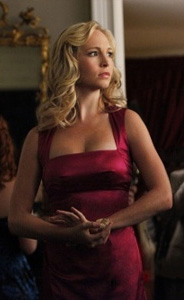 Damon, Stefan and Elena devise a plan make Klaus believe his father was dead in order to lure him back and give them a chance to kill him. Stefan calls Klaus to inform him that Michael was finally dead. Not completely believing him, Klaus wants him to explain exactly how it happened.
Rebecca watches on as Michael's lifeless body begins to stir. Not giving him a chance to speak, Rebecca lets him know that it wasn't Klaus that destroyed their family, that it was him. The moment he turned them all into Vampires, their lives were ruined forever.
Trying to work on decorating for the evenings Homecoming dance, Caroline is not too happy when Tyler tries to convince her to sneak off and grab a bite. Caroline tells him that there is a thermos available if he needed a drink. Frustrating her more, Tyler tells her that Rebecca knows some humans that enjoy being fed on by Vampires.
Elena walks into Rebecca's room and sees that she is dressed in a beautiful red dress for the Homecoming dance. Rebecca surprises Elena when she tells her that this was in fact the first high school dance she had ever been too. Looking in the mirror at Rebecca's reflection, Elena remarks on how beautiful she looked.
Elena surprises her by handing Rebecca her mother's necklace. Seeing Rebecca near to tears, Elena helps clasp the necklace around her neck. Looking back in the mirror, Elena surprises Rebecca again when she plunges the dagger into her back.
Caroline is not too happy when she shows up at the school to discover that the dance was cancelled due to the gym mysteriously flooding. Tyler shows up and let's her know that the party had been moved to his house.
Caroline and Bonnie arrive at Tyler's house to find it packed with people. Many they had never seen before. Caroline was also shocked to see that the party also had a live band. She was pretty amazed that Tyler was able to throw this all together at the last minute.
Bumping into Tyler at the party, Stefan congratulates him on a successful party. Tyler tells him that Klaus was the one that arranged everything. Stefan looks up when he hears Klaus's voice coming from the stage. Later Klaus tells Stefan that he wants Michael's body brought to the party.
Stefan returns home to inform Damon and Michael of the new arrangements. Deciding to change the plans again, Michael rushes over to Stefan and bites him on the neck. Stefan falls to the ground.
At the party, Klaus warns Tyler to make sure his friends didn't try anything because the party was filled with hybrids. Not wanting to see any harm come to Caroline, Tyler meets her in his room and injects her with verbena until she collapses. Matt shows up and Tyler tells him to bring her home.
Klaus becomes quite agitated when one of his hybrids informs him that Michael was there to see him. At the front door, Michael greets Klaus. Klaus threatens him not to try anything because his hybrids will protect him. Michael reminds him that hybrids are half Vampire and can be compelled.
Soon Klaus sees his hybrids backing up Michael. Making matters worse, he sees Michael reach for a reluctant Elena. Provoking him, Klaus tells Michael that he doesn't have the guts to kill Elena. Proving him wrong, Michael plunges a dagger into Elena.
Caught off guard, Klaus is suddenly attacked by Damon. Damon begins to plunge the special wooden dagger into Klaus's chest. Meanwhile, Elena stands up and Michael soon realizes that it was actually Katherine.
Before Damon has a chance to complete the task, Stefan throws him off of Klaus. Seeing his chance, Klaus rushes for the front door and plunges the dagger into Michael's chest, destroying him.
Caroline wakes up and is not too happy with Tyler. He tries to explain that he had to do it to protect her. Realizing that as long as he was a hybrid, Tyler would always be loyal to Klaus. Seeing the look of mistrust in her eyes, Tyler leaves.
Back at the Salvatore home, Damon is furious with Stefan for messing up their chance to finally destroy Klaus. Damon receives a call from Katherine who informs him that she is going into hiding and leaving town.
Ending the call, Katherine turns to Stefan and tells him that Damon just can't seem to understand where it all went wrong. Stefan tells her that Damon doesn't need to know that he did it to save his life.
Feeling quite happy with himself, Klaus heads to his trailer when he receives a call from Stefan. Stefan asks him how it feels to not always be one step ahead. Not understanding until he opens the trailer doors. Klaus is furious when he discovers the coffins containing his family were all gone. Stefan puts the phone away and stares at the coffins in front of him.