Season 2 » The Dinner Party
The Vampire Diaries Season 2 Episode 15 Synopsis, Pictures & Soundtrack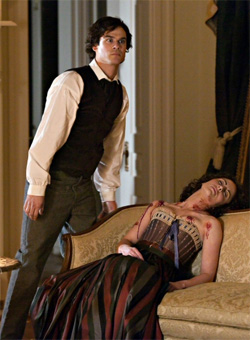 Elena settles down on the couch and begins to read Jonathan Gilberts journals. Reading on about what happened to Jonathan after the fire at Fell's church, Jonathan and his family have all settled down for a peaceful meal when he hears a noise outside.
Along with his friend, Jonathan goes outside and using his compass, he soon discovers that there are still Vampires around. Before he can warn his friend, his friend is killed. Soon his wife is killed also. A moment later, he is standing face to face with Stefan Salvatore. Seeing his blood soaked shirt, he knows his life is next to be taken. Stefan strikes out violently and Jonathan Gilbert drops to the ground.
Jenna takes Elijah on a tour of the old Fell property. He begins to enlighten her that the founding fathers were not in fact the original founders of Mystic Falls. That a group of witches from Salem had actually been there about 200 years earlier. Soon, the two are met by Alaric. While Jenna runs off to get more maps, Elijah chooses this time to tell Alaric that he should not worry about him because Elena had added Alaric's name to the list of people she wanted protected.
At the Mystic Grill, Jeremy sees Bonnie and joins her at the table. Excited to see her again because of the kiss they shared the night before, Jeremy wants to ask her what she thinks of them being together. Not having a chance though because they are soon joined by Luca. Luca gets in Bonnie's face and demands to know what had happened to him. Pleaded innocence, Bonnie tells him that they had a coffee and played some pool. Luca of course feels differently, considering he woke up in the men's bathroom. Before he has a chance to get too loud, Jeremy steps in and asks him to leave.
Stefan walks into the Lake house and sees Elena reading the journals. Knowing that what she is reading will not paint a very good picture of him, he begins to explain to her that in the beginning, after he became a Vampire, he was bent on revenge against the founding fathers for killing Katherine. During this dark time, Damon saw how violent Stefan had become and decided to leave Mystic Falls. He wanted no part of Stefan's bad behavior.
Alaric sits down and joins Andy and Damon at Mystic grill. The two discuss what to do and how to kill Elijah. The door opens and in walks in Jenna and Elijah. Feeling a bit uncomfortable, Alaric motions to leave. Wanting to continue with their conversation, Andy announces to them all that she would love for them all to come to a small dinner party she was hosting that evening. Agreeing, Alaric makes his move and finally escapes the curious eyes of Jenna.
Damon stops by the tomb to bring Katherine a fresh set of clothes and a bottle of blood. After drinking the whole bottle, her rugged appearance takes on a renewed youthful glow once again. Seeing that she is back to herself, Damon tries to get information about how to kill and Original. Katherine begs him not to kill Elijah. She tells him that id he kills Elijah, she will be compelled to stay in the tomb forever. Mentioning that he had a dagger, Damon sees the reaction he wanted and now realizes that the dagger will be the correct weapon to destroy Elijah.
Stefan describes to Elena how it was after he became a Vampire. Hunt, Prey and Kill was all he knew until he came across another Vampire named Lexie. Lexie took him under her protection and showed him that he could turn off that evil side of him and find a better way to live. She showed him how to control his hunger and how not to be a killer.
Getting up from the table at the dinner party, Alaric heads out to help Jenna with the wine. In the study, Damon enjoys a scotch while he also prepares the dagger. Hearing the doorbell, Damon leaves to answer it and is not surprised or happy to see John waiting there. John basically invites him over for dinner and now he is another guest at the table.
Bonnie arrives at Jeremy's to work on some spells. When she walks in, she is shocked to see candles lit everywhere. Figuring out what Jeremy's plan was, Bonnie tells him that until she speaks with Elena, their romantic relationship can go no farther. Understanding, they both settle in for a quiet evening working on her spells.
Soon, Elijah arrives for the dinner party but before he enters, he warns Damon not to try anything tonight or he will kill everyone in the house. Telling Elijah he has nothing to worry about, Elijah proceeds inside. Seeing Jenna, he walks towards her with a very warm greeting.
Elena reads on in the journals and discovers the dagger and what it could do. Stefan tells her that he knows all about the dagger and that Damon had the dagger and planned on killing Elijah with it that very night. Reading some more, Elena makes a startling discovery that makes Stefan race for his phone and try to reach Damon. They find out that if the dagger is used by another Vampire to kill another Vampire, they will both die. Now he knows that John gave Damon the dagger, hoping that he would use it and he too would die.
In the study after dinner, Damon hands Elijah a glass of scotch. Reaching for the dagger, Damon is just about to put his plan into action when Alaric suddenly appears and tells Elijah that dessert is being served. Once Elijah has left, Alaric writes on a piece of paper what Stefan told him about the dagger. Damon is furious now since he knows that John knew this all along and was trying to kill him.
Returning to the dinner table, Andy begins to question Elijah about all of the history he has been digging up. Needing her notepad, she asks Alaric to get it from her bag. Seconds later, Alaric shocks everyone when he shoves the dagger through the back of the chair and directly into Elijah. Pulling out the dagger, Damon and Alaric drag his body to the cellar.
Stefan receives the call from Damon telling him that they had just killed Elijah. Feeling more relieved now, he tells Elena. Elena reads out loud that the dagger must stay with the body or the Vampire will walk again. Stefan once again frantically calls Damon to tell him to keep the dagger. Damon races to the cellar and sees that Elijah's body was gone.
Dr. Martin storms through the Gilbert's front door after a visit from Elijah. With one movement from his hand, he throws Jeremy up at the wall and keeps him there. He then approaches Bonnie and takes her head in his hands and demands to know where Elena is. He also tells her that if anything happens to Luca, she will answer to him. Chanting a spell before letting her go, Dr. Martin leaves. Jeremy races over to Bonnie to check on her. She is crying and tells him that he took her powers away.
Elijah silently waits outside of Elena's Lake house with a handful of stones. Soon, he aims the stones at the front door, making it shatter. Elena tells Stefan to let her handle it. Once again Elena tries to negotiate with Elijah. He will not have any of it. Knowing he would say that, Elena pulls out a sharp knife and tells him that if he doesn't help her, she will kill herself. Then Stefan would feed her his blood and she would become a Vampire and would be useless as a doppelganger. Not believing her, Elijah says no and to his horror, he watches as she plunges the knife into her chest. Screaming for her to stop, he grabs her and suddenly, he himself feels a sharp pain. Elena pulled out the dagger and plunges it through his chest, killing him instantly. Damon steps up and tells them to make sure the knife stays put.
Alone in her kitchen, Jenna sees Alaric approach her. As much as she wants to trust him, she has John putting all of these doubts in her head about his deceased wife Isobel. Alaric asks her if everything is ok between them and she finally just comes out and asks him about Isobel. Seeing the look on his face just confirmed to her that he was definitely keeping something from him. She walks away and John walks in to gloat. Alaric hands him the ring and tells John that after what he tried to do to Damon, he would need it more than him.
Later that night, Damon walks into his room and sees that someone is in his shower. Thinking that it is Andy, he approaches the curtain. At the same time, the curtain opens to reveal Katherine. He finally realizes that she had lied to him about the spell on the tomb. She knew that once Elijah died, the spell would die too.