Season 3 » Disturbing Behavior
The Vampire Diaries Season 3 Episode 4 Synopsis, Pictures & Soundtrack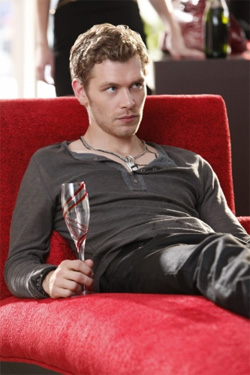 Chicago, Stefan and Klaus watch on bored as Rebecca tries on several different items of clothing. She soon begins to complain about how short the dresses are and how terrible the music was. Wanting some fresh air, Stefan steps outside. Once there, Stefan sees Katherine across the street, signaling him. Once together, Katherine tries to get out of Stefan what his plan was. Telling her it was none of her business, Stefan walks away.
Back in Mystic Falls, Elena is in the kitchen preparing a pot of her family's recipe for chili. They are all heading to a Founders Day party at the Lockwood's. Damon teases her about the chili while Alaric watches annoyed.
Taking a short nap, Jeremy is suddenly awakened when he sees Anna sitting next to him. Anna becomes quite happy when she realizes that he can actually see her and hear her.
Caroline shows up on Elena's doorstep and announces that she had brought her a surprise. Suddenly Bonnie appears and gives Elena a big hug. Seeing Jeremy on the stairs, Bonnie goes running into his arms. Hugging her close, Jeremy looks into the mirror behind Bonnie and sees Anna watching them.
Sheriff Forbes accompanies Damon to the cell where they were holding Bill. Damon approaches Bill and bites him to see if the Verbena was out of his system. Telling her that it was, Damon looks into Bills eyes and try to compel him. He tells him that he just came to town to take Caroline school shopping but now he was leaving.
Meanwhile, Caroline tries to help Elena pour her chili into a pot for the party when she lets out a tiny scream of pain. Pulling her necklace from her neck, she sees that it had burnt her skin. Taking the necklace off, Bonnie goes to touch it and it burns her too. She tells them that there is some kind of magic with the necklace.
At this exact time, Klaus's witch Gloria is trying to use a spell to locate the whereabouts of the necklace.Gloria informs Klaus that she has seen a vision of the necklace but she needs more time to see exactly where it is.
The Founder's party seems to be in full swing when the girls gather to see if Bonnie can figure out what kind of magic is attached to the necklace. Caroline takes this time to question Elena about her relationship with Damon.. Hearing Bonnie's intake of breath, Caroline and Elena watch as the necklace floats into the air all on its own.
Walking into a deserted dining room at the Lockwood mansion, Jeremy calls out to Anna and she appears. Anna explains to him about being on the "other side" and how lonely it was. She explains to him that whenever he mentions Vicky, she feels a darkness and warns him to stay away from her.
After feeding with Klaus and Rebecca, Stefan decides to go out for a bit. Walking into Gloria's club, Stefan is confronted by her accusations that she knows he knows the girl with the necklace. Stefan refuses to budge and tell her anything. Realizing that Gloria could jeopardize Elena's safety, Stefan rushes towards her to attack. Gloria was prepared for this and uses a little trick. Soon, Stefan drops to the floor in pain.
Stefan awakes to find himself tied down to a table and lit candles surrounding him. He wrist are tied and she has cut him so that his blood could drip into bowls. Using Verbena, Gloria begins to torture the memories out of him. Soon she sees images of Elena and she means to Stefan. Gloria discovers that Elena is the Doppelganger and was never killed. Hearing a noise, Gloria turns around and is stabbed in the neck by Katherine.
At the council meeting, Sheriff Forbes announces to the members that things seem to be fine since they haven't had a Vampire attack since Spring. After the meeting finishes, Sheriff Forbes, Carol and Damon are surprised when Bill comes walking in.
Looking through old spell books, Jeremy and Bonnie try to figure out what to do about the necklace. Suddenly Anna appears and warns Jeremy that the darkness was there. Moments later, the books catch on fire. Saying a few words, Bonnie is able to put out the fire.
Elena, Alaric and Caroline begin to leave the party when Caroline stops suddenly when she sees her father. Not wanting to run into him, Caroline heads up to wait in Tyler's room.
Outside, they run into Damon who tells them that Bill is back and wants to run the council. This news doesn't seem to upset either Elena or Alaric. Knowing that Damon wants to kill Bill, Alaric steps forward and demands that Damon leave him alone. Damon however choose to not listen and he breaks Alaric's neck to avoid him trying to stop him.
Caroline greets Tyler with open arms when he enters the bedroom. They both begin kissing when they are interrupted by a phone call from Elena. Elena warns Caroline what Damon's plan was.
Damon walks into the study and finds Bill pouring himself a drink. Not wasting any time, Damon rushes for Bill and begins to feed off of him. Seeing this when she enters the room, Caroline attacks Damon and gets him to stop. Cutting open her wrist, she demands that her father drink her blood to heal himself.
In the bathroom, Jeremy washes up and soon is once again visited by Anna. Turning the water on full blast and locking the door, Jeremy turns around to confront Anna. Jeremy tells Anna that she cannot just pop up whenever he is with Bonnie. It wasn't right. Not knowing any other way of handling it, Jeremy blocks her out and a crying Anna soon vanishes.
Entering the warehouse, Stefan looks around at the coffins before Rebecca shows up. Trying to be subtle, Stefan asks her who they were running from. Rebecca responds nervously that she cannot talk about it.
Grabbing him, Rebecca kisses Stefan deeply. Before pulling away, she asks him if he will ever love anyone again the way he loved Elena. Stefan replies that in time, maybe.
Not liking this answer, Rebecca sees Klaus enter the room and wastes no time telling him that Stefan is not on their side. Rebecca tells Klaus that Stefan was asking about Michael and why he was hunting them. Stefan looks at Klaus and tries to defend himself but Klaus does not want to listen. He rushes towards Stefan and knocks him out.
Sitting outside the Mystic Grill at a table, Bonnie gets a visit from Elena. Elena asks Bonnie if she can have the necklace back and Bonnie hands it over. Bonnie also tells Elena what Jeremy said about being able to talk to dead people. Looking away for a minute, Bonnie is surprised when she looks back and sees that Elena had practically vanished.
Damon opens up the door and sees who he thinks is Elena standing there. Soon, he realizes it was actually Katherine. She convinces him that a road trip was the perfect thing. He was tired of Mystic Falls and needed a diversion.
Stefan finally awakens and discovers he is in the back of a storage truck. Klaus stands up and opens up the trucks back door. Looking out, Stefan is shocked when he sees that he is back in Mystic Falls.