The Vampire Diaries Season 2 Episode 19 Synopsis, Pictures & Soundtrack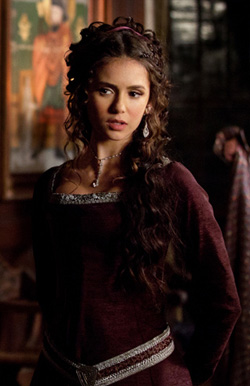 Elena waits patiently by while Elijah awakens after she withdrew the dagger from his chest. Suddenly, he wakes up, scaring Elena. When he looks up at Elena, he flashes back to when he first meets Katherine. Upon his first meeting of Katherine, he is quite taken with her.
Elijah finally stands up and tells Elena that he can't breathe. Elena realizes that since he was not formally asked to enter the Salvatore home, he would suffer this way. With lightning speed, Elijah rushes to the outside. Standing on the inside of the doorway, Elijah strikes up a deal with Elijah. Handing him the dagger to prove that he can trust her, Elijah agrees.
At Alaric's, Klaus sends his witch out to make the necessary arrangements for him to be back in his own body. Looking back at Katherine, Klaus compels her not to leave the apartment and he too walks out the door.
Stefan calls Elena to check in on her and is not happy at first when he discovers she is helping Elijah. After listening to her reasoning, Stefan agrees to let her handle this situation her way. Damon on the other hand is not too pleased and doesn't trust Elijah at all.
Once again, Elijah flashes back to when Klaus first set eyes upon Katherine too. Watching her, he saw yet again, a woman fall under his brothers spell. Once introduced, Katherine is whisked away with Klaus, leaving Elijah to watch as they leave.
Elena and Elijah stop by the Lockwood's to have a place to hang out and for him to get a clean set of clothes. Caroline has him wear a suit that used to be her husband's. While taking a stroll around the Lockwood's estate, Elijah shocks Elena when he tells her the curse of the sun and the moon was not real but there was another curse put upon Klaus.
Left alone at Alaric's, Katherine becomes quite bored until she locates a bottle of whisky. Before she has a chance to really have fun, Damon shows up with Andy. Making her promise not to betray him again, Damon hands over to her a bottle of verbena so Klaus will no longer be able to compel her.
After receiving a call from Jenna, telling him that Alaric was on his way over, Stefan rushes over to her house to make sure no harm comes to her. When he arrives, Klaus is already there. As he is helping prepare lunch, Klaus starts speaking about Vampires and Werewolves and Jenna begins to get very uncomfortable. Having heard enough, Jenna demands that Klaus leave but he refuses. Stefan steps in and tries to get Klaus to leave also. Not budging, Stefan goes for Klaus and the two begin to struggle. Stefan yells for Jenna to leave. Not taking him seriously until she sees his face change, Jenna races over to the Salvatore home.
Stefan calls Elena to let her know what had just happened with Jenna and Klaus. Elena promises Elijah that she will return and races off to make sure Jenna is ok. Once she gets to the home, she sees that Jenna is quite shaken up from the ordeal. Finally breaking her silence, Elena explains to Jenna all about the Vampires and Werewolves. Jenna is shocked but admits that Elena's mother used to talk about Vampires but she always thought they were made up stories.
Not wanting her too but understanding that Elena must keep her promise to Elijah, Stefan lets Elena leave to return to Elijah. Damon stops in front of her and informs her that she is not going anywhere. Stefan tells Damon to back away but Damon refuses to.
Klaus arrives back at the apartment and finds Katherine had been drinking and is tired of dealing with her. Moments later, Katherine watches as trunks and a very large container are brought into the room. Loretta, Luca's sister, the witch walks into the room to and greets Klaus warmly. Asking if he is ready to get out of that body, Klaus agrees and they begin to set up for the ritual.
Elena enters the Lockwood home and can tell that Elijah was happy that she did keep her promise and return to him. Elena sits down and asks Elijah what is the curse that Klaus has on him. Elijah explains that Klaus's mother had an affair with another man who was a Werewolf and that he was Klaus's true father. Now understanding, Elena now knows that Klaus is half Vampire and half Werewolf. Elijah explains to her that Klaus wants to breed his own race of Vampire, Werewolves.
Alone with Damon, Stefan confronts Damon about letting Elena make the decision about Elijah. Before long, the two are once again arguing and Damon finally admits to Stefan that he loves Elena. Trying to set Damon straight about his feelings, Stefan tells Damon that he will never have Elena's respect.
The two begin to fight and before it can get any worse, Elena arrives with Elijah. Elijah agrees that no harm will come to them if they will apologize to him. Stefan of course is the first to step forward and sincerely apologize for his part. Damon steps forward and tells them all they can just to hell and storms out.
Back at Alaric's apartment, Katherine watches on as the two witches chant with a circle of candles around them. Moments later, the door to the largest container opens and the real Klaus walks forward.