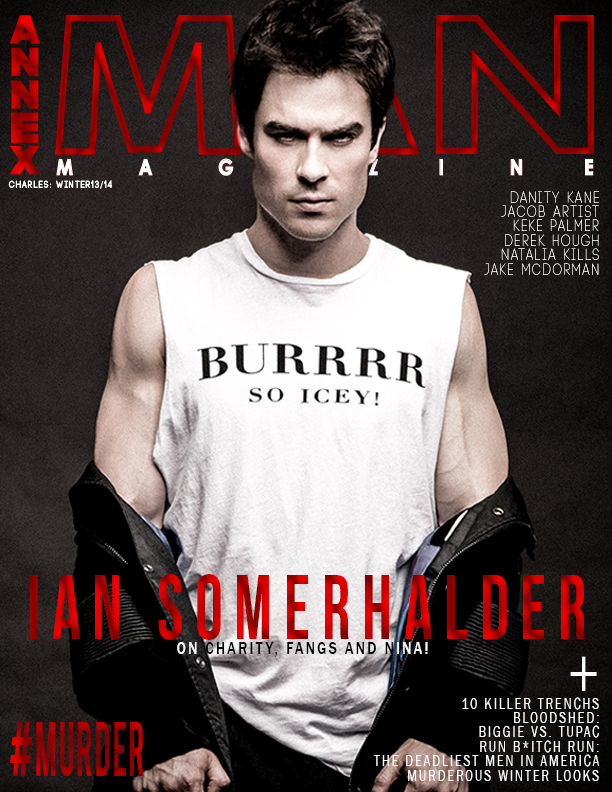 Ian Somerhalder is smoldering on the cover of the latest issue of Annex Man Magazine. Instead of So Icey that shirt should say So Hot!
Candice Accola was on The Late Late Show With Craig Ferguson to talk about her engagement.
Got a few interviews here for you with The Vampire Diaries executive producers talking about what we can expect to see on tonight's fall finale of the show and what's to come. Just click on the links below to check out the interviews and beware of SPOILERS!
TV Guide: The Vampire Diaries EP Caroline Dries: Enzo Becomes the Devil on Damon's Shoulder
Zap2it: 'The Vampire Diaries' EP Caroline Dries talks Damon's revenge, Delena's future and more
THR: 'Vampire Diaries' EP on Fall Finale: 'It Will Have Massive Effects' on Show (Q&A)
TV Fanatic: The Vampire Diaries Producer Teases Augustine Vampire, Statherine & Klaus' Return
EW: 'The Vampire Diaries': Caroline Dries previews Enzo's return, a Damon-Grayson 'parallel', and a 'beautiful scene' for Stefan and Katherine
E! Online chatted with Nina Dobrev at the TrevorLive benefit for the LGBT youth hotline The Trevor Project at the Hollywood Palladium where she talked about being bullied herself when she was younger.
Arielle Kebbel, Lexi, recaps "The Cell" on TVD Rehash!
That post title makes it sound like Caroline and Stefan are hooking up right? I was just messing with ya a bit (even though I have no objection to those two having a little fling to destress a bit)! According to TV Guide the two are gonna have their hands full with other people:
Love that Caroline is helping Stefan through his PTSD! Will anything romantic develop between them on The Vampire Diaries? — Ginger
NATALIE: Do we have a new love triangle on our hands? Not quite — Stefan will be spending a lot of time with Katherine actually, as they help each other in their darkest moments. Meanwhile, Caroline will have her hands busy with someone else very soon.