TV Equals had the opportunity to sit down with various members of The Vampire Diaries cast at Comic-Con this year to discuss what's coming up in season 7 of the show.
Hit the READ MORE button below to check out all the video interviews.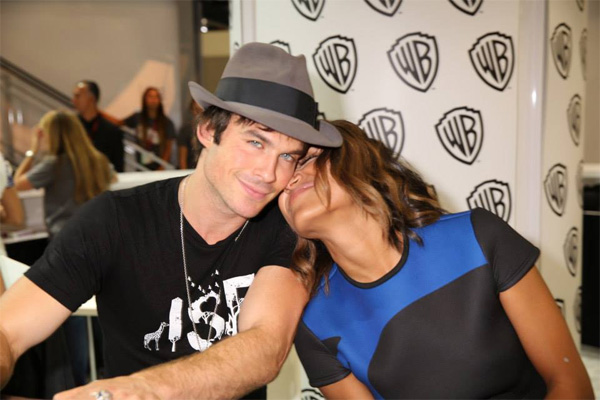 Head on over to Facebook to see some great pics of the cast of The Vampire Diaries at their 2014 Comic-Con signing!
Love seeing pics of Matt Davis and can't wait to see Alaric hanging around Mystic Falls again this year

Dana Ward from Clevver News caught up with Ian Somerhalder, Nina Dobrev, Paul Wesley and Matt Davis at Comic-Con in San Diego this year to talk about The Vampire Diaries. The cast discuss the emotional season 5 finale, what's coming up for their character's in season 6, Steroline and more.
On a side note please tell me I'm not the only one who never, ever, ever wants to see Steroline happen!!!!
Paul Wesley, Ian Somerhalder, Nina Dobrev, Kat Graham, Matt Davis and Julie Plec all headed to Comic-Con this year to talk all things TVD. Watch the videos above to see the full panel from Comic-Con to hear them discuss what happened last season, what we can expect next season and more.
This video was shown at The Vampire Diaries panel at Comic-Con this year and is absolutely hysterical! It shows what Ian Somerhalder and Kat Graham are thinking about while on 'the other side'.
I've already watched it 3 times and still can't stop laughing. Wish they would do more stuff like this


What do you think of the video?
The Vampire Diaries' Kat Graham and Paul Wesley answer your fan questions as part of the 2014 Comic-Con Fan Q&A, presented by Samsung Galaxy S5. See what questions fans just had to know the answers to and what Kat and Paul had to say.