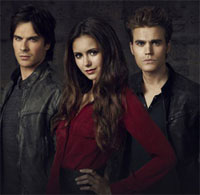 Got a few more season 6 spoilers for The Vampire Diaries for you guys to dig into. Looks like Alaric and Stefan are gonna be chasing down some new professions and Damon and Stefan are gonna be having a brotherly moment.
Spoilers from TV Guide:
Any scoop on The Vampire Diaries? — Jessica
You've probably already Season 6′s first teaser, which features Stefan telling Elena to move on. Well, there's a reason their convo wasn't face-to-face. When the season begins, Stefan will definitely not be anywhere near Mystic Falls. In fact, he will have taken up a surprising new profession in his new "home." And while we're the topic of professions, Alaric also has a new job. Hey, newly resurrected vampires have rent to pay too!

Scoop from EW:
Any word on how long until Damon's back in Mystic Falls on The Vampire Diaries? — Jenna
Since Mystic Falls is still being cloaked by the Travelers' spell that will kill any vampire who steps foot in town, probably not anytime soon. However, Damon could actually come face-to-face with someone in the land of the living fairly quickly. (And no, that's not counting Elena using some witchy drug to hallucinate him.) Ian Somerhalder teased that brother bonding isn't far off. "I had some really great scenes with Paul [Wesley] not too long ago, like last week," he says. "You definitely see some great stuff with those boys. It's good when they're not at one another's throats." So unless Stefan joins Elena's drug trip, it sounds like we could have a Salvatore reunion within the first batch of episodes.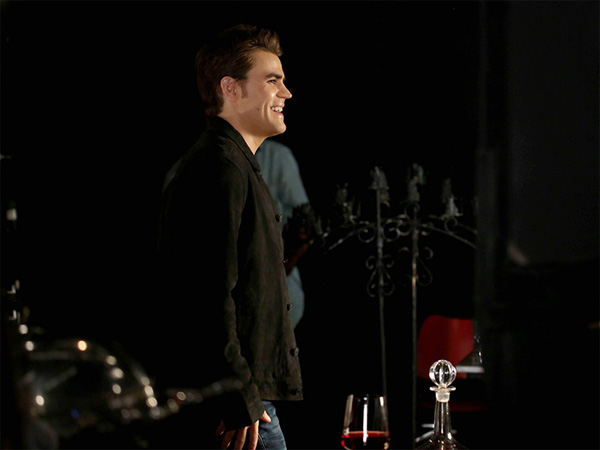 We got a new BTS promotional photo from season 6 of The Vampire Diaries thanks to Facebook and this one features a smiling Paul Wesley. Just got a side view of the actor, but I love the set up so I'm hoping the final product is gonna look fantastic.
Check out the video above to see Candice Accola play a very fun game of CWestionator. Candice is the first participant of TVD CWestionator where she gets to answer random questions including what her doppelgänger name might be!
________________________________________________________________________________
Nina Dobrev played an amazing game of good cop/bad cop with MTV News' Josh Horowitz while promoting her new movie, Let's Be Cops. Watch the video above to see the interview and skit play out. She is such an amazing actress!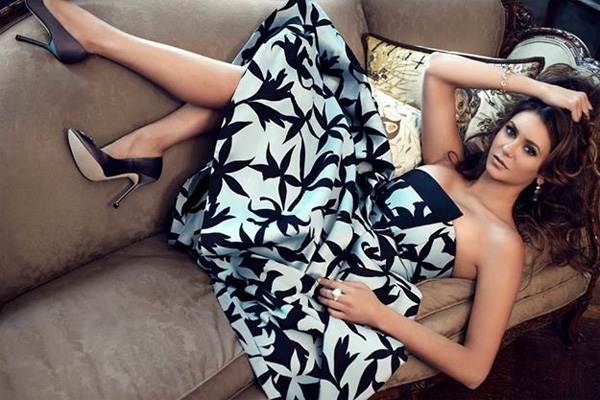 Nina Dobrev talks acting, fashion and dating with the New York Post. You can read the interview here and also check out multiple fashionable photos of the actress.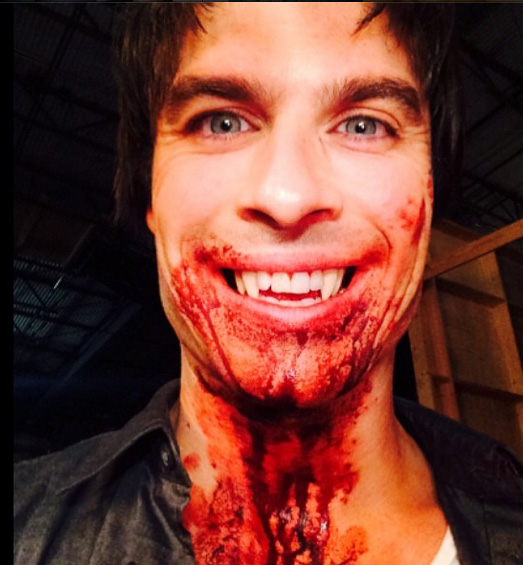 Ian Somerhalder took to his instagram account to post the pic above with the title, "He's back! #DamonSalvatore".
I wonder who he just had for dinner?