Cast & Characters » Caroline Forbes – Candice Accola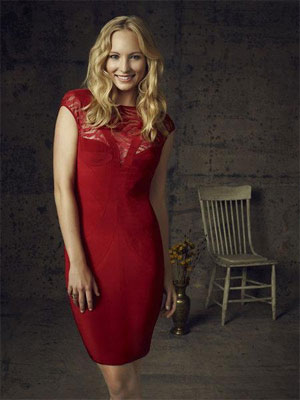 Caroline Forbes is friends with Bonnie and Elena. She is also trying to find love and is dating Matt. Caroline is just trying to find her place in the world.
Caroline is turned into a vampire by Katherine and still struggling. She ends her relationship with Matt because it is too complicated and starts dating Tyler who she can share things with since he too is also a supernatural. Klaus is also interested in her.

Candice Accola
Candice Accola portrays Caroline Forbes in the Vampire Diaries. Candice was born and raised in Orlando, Florida, and now lives in Atlanta, Georgia. Candice is a singer and songwriter and toured with the "Miley Cyrus/Hannah Montana Best of Both Worlds" tour in 2008. She has been a guest star in several TV shows. She has had starring roles in the movies Juno and Deadgirl.
Birthday: May 13, 1987
Candice Accola on Twitter