The Vampire Diaries Season 3 Episode 5 Synopsis, Pictures & Soundtrack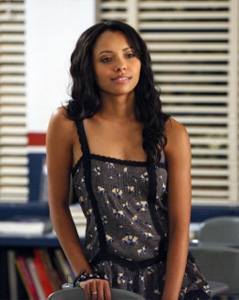 Hearing a noise while working out, Matt stands up to find out what it was. Cautiously, he moves down the halls at school. Soon, he hears something in one of the classrooms. Opening the door, he hears the sound of dozens of mouse traps going off. Bonnie, Elena and Tyler all groan when they see their hard work be ruined. They explain to Matt that since they were all finally seniors, they needed to participate in Senior Prank Night.
Elena heads out to glue Alaric's desk shut while the others finish setting up the mouse traps again. Turning a corner, Elena finds herself looking right at Klaus. Looking down at Elena, Klaus tells her that she was supposed to be dead. He brings her to the gym and tells the other students to leave but 2.
Stefan wakes up to see Rebecca waiting. She waste no time telling him that Klaus now knew that Elena was alive. Stefan rushes for her but Rebecca is much stronger and soon gets the better of him.
Tired of driving and having no idea where Katherine was taking him, Damon pulls over. Stepping outside, he throws the keys out into the dark and demands that she tell him what she was up too.
Katherine pulls out Elena's locket, Katherine shows it to Damon. Still not impressed, Katherine heads to the back of the car and opens the trunk. Looking inside, Damon sees a unconscious Jeremy.
Bonnie and Matt TP the pool area which makes them reflect back to a year prior when they were lifeguards and learning CPR. Matt tells her that he feels lost now and was upset that he never got a chance to say goodbye to Vicky. Bonnie tries to comfort him.
Bonnie and Matt enter the gym and are surprised when they see Klaus there with Elena. Soon, Rebecca comes in dragging Tyler. Biting his wrist, Klaus forces Tyler to drink his blood and proceeds to snap his neck.
Klaus informs Bonnie that if she wants her friend to live, she better get busy figuring out a solution. Matt and Bonnie leave and Bonnie tells Matt that she needs Jeremy to contact the original witch. Unfortunately, she hasn't been able to reach him.
Katherine explains to Damon that Pearl had told her daughter Anna the whereabouts of the one person that Klaus fears the most. She also explains to him that Jeremy now has the ability to contact the dead.
Stefan enters the gym and tells Klaus that he pledges his loyalty to him. Klaus tells him that he fell for that before and will not again. Klaus slaps Elena and Stefan charges for Klaus, proving that his loyalties still lie with Elena. Klaus looks deep into Stefan's eyes and compels him to do anything and everything he asks. Elena watches on in horror as Klaus demands that Stefan kill the 2 students, which he does instantly.
Katherine and Damon try to get Jeremy to call on Anna but he is a bit resistant at first. Knocking his head on the side of the car, Anna cries out the name of Michael. Jeremy repeats it and also tells them that Michael is a Vampire hunter that is also a Vampire.
Waiting for Caroline to wake up, Rebecca searches through her phone. She soon comes across a picture of Elena and sees the locket around her neck. She immediately heads to show Klaus. Getting in Elena's face, Rebecca screams for her to give back the necklace. Elena tells them that Katherine stole it from her.
Very angry, Rebecca rushes over to Elena and bites her neck. Klaus stops Rebecca and heads over to the countdown clock and sets it for 20 minutes. Looking at Stefan, he tells him that Bonnie has 20 minutes to find a solution. If the timer goes off, he wants Stefan to feed off of Elena.
Bonnie calls Matt and tells him to meet her at his truck. Going to the locker room to find his keys, Matt is not happy when he sees his clothes scattered. Following the clothes, he finds himself at the pool. Looking into the pool, he becomes upset when he sees his keys at the bottom. His phone rings and it is a message that must have come from Vicky.
Understanding what he must do, Matt calls Bonnie. He tells her to met him at the pool. Tying a set of weights to himself, Matt jumps into the pool. Just before it is almost too late, Bonnie jumps in and pulls Matt out and begins CPR. While he is still unconscious, he sees Vicky. She tells him she has a message for Bonnie. Matt finally wakes up and Bonnie is relieved.
Damon and Katherine soon discover the whereabouts of Michael's body. Looking at Katherine, Damon demands that she give him back his phone. She finally turns it over and Damon sees that Bonnie had been texting him, warning him of Klaus's return.
Tyler wakes up and Caroline tells him that Klaus was trying to turn him into a Hybrid. Rebecca interrupts and seems to take pleasure in telling him that if Bonnie doesn't find a solution, he will die.
Bonnie explains to Matt that what he did was too risky and foolish. Matt cuts her off and tells her that he saw Vicky. Telling her that Vicky has a message for her. The message was that as long as Elena was alive, the transition cannot take place and Tyler would die.
Back in the gym, Elena watches as the timer clicks down to zero. She pleads with Stefan to fight the urge but he explains it was impossible. Stefan yells for her to run and Elena takes off out of the gym. Elena doesn't get too far because once again she runs right into Klaus.
Trying desperately to fight the urge, Stefan stabs himself with a stake. Not liking what he sees, Klaus grabs Stefan and compels him to turn off his humanity. Elena cries out as she watches Stefan change. Calling him the "Ripper", Klaus demands that Stefan feed off of Elena.
Seeing Tyler struggle, Klaus hands him a vile of Elena's blood and demands that he drink it. Tyler begins to wreathe in pain but that soon passes. Looking back up at Klaus, Caroline now sees that Tyler has a new pair of fangs.
Elena wakes up and sees that she is in a hospital. She discovers that the nurse looking after her is being compelled by Klaus. Injecting her, the watches as Elena's eyes close.
Outside, Klaus tells Rebecca to go get the truck. Turning around, Klaus sees Damon standing there. The two begin to fight. During the struggle, Damon mentions that he knows about Michael. This stops Klaus immediately. He tells Klaus that Michael knows where he is. A moment later, Klaus rushes off.
Damon enters the hospital, carries Elena out and to his home. Finally settled next to a warm fire, Elena tells him that Stefan was really gone this time. As Damon promises never to leave her again, he hears Stefan behind him. Asking him why he was there? Stefan tells them both that he lives there and Klaus wanted him to stay and be Elena's protector.