The Vampire Diaries Season 3 Episode 7 Synopsis, Pictures & Soundtrack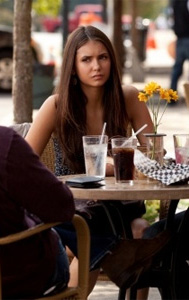 Damon wakes up tied to a chair and sharp rods stabbing into his chest. He screams for Stefan, assuming that he was the one that did this too him. Mason Lockwood looks on with a large smile, just happy to be inflicting pain on the man that had caused himself so much pain. Stefan tells Damon it wasn't him and helps Damon get untied.
Mrs. Lockwood stands on the platform and announces to the group about the nights Founders Day festivities. She invites Tobias Fell up to the podium to explain the history of the town. Seeing Caroline and Bonnie hanging up lights for the festivities, Damon pulls over and demands Bonnie to figure out a way to send these ghosts back.
Reaching down to pick up her book bag, it comes open on her Grimoire. Reading what it opened too, Bonnie discovers that is was a manifestation spell. A spell used to reveal veiled matter which is ghosts.
Needing some privacy to perform the spell, Bonnie and Caroline head over to the old mansion where the 100 witches had all died a horrible death. Soon Bonnie begins to chant the spell and Caroline senses the change in the atmosphere. Bonnie gets a great shock when she suddenly feels and sees her grams holding hand.
Back at the Mystic Grill, Damon and Alaric discuss the reasons why Alaric still doesn't like him. Sitting down at the bar, they both get a shock when they see Mason Lockwood sitting there too. After smashing a glass in Damon's face, Mason decides to be civil.
Looking for Jeremy, Elena doesn't like what she sees when she opens the bathroom door and see him kissing Anna. Outside, Stefan prepares to leave when he sees Lexie waiting for him. Not giving him much time to react, Lexie smashes his head on the car window.
Looking at Bonnie, Grams tells her to dry her tears because they had some work to do. She explains that when Vickie was sent back, an old witch managed to keep the door open and now any ghosts with unfinished business could come and go. She needs the necklace in order to close the doorway for good.
After confronting Jeremy, Elena walks out and runs into Lexie. She explains that she has Stefan locked up and that it was time for Ripper Detox 101. Elena heads over to the old cellar and finds Stefan chained to a chair.
At the bar, Mason tells Damon that he is there not for revenge but for redemption. He wanted to help Tyler. He hints that he knows where something is that could help destroy Klaus. He tells Damon that he must come alone and they both head to the cellars.
Lexie brings Elena to the old cell where she sees Stefan is indeed chained to a chair. Lexie tells Elena that the first thing they must do is help him lose his thirst for human blood. Elena receives a call from Caroline and she explains to her that in order to shut the door to the other side, they would need the necklace. Elena tells her that Damon has it. Before hanging up, Elena lets it slip that she caught Jeremy kissing Anna. Turning around, she realizes that Bonnie overheard and knows what happened. Caroline heads over to the Salvatore house.
During the lighting ceremony, Jeremy searches for Anna. In his search, he doesn't realize that he had bumped into the Vampire Frederick that was also looking for Anna. Frederick soon finds Anna and so does Jeremy. Carolyn tries to locate Tobias Bell to begin the lighting ceremony but he is nowhere to be found. Alaric steps up to do the honors. Once all of the lighted lanterns are on, people begin to scream when they see the body of Tobias strung up in a tree.
Elena watches on while Lexie continues with her crash course in trying to cure Stefan of his thirst for blood. Stefan's begs Elena to help him. Lexie tells her to not listen to anything he says. He needs to see past the blood. Not being able to handle much more, Elena heads out into the night air.
Unfortunately, once outside, she sees that chaos seems to be everywhere. She finds Jeremy with Anna. She receives a call from Caroline telling her that the necklace was not at Damon's home. Caroline suggests that maybe Anna took it. Looking at Anna, she tells Jeremy that she did not take the necklace.
Mason and Damon continue to walk down the dark pathways of the Lockwood cellars. Damon stops suddenly stops when metal rods go shooting through his chest. Mason works fast to remove the poles.
Elena confronts Jeremy and tells him that she believes Ann took the necklace. She tries to explain to him that he cannot love a ghost for the rest of his life and that he must let her go. Looking behind them, they see Anna standing there holding the necklace.
Jeremy embraces Anna while she cries. She tells him that she is so lonely and misses her mother but can't find her. Jeremy promises her that she will not be alone. Turning around, Anna sees her mother standing in the middle of the road. She rushes to her mother's side and begins to cry. The two vanish.
Elena explains to Lexie that Bonnie now had the necklace and was going to begin the spell. Lexie tells Elena that she needed more time. Turning to look at Elena, Lexie tells her that she knows Stefan is still in there. Telling Lexie she could handle it, Elena also tells her that she is free to go and she too vanishes.
Back in the caves, Mason enters a room that seems to have a spell on it so that Damon could not enter. Shining his flashlight up, Mason seems to make a shocking discovery but before he has a chance to say what it was, he vanishes.