The Vampire Diaries Season 2 Episode 7 Synopsis, Pictures & Soundtrack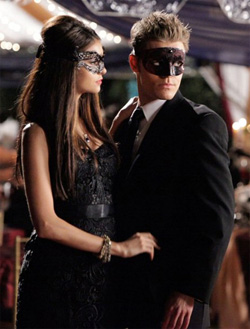 Caroline tells Stefan and Damon about seeing Katherine at the Mystic Grill earlier. While she was stalking Matt, she got nervous and headed for the bathroom. Once inside, Katherine comes up behind her and tells her to give Damon and Stefan a message. Katherine tells Caroline that unless they don't turn over the moonstone, she will rip this town apart until it rains blood.
Katherine returns to her room after a shopping spree for the Masquerade Ball that evening. Once inside her room, she runs into Lucy, another witch that Katherine wants to use to obtain the moonstone. Lucy agrees to be her plus one for the ball and the two proceed to get ready.
Bonnie shows up at the Salvatore house to help out with trapping and destroying Katherine. Bonnie also sees Alaric and Jeremy there and they all begin to plot out a plan to kill Katherine and rid Mystic Falls of her once and for all.
The Masquerade Ball is in full swing. Lucy and Katherine arrive and soon Matt arrives thinking she's Elena. Matt asks her why she changed her mind and came to the ball. Once Matt looks into Katherine's eyes, he is soon reminded of what he must do. He must find Tyler and provoke him into fighting and eventually being killed in the fight.
Matt and Tyler have some drinks in Tyler's fathers study with Amy and Sara. They down a few shots and head back to the ball. Matt is trying his best to make sure Tyler gets drunk enough to fight him.
Bonnie and Jeremy arrive at the Lockwood mansion and find an empty room to set up for the trap. Bonnie proceeds to put a spell on the room. Once done, they both head out to the party.
Elena had decided to stay home and look after Jenna who is back from the hospital and recovering nicely from her stab wound. Feeling like everyone is avoiding her, Elena asks Alaric what is going on? Alaric tells her not to worry and that he is there to look after her. Elena has a hard time believing that nothing is going on and later sneaks out to the ball.
Walking around the party with Jeremy, Bonnie begins to have a strange feeling. Not being able to shake it, she follows her senses and comes across Lucy. Bonnie asks Lucy if they know each other and Lucy tells her that she knows no one at the party and walks off.
Katherine approaches Stefan at the ball. To avoid a scene, Stefan agrees to dance with her. Katherine once again tries to obtain the moonstone. Amy walks up to them and asks if they have seen Matt? Proving that she will start killing Mystic Falls residents if she doesn't get the moonstone, Katherine stands behind Amy and kills her in a split second. Amy's lifeless body falls onto Stefan and Katherine walks away.
While chatting with Bonnie, Jeremy receives a text from Damon telling him to proceed with the plan. Jeremy approaches Katherine and tells her that Stefan and Damon want to meet her by the lake. Walking away, Jeremy is suddenly grabbed behind a bush by Elena demanding to know what's going on.
After watching Matt flirt with another girl, Caroline walks off and receives a test from Jeremy telling her it's her turn. Caroline heads for the bathrooms and is suddenly thrust against the wall by Katherine. Caroline tries hard not to reveal the plan but soon Katherine has her telling her the whole story. Caroline heads upstairs with Katherine to show her the room they were going to trap her in. Katherine walks in but Caroline doesn't. Katherine turns around to see Caroline laughing. She realizes too late that it was a trap and there is a spell on the room that traps Vampires in.
Katherine turns around to see Stefan holding a wooden stake. Before she can do anything, Damon comes out of a room and shoots a wooden stake into her. At the same time Katherine is hit, Elena also feels the pain of the wooden stake. Bonnie tells Jeremy to rush to Stefan and Damon and tell them that there is a spell on Elena. Whatever Katherine experiences, Elena will feel the same thing.
Outside, Elena is in severe pain and Bonnie decides she can help out by putting a spell on her that takes away the pain. Discovering that there is another witch, Bonnie has Jeremy watch over Elena while she runs off to discover who it is.
In Tyler's fathers study, Matt begins to drink too much and become reckless. Trying to get Tyler to fight, Matt begins to pour liquor all over his father's study. Matt continues by telling hateful things about Tyler's father. Not being able to take it anymore, Tyler and Matt begin to fight. Before it can get out of hand, Caroline walks in and breaks it up.
Soon, Sara who is also under Katherine's compulsion, picks up a sharp letter opener and goes after Tyler. Caroline warns Tyler but is too late. Tyler is stabbed in the shoulder and reacts by shoving Sara away. Unfortunately, Sara hits her head on the corner of the desk and dies. The curse is triggered and Tyler's eyes begin to change.
Bonnie finally finds Lucy and confronts her about what she's doing there. Lucy tells her that she owed Katherine and had to help her. Bonnie tries to convince Lucy to break the spell but Lucy tells her she can't unless they hand over the moonstone. Grabbing her arms to stop her, Bonnie instantly feels a connection to Lucy. Sensing the same strange feeling, Lucy tells Bonnie that she can trust her. Bonnie hands over the moonstone.
Lucy shows up at the room that is holding Katherine hostage and tells Katherine the spell on the room has been broken. Making sure that Katherine knows that her debt to her has been paid, Lucy hands over the moonstone. Once Katherine has it, she immediately begins to be in extreme pain and falls to the ground. Lucy tells them that Elena is ok and that she is sorry to have been a part of Katherine's schemes.
Caroline explains to Mrs. Lockwood that Sara had too much to drink and tripped and hit her head on the desk. Mrs. Lockwood believes everything and tells them that she will handle it. Once alone, Tyler discovers that Caroline knows his secret and that she is on his side and can be trusted.
Before Lucy leaves the party, Bonnie stops her to try and figure out who she is. Lucy tells her that they are related and are cousins. Lucy thanks Bonnie for giving her a wake-up call and that she no longer wants to mess with Vampires. Bonnie tries to tell Lucy that she too doesn't want to be in the middle of Vampire drama. Lucy tells Bonnie that she is a good witch and that in the middle is exactly where she belongs.
Jeremy sees Bonnie alone and crying and offers her a ride home. Bonnie is shocked and asks him when did he get his license? Jeremy tells Bonnie that he's not a kid anymore and Bonnie begins to see him in an all new light. Bonnie accepts his offer for a ride home and they walk off together.
Stefan sees Elena standing alone by the lake and approaches her. Stefan is happy now that Katherine is gone, they can be together again. Of course, Elena doesn't feel the same. She tells Stefan that until she and everyone she loves feels safe, they can't be together.
Katherine wakes up and is not happy to see that she is locked up in a tomb. Damon is there to move the final stone in place but Katherine begs him to stop because Elena is in trouble. Katherine tells Damon that Elena is her Doppelganger. Not wanting to hear another word about it, Damon shuts Katherine in the tomb.
Elena walks to her car but soon senses that something is wrong. Turning around, she sees a masked man and he grabs her. Elena tries to scream but he takes her away.