Season 2 » By the Light of the Moon
The Vampire Diaries Season 2 Episode 11 Synopsis, Pictures & Soundtrack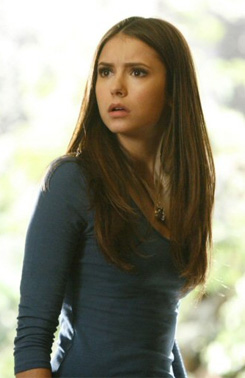 Tyler nervously prepares to leave for a night locked up in the tomb while he undergoes his transformation. Before leaving, he decides to try and call Mason one more time for help. Little does he know that Mason's friend Jules is listening to his message and him talking about the full moon. Opening the door to leave, he is greeted by Mason's friend Jules. She explains to them that she is looking for Mason but Mrs. Lockwood tells her that Mason was back in Florida. Jules informs her that Mason never made it back to Florida.
Elena and Bonnie discuss how to remove the curse from the moonstone. Elena is desperate to help free Stefan from the tomb. Telling her they will figure it out, Bonnie shoves the stone into her purse and walks away.
Elena heads on down the stairs but runs into Bonnie. Bonnie can see that Elena is hiding something and demands to know what she is up too. Elena is caught and confronted when as they suspected, she had taken the moonstone. When Elena attempts to leave the house, she discovers that Bonnie has put a spell on the home that will not allow her to leave.
When Tyler arrives at the Mystic Grill to meet up with Caroline, he tells her about Mason's friend showing up. Before heading out together, Caroline tries to give Alaric a warning look.
Damon stops by to see how the captive Elena is doing. As expected, she is furious with him for allowing this to happen. Damon receives a call from Alaric informing him that Sheriff Forbes has just put out a missing persons report on Mason Lockwood. Telling Jeremy that he needs to watch over Elena, Damon heads out to meet with Alaric.
Caroline and Tyler head to the old Lockwood tombs and begin preparations for his transformation. Making sure all of his chains are secure, Tyler has Caroline mix up wolfsbane with water. This will help him reduce some of his strength.
Bonnie arrives at Luca's to give him back his necklace. After apologizing for using it, Luca allows her to enter. He shows her into a room where she sees old Grimoires. Luca explains that his father has been collecting them for years. Bonnie asks Luca if he knows how to break a bind between a talisman and a spell. They both begin looking through the old Grimoires to find an answer.
Dow at the Mystic Grill, Alaric and Damon devise a plan to try and get Jules to drink a cocktail mixed with wolfsbane to see if she is also a werewolf. Putting their plan into action as soon as they see Jules at the bar, Damon buys her a drink. When she goes to take a sip, she smells it and slams the glass down. Turning to Damon, she calls him a fool. Seeing that his plan has fallen apart, he informs her that Mason is long dead and she should leave town too. Of course, his threat doesn't affect her and she calls him stupid for trying to pick a fight with her on the night of a full moon. Before walking away, she tells him that he has been marked.
Locked up in another tomb, Katherine approaches Stefan and tries to seduce him. Slowly taking off her dress, she soon has his attention. Trying to not listen to her, Stefan soon gives into his lust and begins kissing Katherine. Seconds later, Stefan wakes up and is relieved to see that it was not real. That Katherine was in his thoughts and planting these ideas in his head.
Seeing Jenna struggling to pull boxes from out of a closet, Elena pitches into help her. Jenna explains to Elena that there is a writer in town who is writing a book about small towns in Virginia and she is be assisting him. Shutting the closet door, Elena jumps back in shock when she sees the author is Elijah.
Caroline watches on helplessly while Tyler begins to show the first signs of his transformation. He begins to complain that his body is on fire. Reaching for the bottle of water and wolfsbane, he begins to guzzle some down, hoping it will help. He falls to the floor in pain.
Walking upstairs, Elena gets another shock when she sees Elijah waiting for her. They both enter her bedroom to talk. Elijah explains to Elena that he means her family no harm and in fact, he wants to make a deal with her. He explains that Klaus has become a recluse and untrustworthy. Elijah wants to use Elena as bait and draw Klaus out of hiding. This will give Elijah a chance to kill him. In return, Elijah will make sure that Elena and everyone she loves and cares about will be safe. Before agreeing, Elena asks him for one more thing and that is to free Stefan.
Up on a roof top, Luca and Bonnie prepare to break the curse on the moonstone. Placing the moonstone in both of their hands, they begin to chant together. After a few minutes, the moonstone lifts up out of their hands and bursts into tiny sparks.
Caroline becomes a bit more nervous when she sees Tyler begin to change before her eyes. Reaching for him, she tries to hold him tight to help ease some of his pain. Soon though, his eyes begin to change and his body begins to contort. Realizing that she is in danger, Caroline races for the door and secures it with the chains just in time. She locks the outside tomb door too. Suddenly, she hears him growling and he begins to claw at the door. Not knowing what else to do, Caroline takes off into the woods.
Damon arrives home and cautiously looks around to make sure no werewolves were about. He sees instead Rose waiting for him. Telling her she should go when they both hear a noise outside. Turning around, they see a wolf waiting there growling. The wolf jumps to attack Damon but Rose shoves him out of the way and is bitten instead. Grabbing a pole, Damon stabs the wolf and it runs away.
Damon reaches Rose and they are both shocked when they see the bite heal up quickly, making them believe that the curse was all a fake.
Arriving home later, Luca tells his dad that Bonnie fell for the whole act and hands him the moonstone. His dad tells him that it is what Elijah wants and that Elijah needs their help with one more thing.
Elijah arrives at the tomb and Katherine visibly scared. Elijah informs Stefan that he and Elena had made a deal and that he was free to go. He also informs Katherine that she can wait for Klaus to deal with her and walks off leaving Katherine all alone in the tomb.
Walking back to the tomb, Caroline listens closely to the door to make sure that Tyler is ok. Hearing no sound, she pushes open the door to check on him. Looking around the dark tomb, she finally spots him huddled in a dark corner. Racing over to him, she embraces him and tries her best to comfort his tired body.
Seeing Stefan come into her room, Elena races over to him. The two hold each other close and begin to kiss. Back at the Salvatore's home, Rose and Damon enjoy a cocktail together. Rose tells Damon that she has decided to stick around and help him protect Elena. He asks her if that's the only reason she is sticking around? She replies by telling him that she knows better than to fall in love with a man that is in love with another. The two begin to kiss before Rose cries out in pain. Moving her robe from her shoulder, Rose and Damon are scared when they see that the bit had not healed and in fact is much worse.