Season 2 » Kill or Be Killed
The Vampire Diaries Season 2 Episode 5 Synopsis, Pictures & Soundtrack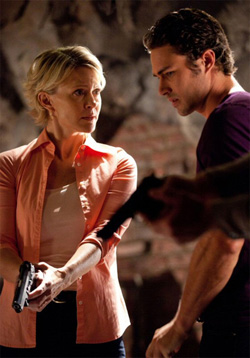 Flashing back a year ago in Emerald Coast Florida, Mason sits at a bar minding his own business and preparing to leave. His friend Jimmy begins to accuse him of sleeping with his girlfriend. Mason denies it and heads out. Jimmy unfortunately will not let the argument rest. He keeps at Mason outside until a fight breaks out. Mason tries not to fight but Jimmy keeps coming at him. Before you know it, a serious fight breaks out and Jimmy is knocked to the ground. The fall to the hard cement results in Jimmy's death. This of course triggers the Lockwood curse.
After listening to Mason's story about how the curse was triggered for him, Tyler tries to appear that he is on Mason's side and will help him find the moonstone. He brings Mason over to where his father's floor safe is and opens it up. Mason searches inside but comes up empty handed. Tyler apologizes and tells Mason that he thought it might be in there.
At the Gilbert house, Elena tries to convince Jeremy to leave Tyler alone about the Lockwood curse. Of course, Jeremy has no intention of doing that and he heads out. Once alone, Elena turns around to see Stefan standing there. Closing the door to give them privacy, the two begin to kiss. Elena tells him that she hates to pretend that they are fighting. They both decide to have a secret phrase during the fights that means "I love you".
Sheriff Liz Forbes shocks her daughter when Caroline sees her out of her uniform. Liz informs her daughter that today she is off duty and will be helping Caroline at the Historical Society Volunteer Day. Caroline is not sure if she believes that her mother will actually spend the whole day with her.
At the picnic, Stefan approaches Mason and does his best to try and make a truce. At first Mason is resistant and tries to walk away. Stefan stops him and warns Mason that he is not as strong as he and Damon. Finally, Mason appears to agree with the truce and walks away.
At the Mystic Grill, Jeremy tries to start up a conversation with Tyler. At first, Tyler blows him off and then finally starts to talk with him. Tyler thanks Jeremy for being at his father's wake. Tyler invites Tyler back to his house for drinks with Aimee and Sarah.
Mason tries to talk to Liz about joining the council. Liz tells him no and that it isn't any of his concern. Mason soon tells Liz that he knows there is 2 Vampires right under her nose. Looking at where he is, Liz sees Damon and Stefan. Not believing him, Liz tells Mason there is no way and that Damon has helped them out so much. Mason tells her that he will prove it to her and walks away.
Later, Damon tries to talk to Liz and see what he can do to help. Immediately, Damon notices that she seemed preoccupied. Trying to cover up her nervousness, Liz tells Damon that she is just upset that her and Caroline were fighting.
Painting a post with Elena, Caroline notices the looks Elena was sending Stefan's way. Caroline tries to convince Elena to just leave him alone but Elena walks towards Stefan anyways. Elena and Stefan begin to have a heated argument, knowing that Damon and Caroline are listening to their every word. Before walking away, Elena and Stefan exchange their secret phrase so they both would feel better.
Back at Tyler's house, the group enjoy a few cocktails and soon the girls are dancing. Aimee walks over to Tyler and takes the time to apologize to Tyler about her behavior at the party the other night. Sarah, who has a crush on Jeremy grabs his sketch pad from his back pack. She begins to look at the drawings and Jeremy sees Tyler getting upset because the drawings are all of a werewolf.
Tyler takes Jeremy into the study and grabs his collar and shoves him against a wall. Tyler questions him about why he would draw the wolves. Jeremy informs him that he is aware of the curse. Tyler lets him go.
At the picnic, Damon approaches Mason at the lemonade table and in his own way is nice. Mason walks off and Stefan joins Damon to make sure he wasn't starting anything. Assuring him that it wasn't the case, Damon reaches for a glass of lemonade. After a big drink, Damon reacts violently and begins to gag. There was verbena in the lemonade. Stefan tries to help Damon and they both have no idea that Liz was watching the whole thing.
Seeing Elena sitting alone by the water, Caroline joins her to try and help. Caroline tells Elena that maybe it's for the best. Elena doesn't want to hear what Caroline has to say. Caroline tries to convince her that maybe she and Stefan should break up, knowing that Katherine is a very dangerous Vampire.
Caroline notices her mother preparing to leave and tries to listen in on her cell phone conversation. Once again, she sees that her mother is choosing her work over spending time with her daughter. Liz walks away but Caroline senses that something is seriously wrong.
Damon tries hard to rid his mouth of the verbena. He is furious and wants to find Mason and kill him. For once, Stefan is on his side in this. The two see Mason heading off into the woods and they follow him.
Elena follows Caroline into the woods too since she realizes that Caroline is concerned and senses trouble. Caroline stops and pushes her hair away from her and tries to listen in on what is going on around them. Finally hearing something, Caroline tells Elena that Damon and Stefan are in trouble.
Up in the woods, Stefan and Damon confront Mason. Damon tells him that he should know this was inevitable. Telling Mason that he can have a head start, they are surprised when Mason doesn't run but instead ducks. Suddenly bullets are fired and Damon and Stefan fall to the ground. Liz approaches and injects them both with a needle full of verbena.
Tyler and Jeremy talk about the curse and Tyler explains to Jeremy that someone must die by his hands in order to trigger the curse. Tyler explains to Jeremy that his Uncle Mason has been asking about a moonstone that his dad had. Telling Jeremy that apparently it has super natural powers. Jeremy pulls out the moonstone and shows it to Tyler.
Mason helps Liz bring Damon and Stefan's prone bodies down to the old slave quarters. Once inside, Mason makes sure that Liz intends to kill them when she's done. She says yes and tells him to leave. Liz doesn't want him involved in anything else. Mason leaves.
Mason finds Elena and Caroline in the woods and questions them about why they are there. Elena asks him what's going on and he tells her to get her friend to sniff them out. Angering Caroline further by asking her if her mother knows what she is? Caroline proceeds closer and Mason grabs Elena by the neck. Caroline tells him that she can take him and soon enough, she proves it. In a few seconds, Caroline attacks Mason and he falls to the ground unconscious.
Down in the old slave quarters, Liz begins to question Damon. Seeing that he is not cooperating, she fires a few shots into him and into Stefan. Damon tries to tell her that they are friends but Liz will listen to none of that now. She tells him that she can drag this out painfully unless he cooperates.
At the entrance, Caroline hears her mother say to the deputies to kill Damon and Stefan. Elena tries to rush on down but Caroline tries to stop her. She tells Elena that she is afraid for her mother to see what she has become. Elena rushes down anyways.
Elena barges in and tells Liz that she won't let her kill them. A moment later, they all sense that they are not alone. Caroline rushes around attacks the deputies. Once it is over, Liz looks upon Caroline's bloodied face and is horrified.
Damon feeds off of the dead deputies and tries to convince Stefan to drink to heal himself. Stefan refuses. Caroline tries to talk to her mother but she ignores her and begs Damon to just kill her.
Tyler and Jeremy get an unwanted visit from Aimee and Sarah. The two see the moonstone and snatch it up. They begin to play keep away which frustrates Tyler. Sarah has the moonstone and heads upstairs. She tells Jeremy to come and get it from her but he says no. Tyler heads up instead and a struggle follows. Suddenly, Sarah loses her footing and falls backwards down the stairs. Tyler rushes down and they all think she's dead. A moment later, Sarah opens her eyes and smiles. She was just teasing them but that doesn't make Tyler feel any better.
Caroline stops by Damon and Stefan's house to bring her mother a suitcase with clothes. Damon does not want to kill Liz. They will keep her locked up until all the verbena is out of her system. Once that's done, Damon will compel her into never knowing about what happened or that Damon, Stefan and Caroline are Vampires.
Not knowing that Caroline is listening in, Liz tells Damon to keep Caroline away from her and that she does not want to see her. Damon tells her that she's her daughter but Liz answers back that her daughter is gone. Damon looks up at Caroline and she walks away.
Seeing the freezer of blood bags, Stefan takes one out. Elena sees and asks him what he is doing. Stefan tries to explain to Elena that he needs a small amount of human blood a day to build up his strength. It will be the only way he can deal with Katherine. Elena doesn't believe him and she walks away.
Seeing Caroline sitting on the couch, Elena tries to console her and asks if she could drive her home. Caroline confesses that she is too scared to go home. She' afraid that Katherine will come. Caroline finally confesses to Elena about her spying for Katherine and Elena tells her she knew all about it. Asking who she threatened to get her to do this, Caroline tells her that Katherine threatened to kill Matt.
Tyler sees Mason in the study and after what happened earlier, he decides to turn over the moonstone. He explains to Mason about what had happened earlier and the close call he had. He tells him that for a split second, he wished the girl was dead so the curse would be triggered. Now he explains that he never wants to feel that way again. He hands over the moonstone to Mason and walks away.
Getting ready to leave, Elena sees Damon. Elena tells Damon that what he did for Caroline's mother, instead of killing her is the Damon that was her friend. Feeling relieved, Damon informs her that Stefan did not drink the human blood. He also tells her that Stefan needs too and she knows it.
Elena finds Stefan sitting alone and asks him if he thinks he can control it this time. Stefan tells her that he's not sure but he has to try. Trusting him, Elena cuts her hand and offers up her own blood to help him. Stefan begins to drink.
In a darkened area, Mason approaches a vehicle waiting for him. It's Katherine and she questions him if he finally got the moonstone or not. He hands it over and she is quite pleased. The two begin to kiss though she is irritated that he tried to hurt Damon and Stefan.
Flashing back, we see that it was Katherine who planted the story in Jimmy's head that Mason was sleeping with his girlfriend. Knowing what the outcome would be and also knowing that the curse would be triggered, Katherine steps out of the crowd and rushes to console Mason.