The Vampire Diaries Season 2 Episode 13 Synopsis, Pictures & Soundtrack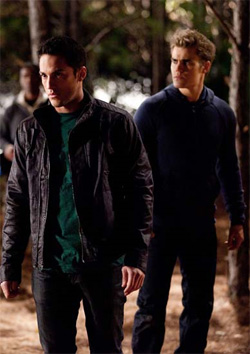 Locking her door and getting ready to head to school, Caroline turns around to see Tyler waiting for her. Feeling awkward about the kiss, she tries to explain to him that they are just friends that she and Matt still have unfinished business. Tyler tells her fine but that is not what he is there for. He wants to know if she knew this whole time that his Uncle Mason was dead. After a minute, Caroline confesses that she did. Seeing how upset he is, she tries to explain to him that she did it to protect him and her friends. Tyler tells her that he knows that Stefan and Damon are also Vampires. Feeling so upset, Tyler shoves Caroline against her car before taking off.
Elena bumps into John in the kitchen and demands to know what he is doing there and what he wants. He tries to explain to her that he is on her side and wants to protect her. With all their past history, Elena chooses not to believe him and walks away.
After receiving a frantic call from Caroline, Stefan races over to her house. She fills him in on everything that had transpired between her and Tyler. Telling him also that Tyler now knows that he and Damon are Vampires. They both decide that the best thing to do is go to Tyler and convince him that they are all on the same side and can be friends.
Jules shows up ay Tyler's house to try and get him to leave with her and learn the Lycanthrope ways. Tyler tells her that he cannot just up and leave his family and friends. Jules wants him to know that they are now his family and they should all stick together.
Stefan sneaks into Tyler's house to confront him after Jules leaves. Tyler tries to escape but Stefan manages to stop him and make him listen. Stefan explains to Tyler that they all can be happy and live together in the same town without all the fighting.
Walking towards a rundown camper, Jules knocks on the door but no one answers. Hearing a noise, she turns around and greets the man with a hug and a kiss, Brady is a fellow Lycanthrope and is there to help her kill any Vampires that get in their way. Brady tells Jules that he is not afraid of any Vampire.
At the Mystic Grill, Alaric explains to a very confused Jenna that John is actually Elena's father and that her mother is Isobel. John stops by their table and asks if he can join them. Not wanting to say yes but feeling obligated too, they allow him to join them. Before John has a chance to sit down, he is confronted by Damon who at Elena's request is trying to talk to John in a civil way. Damon demands to know from John what he wants but before he can question him further, he overhears a phone call between Elena and Stefan.
After agreeing to meet Matt after he gets off work, Caroline heads for her car. Sensing that someone is behind her, Caroline turns around to see Jules there. Jules asks Caroline if she has seen Tyler. Telling her no, Caroline proceeds to unlock her door. Before Caroline has time to react when she turns back around, Jules sprays her face with verbena. Standing up, Caroline looks up again and Brady has a gun pointed at her head and he fires off a shot that contains a wooden bullet.
Caroline wakes up and notices that she is locked up in a cage. Painfully, she removes the wooden bullet from her forehead. Brady is there and begins to try and get information from her about the number of Vampires in town. Not telling him anything, Brady fires off another shot and Caroline screams out in pain.
While Stefan tries hard to convince Tyler that he is on his side, he receives a call from Jules. Jules tells him to bring Tyler to her and she will let Caroline go. If not, she will kill her. Proving that she indeed has Caroline, Jules brings the phone inside the camper and Stefan winces when he hears Caroline scream out in pain.
Back at the Mystic Grill, Jenna decides to be nice to Damon and introduce him to her friend Andy Star who is the local news reporter. Damon doesn't show any interest in Andy and walks off. Approaching Elena, she asks him why he wasn't interested in Andy and he tells her he is not fit company for a woman right now. Elena receives a call from Stefan and Damon rushes out to help him.
Standing outside the camper, Jules hears Stefan and Tyler approaching. Soon, Damon also appears. Jules demands that they hand over Tyler but Stefan and Damon demand she hand over Caroline. In his usual cocky way, Damon threatens her by telling her it will not be a fair fight and that he and Stefan could take her with no problem.
Jules tells them she is not alone and proves this after she lets out a loud whistle. Soon . many more Lycanthropes appear. Within seconds, a fight breaks out. Tyler enters the camper and sees Caroline locked up. She begs him to unlock the cage. After some hesitation, Tyler quickly unlocks the cage. Stepping out of the camper, Caroline is suddenly shoved against the camper by Jules. With a gun pressed against her head, Caroline begs Tyler for help. He does nothing to help. Moments later, the Lycanthropes fall to the ground, holding their heads in pain. Dr. Martin walks up and uses a spell to subdue them all. Looking at Stefan, he tells him that he made a promise to Elijah to keep everyone safe. He also tells Tyler that when his friends wake up, to tell them to leave town.
Stefan takes a bruised and battered Caroline home. He asks if she is ok and she says she is fine. Telling him she just needs a shower, she closes the door. Stefan knows that she is not being truthful and wants to make her feel better somehow.
John shows up at Damon's to tell him that he knows that him and Stefan will do whatever it takes to protect Elena. Feeling that he could trust him now, he hands Damon over a dagger and a vile of ash. He explains that the dagger must be dipped in the ash and plunged into the heart of a original. It is the only way to kill one.
Tyler stops by Caroline's house to see how she is doing. Telling her he was scared and that he was truly sorry. Caroline does not believe him and tells him that after what happened, there is no way they could ever be friends and that she never wants to see him again.
Later, Stefan shows up at Caroline's and brings her something he know will cheer her up, Elena and Bonnie. They appear and tell her they are going to have a slumber party. Embracing them both and feeling better already, Elena looks up at Stefan and tells him she loves him.
Tyler knocks on the old camper and Jules lets him in. Telling her and Brady that he is really sorry that many of their friends had been killed tonight. Brady tells him that he wished that Mason had never came there and gotten himself killed. Tyler tells him that Mason was looking for the moonstone. Mentioning the moonstone, makes Brady and Jules pay more attention and they asked Tyler where it is. Tyler tells him he has no idea.
Damon enjoys a nice bubble bath with Andy Star. He opens up to her and admits that he is in love with a woman who is in love with another. Damon shocks her again when he reveals that he is a killer and it is in his nature to continue killing. Andy becomes scared until Damon compels her to not be afraid. The two begin to kiss and Damon leans to the side and bares his fangs and sinks them into her neck.