The Vampire Diaries Season 2 Episode 8 Synopsis, Pictures & Soundtrack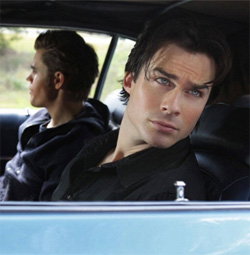 Elena is brought to a private location where her captor delivers her to another man in a dark vehicle. Once she is deposited into the back of the vehicle, the mysterious man in the driver's side asks her captor to come closer…much closer. Once he is inside the window, the mysterious man bares his fangs and sinks them in. The man falls down and Elena's new captor drives away.
Preparing for school, Caroline gets an unwanted visit from Damon. She fills him in on what exactly happened that night at the Masquerade Ball with Tyler. After hearing everything, Damon warns Caroline to stay away from Tyler. That she cannot be his friend because he is now a Werewolf and can kill her. Caroline promises and heads to school.
At school, Tyler feels strange and once he sees all the missing person flyers for Amy, he becomes more uncomfortable. Going to his locker, he proceeds to try and open it up. Not realizing his own strength, the lock itself breaks off.
Jeremy sees Stefan in the hallway and comments to him about next time letting him know that Elena is spending the night so that he can cover for her. Stefan replies that Elena never spent the night and soon they both realize too late that Elena is missing.
Elena is brought to an abandoned mansion that is in a secluded location. Her new captor Trevor dumps her on an old couch. Wanting just a taste of her blood, Trevor motions slowly towards Elena but his partner Rose stops him. Seeing Rose, Elena tries hard to ask for her freedom. Not wanting to hear anymore, Rose slaps Elena hard, knocking her out.
In the school parking lot, Tyler approaches Caroline to try and get her to help him figure out what's happening to him. Caroline tries to avoid him and prepares to leave but Tyler grabs her arm. Caroline instantly goes into attack mode and twists Tyler's arm around and soon has him on the ground. Telling him nothing, Caroline walks off.
Elena wakes up and overhears Trevor and Rose talking about her. She discovers that they are going to turn her over to a very old Vampire named Elijah. They want to bargain for their freedom and with Elena's blood, they know he will surely say yes since she is Katherine's Doppelganger.
Stefan approaches Bonnie about trying to remove the curse on the tomb so that they can get Katherine's help. Bonnie tells Stefan that there is no way she could do it. Bonnie does however have another idea that might work. Using Alaric's empty classroom, Bonnie uses a drop of Jeremy's blood, Bonnie begins the spell and soon she has the exact location where Elena is. Bonnie nose begins to bleed but she tries to hide it.
After Stefan and Damon take off to find Elena, Bonnie and Jeremy wait together in his room. Feeling helpless, Bonnie remembers a spell she learned that might help Elena. Asking Jeremy for a hair from Elena's hair brush, Bonnie begins another spell. She begins by writing a message on a piece of paper and proceeds with the spell. After a moment, Jeremy starts to see that Bonnie's nose is bleeding. He tries to stop her but suddenly she passes out.
Bringing Bonnie a glass of water after she wakes up, Jeremy questions her about what had happened. Bonnie tells him that witches have a weakness. If they use too much witchcraft, the magic will push back. She makes him promise not to ever share that information with anyone. If someone knows her weakness, she can be in serious trouble. Bonnie opens up and tells Jeremy that she feels all alone and he admits that he feels the same way.
Elena tries once again to get information from Rose. Rose finally tells her that one of the "Originals" Elijah wants her blood. Elena asks Rose what the "Originals" mean and Rose tells her that they are the oldest Vampires and are from the old country. Rose and Trevor explain to Elena that they are in this mess because of Katherine.
Rose explains to Elena that she is Katherine or Katarina Petrova's Doppelganger. Their blood sacrifice is what is needed to break the curse of the moon and sun.
Caroline arrives home from school and immediately senses that she's not alone. Tyler comes out and once again he tries to get her to help him understand what she is and what is happening to him. Finally, he asks her if she is a Werewolf too. Caroline begins to laugh and after being provoked one too many times, Caroline bares her fangs. Seeing that she is a Vampire, Tyler walks away.
Elena goes to sit back on the couch to wait it out when she notices a piece of paper. Opening it up, she sees it's a message from Bonnie. It reads "Stefan and Damon are coming for you". Wadding up the note and hiding it, Elena begins to feel a bit better.
With Jeremy's help in pinpointing exactly where Elena is, Stefan and Damon set out on a road trip to save her. On the road trip Damon tries to avoid Stefan's question about his true feelings for Elena. Soon, Damon retrieves a bag of blood and begins to drink. Offering Stefan a drink to tease him, Damon is surprised when Stefan says yes. Not understanding him, Stefan explains to Damon that he has been drinking Elena's blood everyday to overcome his addiction. Stefan takes this time to try and apologize to Damon about making him drink the first blood that turned him into a Vampire. Of course, Damon doesn't want to hear about that now.
At the mansion, Trevor is very nervous and begins to have second thoughts in dealing with Elijah. Rose tries to calm him down and tells him that for the last 500 years, they have been family and they take care of each other. Soon they all hear a knocking at the door and they know who has finally come.
The door opens and Elijah is standing there. Rose approaches him and asks for her and Trevor's freedom in exchange for Katherine's Doppelganger. Before taking him to Elena, Rose asks for his word that she will be free. Elijah gives it and they soon set off to get Elena.
In the woods surrounding the mansion, Damon and Stefan prepare to take on Elena's captors. Inside, Elijah comes closer to Elena and takes a deep smell of her scent. Saying that she is human, he realizes that she is who she say she is. Trevor begs for forgiveness but Elijah will hear none of it and kills him instantly while Rose looks on horrified. Elena tries to stall him and mentions to him that she knows where the moonstone is. Peaking his curiosity, Elijah rips off her necklace that contained verbena and soon compels her to tell him where it is. They all stop when they hear a noise in the front entrance hall and take off to see what or who it is.
Using their speed, Stefan play a kind of "cat and mouse" game with Elijah. Damon manages to pull Rose aside and Stefan pulls Elena aside. Suddenly, they start shooting wooden spikes at Elijah which he pulls out without even flinching. In a mad rush, a fight breaks out. Damon grabs a large wooden pole and breaks it into a stake and drives it through Elijah's chest. Thinking that Elijah is dead, Rose takes off and Elena runs into Stefan's arms. Seeing the expression on Damon's face, Elena mouths the words "thank you" to Damon.
Jeremy watches on while Bonnie naps but they both they both get up when they hear Elena come in. Going to her instantly, they ask her if she's ok and she reassures them that she is. They all take turns embracing each other in relief.
Back in their library, Stefan and Damon enjoy a drink. Stefan takes this time to tell Damon once again that he is sincerely sorry for being the guy who made him turn. Stefan tells Damon that what he did was selfish and that he just didn't want to be alone without his big brother.
Caroline and Tyler also enjoy a drink and discuss their new supernatural abilities. Caroline tries to convince Tyler that he can tell no one at all about them. Tyler tells her that he will not tell and that he really felt alone. Tyler admits that he is scared and seeing the truth in his face, Caroline goes to him and hugs him for comfort.
Later on while he is alone, Stefan hears a noise and senses that there is someone there. He reaches for a wooden stake and prepares for another battle. Suddenly Rose appears. She explains to Stefan that she has been running for so long and that she doesn't want too anymore. Telling him that she has nowhere to go, Stefan informs her that she can't stay there. She tells him that he does need her. The "Originals" will be coming back for Elena. They will all come back because Klaus will want them too.
Elena enters her bedroom and is stunned to see Damon waiting there for her. He has her verbena necklace but before he gives it to her, he tells her that he needs to tell her something. Not wanting to hear, Elena tries to stop him but he proceeds anyways. Damon expresses to her that he loves her and that it's because he loves her that he can't be selfish. He tells her that he doesn't deserve her love but that Stefan does. Kissing her on the forehead, he compels her to forget everything he said. Putting the necklace back on her, he disappears like he had never been there.