The Vampire Diaries Season 2 Episode 14 Synopsis, Pictures & Soundtrack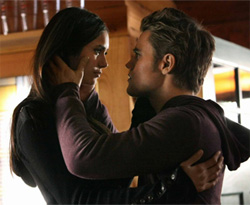 After taking care of the dead werewolves, Jules, Brady and Stevie discuss what the curse of the moonstone means to them. If the Vampires break the curse, they get to walk in the daylight. If the werewolves break the curse, they will not have to wait for a full moon to change. They would have control over when they change.
Elena wakes up at Caroline's by rolling onto the hard floor. Answering her phone, she is happy to hear that it is Stefan calling. The two of them decide that it would be a good time to get away for the weekend. Elena tells him that they can go to her parents lake house.
Andy prepares to leave but before she does, Damon looks deep into her eyes and compels her to believe that she is finally falling in love with him. On her way out the door, she bumps into Alaric who seems surprised to see her. Once Andy is gone, Damon shows Alaric the dagger and ashes that John Gilbert gave him to destroy a original. Alaric and Damon both have serious doubts that it will actually work.
At the Mystic Grill, Caroline sees Matt but is shocked to see him give her the cold shoulder. Later, she confronts him about it and he tells her that he knows she lied about where she was last night. Matt informs her that when she said she was with Bonnie, it was a lie because Bonnie was down there at the Grill without her.
Tyler arrives at the trailer to talk to Jules and Brady about the moonstone. He is surprised when he finds out what the moonstone represents and what it is needed for. Stevie tells Tyler that if they could find Mason's girlfriend Kathy, they could find the moonstone. Pulling out a picture of Kathy, Stevie shows it to Tyler. Instantly recognizing that it is Elena, he tells them he knows her.
Damon arrives at the Lockwood's and is introduced to Elijah. Alone in the study, Damon confronts Elijah but soon discovers that he is no match for him. On his way out, Elijah informs Damon that when he is of no use to him, he will be killed.
Bonnie brings mochas over to Luca at the pool table as a gift to try and smooth things over between them. Little does he know, Bonnie had put a spell on his drink that would knock him out. After a few sips, He is ready to fall over. Jeremy and Caroline are soon there to help him up and back to Caroline's house.
Setting up many candles at Caroline's house, Bonnie prepares to try and get information regarding Klaus from Luca. Resisting at first but soon Luca starts to talk. They soon discover that Elijah promised Luca and his father that if they help him, he will get Luca's sister back from Klaus.
At the lake house, Elena watches on as Stefan prepares their food. Noticing that the fire needs more wood, Elena gets up to handle it. Stefan stops her and tells her he will do it. Going into her parents room to find a coat for Stefan, they discover a secret room in the closet. Breaking the lock, they are both surprised to see the small room had many weapons to fight off Vampires plus numerous boxes of personal items.
Alaric and Damon enjoy a late night cocktail while discussing what to do about Elijah. Both agree that it will not be as easy as they first thought. Receiving a call from Jenna, Alaric decides to head on home. Hearing a loud crash in the entrance, Damon heads out to see what it is. Once there, he sees Alaric with a wooden stake in his chest. Soon he is also attacked by Stevie. Trying his best to get Stevie off, Damon finally goes limp when Stevie injects him with verbena.
In the kitchen, John confronts Jenna regarding Elena's whereabouts. Jenna delights in telling him that Elena and Stefan are at the lake house together. She also informs John that until he takes her to court and proves he's Elena's father, she will be Jeremy and Elena's legal guardians. Trying to upset her, John feels the need to plant a seed of doubt in her head about Alaric. Telling her that Alaric says Isobel was dead but that they hadn't found a body.
Damon wakes up to find himself in some sort of torture device attached to his neck. Stevie takes a perverse delight in pulling the chains around his neck that makes the wooden bullets circling his neck penetrate his skin. Jules appears and tells him that he will die unless he tells her where the moonstone is. Of course Damon doesn't really care and tells her as much.
While getting firewood, Stefan hears a noise. Turning around he is stunned to see Brady there holding a gun. The first wooden bullet hit his chest and he falls to the ground. Tyler also appears and Brady has him watch over Stefan. While he is down, Stefan tries to appeal to Tyler to let him go. Not wanting to listen, Tyler fires off another shot and gets Stefan in the leg. Tyler tells him that this is the only way he can get rid of the curse. Stefan informs him that in order for that to happen, Elena will have to be sacrificed. Seeing his stunned look, Stefan realizes that the werewolves did not tell him this.
In the house, Elena begins to wonder what is taking Stefan so long to get wood. Hearing a noise and feeling uneasy, Elena grabs a butcher knife and slowly approaches the door. Brady tries to grab her but Elena reacts fast and stabs Brady in the shoulder. Running in the house, she shuts the door and runs. Brady breaks down the door and begins to chase her. Grabbing a wooden stake, Elena tries desperately to escape. Running back to the door, Elena goes outside with Brady right behind her. Hearing a noise, Elena turns around and is relieved to see Stefan stabbing Brady with a wooden stake.
Tyler approaches Elena and tries to apologize. Telling him it is ok, Elena gives him a hug.
Jules tries to get Damon to talk about the moonstone but he still refuses. Soon, Elijah arrives and asks Jules if this was the moonstone she wanted. Looking at him, she sees that he does indeed have the moonstone. Werewolf after werewolf approach to retrieve the moonstone but as fast as they come at Elijah, the faster he rips out their hearts. Jules makes an escape but Stevie cowers on the floor. Standing before Stevie, Elijah deals one final blow to him and his neck snaps. Finally releasing Damon from the chains, Elijah informs him that it now makes it 3 times that he has saved his life.
Later, Damon calls Stefan and informs him about what happened. Stefan tells Elena that Elijah had a plan to sacrifice her. Seeing that she wasn't surprised, Stefan now realizes that she knew all along and he becomes angry and storms off.
After Caroline leaves to bring Luca back to the Mystic Grill, Bonnie decides to tell Jeremy why they shouldn't be together. Not wanting to hear her reasons, Jeremy takes Bonnie's face and begins to kiss her passionately, making her realize that he isn't a little boy or Elena's little brother anymore.
Tyler approaches Matt at the Grill and at first Matt doesn't want to listen. Finally, Tyler gets his attention and tells him that yes, he does have feelings for Caroline but that she loves him. He tells Matt that she is a great girl and that she deserves to be happy. Tyler gives Matt a hug goodbye and takes off.
Later that night at Caroline's, she senses that someone was outside, looking out, she doesn't see anything and walks back to bed. In the dark though, Tyler watched for her before turning around and hopping into Jules truck. Jules tells Tyler that leaving with her out of Mystic Falls is the best idea and they drive off.