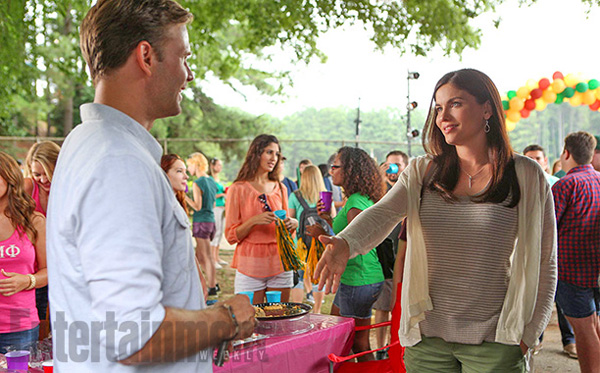 EW has our very first look at Jodi Lyn O'Keefe on The Vampire Diaries. She will be playing Jo, "a tough and accomplished doctor at the university hospital", who will make her debut in the season 6 premiere of the show. From the still it looks like she will be getting to know our beloved Alaric. Could Alaric find love again? Head on over to EW for more scoop on Jodi Lyn O'Keefe's character and what Alaric is up to when The Vampire Diaries returns.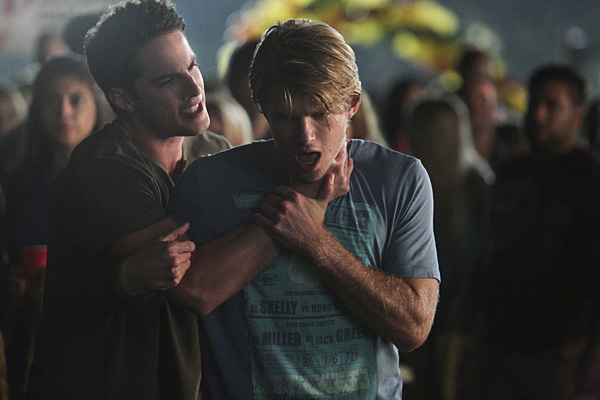 The CW has released stills for the season 6 premiere episode of The Vampire Diaries titled, I'll Remember. The show's sixth season airs Thursday, October 2nd at 8 pm on The CW. In the premiere we are gonna be jumping 4 months into the future from the events of the show's season 5 finale. The stills feature a lot of Alaric, Tyler and Caroline and Tyler doesn't look happy. Check them all out in the gallery below and enjoy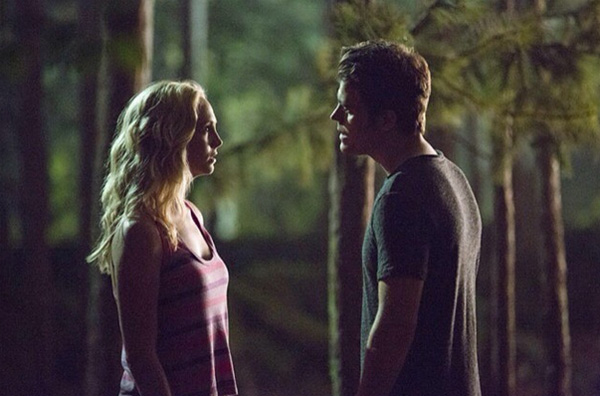 Thecw_pr instagram posted another still from the season 6 premiere of The Vampire Diaries. This one features Caroline and Matt in the woods in what looks like deep conversation.
I wonder what they are discussing!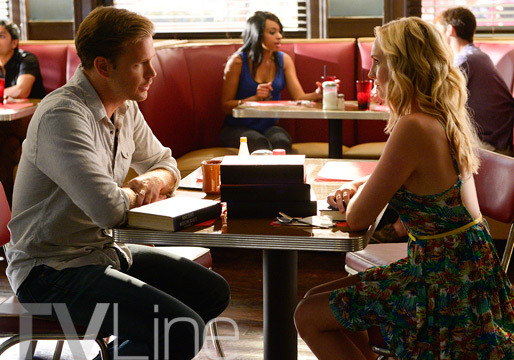 TV Line has some scoop on season 6 of The Vampire Diaries and our first look at the season. The still features Alaric (so glad he is back) and Caroline sitting down for a talk at a diner.
Executive producer Caroline Dries gave TV Line some scoop about what we will be seeing when the show returns in October. Looks like it picks up 4 months after the other side fell. Get the scoop here. Beware those pesky spoilers!


Just Jared JR. posted a new still from tonight's all new episode of The Vampire Diaries.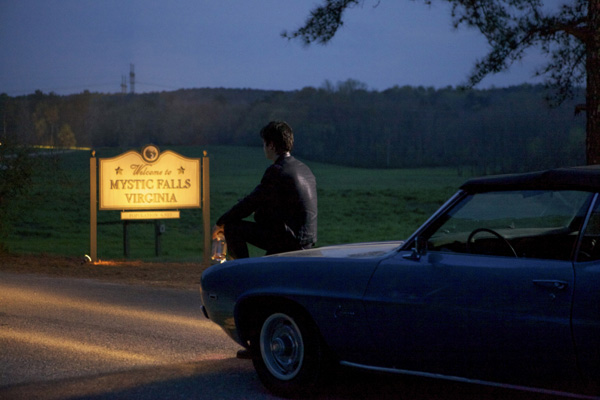 KSite TV has posted stills and a synopsis for the season 5 finale of The Vampire Diaries titled, Home. Check it all out below.
AN EXPLOSIVE SEASON FINALE — Heartbroken by an unexpected tragedy, Damon (Ian Somerhalder) is focused on holding himself together, while pushing Bonnie (Kat Graham) harder than ever to find a way to stop the disintegration of the Other Side. Elena (Nina Dobrev) takes matters into her own hands and demands that Liv (guest star Penelope Mithcell) and Luke (guest star Chris Broshu) help her, but Liv refuses to cooperate until Caroline (Candice Accola) provides her with some personal motivation. Sheriff Forbes (guest star Marguerite MacIntyre) is horrified when Markos (guest star Raffi Barsoumian) uses violence against Tyler/Julian (Michael Trevino) to prove that Mystic Falls is now under the control of the Travelers. With new information from Sheriff Forbes, Damon comes up with a dangerous plan that relies on split-second timing from Jeremy (Steven R. McQueen) and Matt (Zach Roerig). Liv's off-hand remark regarding Stefan (Paul Wesley) gets a surprisingly emotional response from Caroline. As conditions on the Other Side worsen, Bonnie takes the opportunity to settle an old score. Finally, Damon's plan causes a massive explosion in Mystic Falls, and everyone is caught up in the confusion, leaving a trail of heroism, sacrifice, relief and despair.