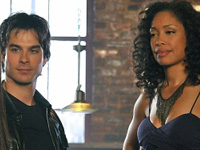 After her car swerves off the road and rolls over to avoid a mysterious man in the road, Elena tries hard to escape from her seat belt. Lying there helpless, Elena begins to get scared when she sees the man get up and straightened his broken body. He begins to walk towards her but thankfully, Damon arrives just in time and the man suddenly flees. Trying to avoid causing her anymore pain, Damon is able to lift her out and into his arms. Before she passes out, she says "I look just like her".
At home on the computer, Alaric thinks about the Vampire he put a stake in the other day. Alaric had been looking for a long time to find where the Vampire he wants lives. He knows now that Mystic Falls is full of evil. Staring at a beautiful picture of his wife, Alaric flashes back to when she was alive and in his life. His one and only goal is to find the man who took her away from him.
Elena begins to slowly wake up and she soon discovers that she is with Damon in his car and headed for Georgia. Demanding Damon to pull over, Elena steps out of the car for some air. She wants him to take her home but he after he convinces Elena that he will not harm her, Elena get's back in the car and they are on their way once again.
At school, Jeremy runs into Alaric and tells him that he knows what his extra assignment will be. Jeremy tells him that he wants to write about his family history. Jeremy found some old journals and is now very interested in his family heritage. Alaric agrees that it will be a very interesting report.
Stefan finds Bonnie at the school also and asks her to help him. Bonnie finally agrees to help him since it involves Elena and she wants to help her friend. The two go sit down and Stefan gives Bonnie Elena's necklace to hold and see if she can find out if Elena is ok or not. Bonnie tries but discovers that her powers are blocked. Feeling scared and not knowing what is going on, Bonnie rushes off to her grandmother's house.
Finally arriving at their destination, Elena sees that it is a bar. Walking in, Damon gets a very warm welcome from Brie the bartender. Apparently, the two go back about 20 years when she first met him in college. Brie is a witch too. Damon asks her if she knows any way to break the spell and free Katherine from the tomb. Brie tells him that there is no way since Emily had destroyed the crystal. Not getting the information he was hoping for, Damon decides to stay and have a few drinks.
Doing research at the library, Jeremy is startled when a few books fall on him from the shelf. He meets Anna who explains that she was the one that accidentally dropped the books. Seeming to hit it off immediately, Anna decides to help Jeremy find the books he needs for his report. Hearing about the subject Jeremy is writing about, Anna asks him if he is trying to learn about the Vampires. This question of course shocks Jeremy and he tells Anna that there is no such thing. Of course, Anna tries to convince him otherwise.
At her grandmother's house, Bonnie begins to try and find the answer to why she's blocked in books. Her grandmother arrives at home and tells her that she won't find her answer in a book. She tells Bonnie that she must go to the place where she was scared and face it. Bonnie heads out to the rubble of the old church and looks around. Soon, she senses that someone else might be there too. Calling out, Bonnie suddenly falls through the ground into a secret chamber.
Elena steps out of the bar to call her aunt Jenna and let her know she's alright. While she's out there, she also receives a phone call from Stefan. Still mad at him for not telling her that she looks exactly like Katherine, Elena hangs up and turns back into the bar. While Elena was outside and Damon was elsewhere, Brie took this chance to make a phone call and inform this person that Damon was there in the bar.
Together again in the bar, Elena and Stefan begin to chat about Katherine and why Stefan never told her. Of course, Damon will not help Stefan so he tries to discourage Elena from sticking with Stefan. Elena figures the only way she could be related to Katherine is if Katherine had a child before she was turned into a Vampire. Not wanting to think about it anymore, Elena decides it's time to start drinking.
Bonnie tries but fails to get a signal on her phone down in the chamber. She begins to hear something and she puts her head to the wall and soon hears the voices on the other side. Suddenly Stefan is there and he tells her to close her eyes and flies with her to the outside. Opening her eyes, Bonnie is happy to see that it really was Stefan. Bonnie asks Stefan if the people are suffering down there. He tells her that they are no longer suffering and that only blood can bring them back. Seeing that she is scared, Stefan reassures her that it will never happen since Emily destroyed the crystal.
Back at the library, Anna tells Jeremy about her grandfather's journals that talked about Vampires. Peaking Jeremy's interest, he asks Anna if he may read them. Meeting up at the Mystic Grill, Jeremy is disappointed to find out that Anna couldn't find the journals. Later, she helps him out with a folder of information she found on the internet about all the unusual deaths that have happened in Mystic Falls history. Once again, his interest is peaked with the possibility of Vampires.
Having a way too good of time, Elena receives a call from her aunt Jenna. Not being able to hear her because of the bar noise, Elena heads out back to talk. She stumbles outside and drops her phone. Going to pick it up, Elena is suddenly grabbed from behind and dragged off. Back inside, Damon notices that Elena is missing. He too steps outside but finds out too soon that it was a set up. He is kicked and beaten and soon feels gasoline being poured all over him.
Elena screams for the man to stop but he continues to beat Damon. Asking him why he is doing this, he replies that Damon killed his girlfriend Lexie. Now finally understanding, Elena pleads with him to not go through with it. That Lexie wouldn't want this. Finally getting through to him, he stops and throws Damon one more time before disappearing into the dark night.
Back in the bar, Damon approaches Brie and she knows why. Brie tells him that Lexie was her best friend. Brie also informs him that she adds verbena to everything she drinks. Trying to save herself, she tells Damon that there is a way that he can break Emily's spell. Upset that she hadn't told him the first time he asked, Damon listens patiently when she tells him what to do. Brie tells him that if he can reverse the spell using Emily's spell book, he can open Katherine's tomb. Brie tells him that she has no idea where the book is but it doesn't matter to Damon, he plunges his fist into her chest and pulls out her heart.
Finally arriving at Stefan's, Elena confronts him again about telling her about her likeness to Katherine. Finally deciding to open up to her, Stefan tells her that he first met Elena the day of the car accident. Stefan tells her that he was there that day and he pulled her to safety but went back to help her father and mother but it was already too late. Noticing how much she looked like Katherine, Stefan tells her that he looked into Mystic Fall records and found no evidence that her mother ever gave birth to her. Elena is shocked to realize that she was adopted. Devastated but grateful for the information, Elena goes into Stefan's arms.
At home, aunt Jenna confronts her about lying about where she's been. Elena confronts her back with the knowledge about Jenna herself lying to her about being adopted. This of course shuts Jenna up right away.
Sitting at the bar of the Mystic Grill, Alaric stares up and sees Damon pull up a seat too. Seeing him, Alaric flashes back to his wife again. This time however, Damon was there too and he had just finished drinking heavily from his wife. Putting down his drink, Alaric tries to control his rage.
Bloodlines Pictures