The Vampire Diaries Season 3 Episode 2 Synopsis, Pictures & Soundtrack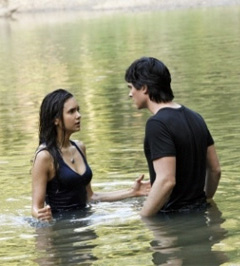 After receiving no help from Damon, Elena heads over to Alaric's apartment to try and get his help in locating Stefan. Soon convincing him to help, Alaric explains to Elena all he knows about Stefan. Informing her that Klaus and Stefan have been trying to track down a Werewolf pack.
Somewhere in the Smoky Mountains, Klaus and Stefan finally come upon the werewolf pack of Ray's. Dropping his body to the ground, they get the attention of the pack. After announcing who he is, one Werewolf tells him they have all heard that he was a Hybrid. This seems to please Klaus and his ego.
After pouring herself a whisky, Carol Lockwood quickly pours some verbena into the pot of coffee. Tyler soon arrives and grabs a coffee cup. Carol watches closely as he pours himself a cup. Taking a big gulp, Tyler remarks that it tasted funny and that maybe the creamer had gone bad. Setting down his cup, he heads on out. Carol lets out a sigh of relief. Once alone, she picks up the phone and calls Bill to ask for his help with a Vampire.
Jeremy approaches Matt and explains to him that he has been seeing Vicky's spirit. Pulling out a stack of papers from his backpack, Jeremy tells him about the research he had been doing. Explaining to Matt that if he had some of Vicky's personal items or even having Matt there would help him communicate with her. Reluctantly, Matt agrees.
Needing a humans blood to start the process, Klaus grabs the boyfriend of one of the packs women and bites him. Telling Ray that he must drink the blood if he wants to live. Ray drinks greedily. Soon Klaus has forced the whole pack to drink his blood in order to turn them into hybrids.
At the Mystic Grill, Matt and Tyler discuss the upcoming full moon. Tyler takes a drink of his coffee and remarks to Matt that his taste buds must be off. Matt explains to him that it must be the verbena. Sheriff Forbes has them put it into the coffee once in a while. Realizing what his mother had done, Tyler leaves to confront his mother.
Finally taking a break from their hike, Elena takes this moment to convince Alaric to take John Gilbert's ring back. Telling him he is family, Alaric places the ring on his finger. Catching her off guard, Elena suddenly finds herself in the river. Elena looks up at Damon but Damon demands that she return home. Finally giving in, Damon allows her to continue on with them.
Finally succeeding with the transition, Ray becomes restless and takes off away from the pack. Klaus sends Stefan after him. Tackling him, Stefan struggles against Ray and soon is shocked when he is bitten. Ray takes off deeper into the woods. Before pursuing him, Stefan stops and listens to the voices of Damon, Alaric and Elena.
Arriving home, Tyler finds his mother in the study and asks her why she put verbena in the coffee. Knowing that she could not fool him, she explains that she wanted to make sure he wasn't a monster like Caroline. Tyler tells her that she really has no idea what he is. Looking confused, Tyler grabs his mother and brings her to the underground cell where he chains himself up each full moon.
Walking through the woods, Damon is soon attacked by Ray. Alaric aims his weapon and shoots an arrow into Rays back but this doesn't stop him. Elena throws Damon a bottle of Wolfsbane and he breaks it on Ray. Ray soon collapses to the ground.
Matt takes Jeremy to a room where all of Vicky's possessions were stored. After a few minutes of searching through her things, Matt comes across an old photo of him and Vicky. Not wishing to continue, Matt tells Jeremy he changed his mind. Jeremy leaves and Matt places the picture down. Hearing a noise, he turns around and sees the picture is standing up again.
After seeing Ray begin to change into a Werewolf before the full moon, they realize they don't have any time to waste. They begin to run but soon Elena trips. When she looks back up, it is into a pair or Werewolf eyes. Damon distracts the wolf and the wolf takes off after him.
Carol watches on as Tyler locks her in a cell and proceeds to chain himself up. She watches on in horror as she sees him transform into a Werewolf. After it is all over, she soon realizes that Caroline is not a monster and promises Tyler she will help her.
Damon is soon attacked by Ray. Now having Vampire strength and speed, Ray is much harder to destroy. Struggling against him, Damon suddenly feels Ray's body go limp. Looking up, he sees Stefan standing there with Ray's heart in his hands. Once again, he tells Damon to leave him alone and to take Elena home.
Matt shows up at Jeremy's house with a six pack of beer and a backpack of Vick's personal items. Touching her things, Jeremy looks up and sees Vicky standing there. She looks at him and tells Jeremy to help her and that she can come back. Looking back at Matt, he acknowledges that it was Vicky. Turning back at the sound of broken glass, Jeremy looks and now sees Anna standing there. She tells him not to trust Vicky.
Stefan arrives back at the camp and sees that all of the Werewolves were now dead. Klaus tells him that he has no idea why they died. He did everything he was supposed to. Of course Stefan knows that he had not actually killed the Doppelganger. Klaus bites his wrist open and lets his blood pour into a bottle. Handing the blood to Stefan to heal his Werewolf bite, he tells Stefan that he is his only comrade.
In her bedroom, Damon appears and tells Elena that he believes that there is hope for Stefan and will help her bring him back. Before leaving, he has her admit that she was worried about him tonight. She does and after he leaves, Elena is even more confused than ever.
Alone in a dark cell, Caroline cries out for help. Finally hearing someone, she watches as a man appears. Looking up, Caroline seems relieved and sees Bill there but calls him Father.