The Vampire Diaries Season 2 Episode 8 Synopsis, Pictures & Soundtrack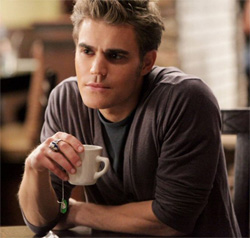 Bulgaria, 1490, Katherine aka Katerina is giving birth to a baby girl. Once the baby is born, Katherine begs to hold her but her parents quickly take her away. Having a baby out of wedlock had brought shame to the whole family. Katherine cries out as her baby is taken away.
Elena shows up at Stefan's house because he wants Rose to tell her everything she knows about Klaus. Rose informs her that Klaus, who is one of the "Originals" and pretty much the oldest Vampire will be after her. He will whatever it takes to capture her and drain her of all her blood. Not wanting to think about it anymore, Elena takes off for school.
Bonnie gets out of her car and accidently drops her books. Jeremy shows up and gives her a hand. Bonnie is shocked next when he asks her to join him later at the Mystic Grill. Hesitant at first, Bonnie soon says yes.
Walking towards the school, Bonnie and Jeremy bumped into a new kid looking for the office. He introduces himself as Luca and seems to be only interested in Bonnie. Jeremy heads off with Luca to show him the office while Bonnie looks on.
Elena convinces Caroline to help her open up the tomb so that she can speak to Katherine. Hesitant at first, Caroline finally helps her and using her Vampire strength, Caroline pushes the large stone door open. Caroline leaves and Elena sees Katherine approaching and she doesn't look too good.
Elena digs in her bag and gives Katherine a blanket and a lamp. She also pulls out a large book that contains the Petrova family history. Katherine seems happy enough to receive these items but of course she doesn't thank Elena. Elena also pulls out a bottle of blood. Using a large stick, Elena slowly pushes a small cup of blood into the tomb. Elena tells her she can have more but only if she tells her everything.
Katherine begins by telling Elena about the baby and how after that she was banned from coming back into the country. Katherine ends up heading to London and soon perfects her English accent. It is there that she meets a noble man named Klaus. Klaus develops a fondness for her but soon she finds out what he is and what he wants.
Finding out what he wants of her, Katherine runs but his cohorts try to chase her down in the woods. Trying to hide, Katherine comes across Trevor. Telling her that he loves her and wants to protect her, Trevor tells her about a cottage not too far away where she will be safe.
Damon comes across Rose crying and asks in his usual delicate way if she was still crying over Trevor? The two begin to toss insults back and forth and Rose hits a tender subject when she asks if Stefan knows that he's in love with Elena?
Of course Damon denies that it is even true. Changing the subject quickly, Damon asks how to get a hold of Klaus. Rose informs him that it is virtually impossible. Though, there might be one way and it is through her friend in Richmond named Slater. The two head out together for Richmond.
Caroline sees Stefan at school and in an effort to stall him from asking about Elena, she blurts out that she told Tyler about being a Vampire. This of course makes Stefan upset and they head over to the Mystic Grill to talk.
Katherine finally arrives at the cottage and is greeted at the front door by an elderly woman. At first, the woman refuses to let her in but then Rose appears and compels the woman to allow her in and to fetch her food and water.
Inside, Katherine shows Rose the moonstone she stole from Klaus. Instantly, Rose becomes agitated and tells Katherine that now Klaus will come and kill them all. Informing Katherine that at nightfall, she is taking her back to Klaus and she will beg him for forgiveness. Rose shoves Katherine into a bedroom and locks the door.
Using Rose's vehicle that has all the windows blacked out, the two head out to Richmond. Arriving in a parking garage, the two head up to a college café where they meet up with Slater. Apparently Slater was turned in 1974 and has been going to college ever since. He says it takes care of the eternal boredom. Of course, at first Damon was hesitant about sitting in the open bright café but Rose tells him it's safe for Vampires since the windows are double paned and the windows are tempered. Soon, they begin to discuss Klaus and the curse.
Back in England, Rose enters Katherine's room and instantly knows something is wrong. She soon discovers that Katherine has stabbed herself and is bleeding badly. In order to heal her, Rose makes her drink some of her blood.
Trevor arrives soon after and confesses to Rose that he loves Katherine. Being his friend, Rose agrees to help Katherine, knowing that they would be forever running from Klaus. Suddenly, they both hear a noise and they enter Katherine's room to see that she had hung herself.
Of course, since Katherine had drank some of Rose's blood, she is now a Vampire herself. Rose tells her that she used them to become a Vampire this whole time. Katherine tells her that it was her only way to break free from Klaus. Katherine comes at Katherine with a wooden stake but Katherine is too fast and shoves the old woman in front of her as a shield. Katherine begins to feed from the dead woman and quickly leaves the cottage.
At the Mystic Grill, Caroline and Stefan discuss the situation with Tyler. Caroline makes Stefan promise to never tell Damon. They both know that if Damon finds out, he will kill Tyler. Soon, the topic turns to friendship and Caroline asks Stefan why he is so nice to her. Stefan admits that she reminds him of his friend Lexie. It makes Caroline happy to know that Stefan considers her his friend.
At another table in the Mystic Grill, Bonnie runs into Luca and his father Dr. Jonas Martin. They invite her to sit with them and seeing that Jeremy had not arrived yet, Bonnie sits down. Bonnie finds out that they just moved there from Louisiana. Jonas tells Bonnie that he knew some Bennett's in Salem and asks her if she is related? Bonnie tells him yes but before she can say anymore, Jeremy arrives and they head over to the pool tables.
At the café, Slater, Damon and Rose discuss the moonstone and how to break the curse. Unbeknownst to the three of them, they have a visitor outside. Elijah takes out a $100 bill and tosses it into a street performers open guitar case and retrieves a handful of coins. Tossing the coins in his hands, Elijah waits.
Bonnie and Jeremy are enjoying a game of pool when Luca once again joins them. Soon Luca joins Bonnie at her table while Jeremy plays pool. Luca starts by apologizing if his father was being too much of a snoop but that they just needed to be careful. Not understanding what he's talking about, Luca shows her a little trick he can do with the salt. Bonnie asks if he is a witch but he admits he is a warlock.
Having enough of Caroline and her stall tactics, Stefan asks her where he can find Elena. Caroline refuses to tell him. She tells him that she is not only his friend but that she is also Elena's friend and she promised her. She does let it slip that Elena is in extreme danger. Knowing that he will not get the answer from Caroline, Stefan takes off.
Talking with Katherine, Elena realizes that Katherine wanted to turn her over to Klaus as some sort of peace offering. Elena also discovers that to undo the curse, Katherine needed a witch, werewolf and a vampire. Katherine was going to sacrifice Bonnie, Caroline, Tyler and herself just to save her own neck.
Outside the café, Elijah feels it's time to make his presents known. Taking the handful of coins, he hurls them all towards the café windows, shattering them into tiny pieces. This unfortunately allows the sunlight in and leaves Rose and Slater exposed to the light. Reacting as fast as he can, Damon races towards Rose and covers her with a coat and takes her back to the vehicle.
Stefan arrives at the tomb and sees Elena there. He tries to convince Elena not to listen to anything Katherine says or to trust her. Katherine comes forward from the dark tomb and tells Elena that she hasn't even heard the worst of the story. Katherine had returned to Bulgaria as a Vampire this time only to find that her whole family had been slaughtered by Klaus.
Back at the Salvatore's home, Rose and Damon have a drink and begin to bond. Rose tells him that caring for someone only leads to heartbreak and death. Soon, they both put down their drinks and move closer to each other. Within seconds, they begin to kiss passionately.
Back at the Mystic Grill, Jeremy is not too happy when he sees Luca getting chummy with Bonnie. Seeing that they don't even notice that's he's still there, Jeremy heads on out.
Damon and Rose are laying by the fire when she receives a call from Slater. He tells her that he can break the curse but he needs the moonstone and a witch. Damon tells her that they can do that. Finishing the call, Slater turns around and tells Elijah it's done. He also asks how Elijah being a Vampire can even compel him to do that? Elijah responds that he is a special Vampire. Next, Elijah compels Slater to stab himself with a wooden stake.
After Slater is destroyed, Elijah turns around to see Jonas Martin standing there. Jonas asks Elijah if that was really necessary to kill Slater? Elijah looks at him stone-faced and doesn't reply.