Season 1 » History Repeating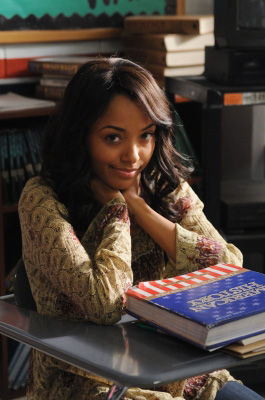 Bonnie is scared when she wakes from what she thought was a dream and finds herself at the ruins of the old Fell's Church". She senses that her relative "Emily" keeps trying to tell her something and feels that they necklace has a lot to do with it.
At school, Caroline is annoyed when she greets Matt warmly but only gets a "hey" in return. She tells Elena that she has decided to forget about Damon and getting his necklace back. She wants to mend her friendship with Bonnie.
In History class, Elena is saddened when she notices that Stefan is not in class. She also gets a new History teacher named "Alaric Saltzman". He tells the class that he is from Boston and that his ancestors had settled in Mystic Falls many centuries ago. Trying to be friendly and also knowing that his name is hard to pronounce, he tells the students to call him "Ric".
At the Salvatore home, Stefan still hasn't and doesn't plan on making up with his brother. Knowing that Damon had killed his longest true friend he had, Stefan finds it very hard to forgive him so easily. Damon tells him that it was for the best. They needed a Vampire to get the town council off their trail for the recent killings. Damon even tries to tell Stefan that he will not drink any human blood for a week and will go on the "Stefan diet". A diet which contains only drinking animal blood.
Jeremy enters Ric's class to see what he wants. Ric tells Jeremy that if he could do a paper about local history, he will forget about any of his missing assignments and start him off on a clean slate. Jeremy is quite relieved and extends his hand to shake Ric's. Jeremy notices Ric has a large signet ring. Commenting on it, Ric tells Jeremy that it has been in his family for many generations.
Elena runs into Stefan at school and is happy to see him. This happiness doesn't last long when he tells her that he is not going to attend school anymore. He doesn't want to see her anymore and tries to tell her it's for the best. Stefan walks away and Elena is left feeling overwhelmed by his decision.
Once again and without luck again, Damon confronts Bonnie about the necklace. She still refuses to hand it over to him. He tells her that he would not hurt her and in fact, he can help her get rid of Emily. This of course shocks her. How could he know about her dreams of Emily? Damon tells Bonnie that the next time she sees Emily, to tell her "a deals a deal".
Driving home from school, Bonnie tells Elena that she feels the necklace is causing all of this situation with Emily. Pulling off the road suddenly, Bonnie gets out and throws the necklace far into a deserted field. Elena is shocked but knows that it will make Bonnie feel more relieved.
Not knowing who to turn to, Elena tells Stefan about Damon threatening Bonnie to get the necklace. Stefan tells her that Emily was Katherine's hand maiden. The necklace was a gift to Katherine from Emily. Having no idea what Damon is up too, Stefan assures Elena that he intends to find out for her.
Jenna and Jeremy enjoy a nice dinner at the Mystic Grill together. Jeremy tells her what his extra credit assignment is. He's not sure what to write about but Jenna helps him out when she informs him to just write about his family heritage. She lets him know that at the house, there is a ton of information on the family, going all the way back to the Mayflower. Distracted, Jenna notices a handsome stranger sitting all by himself. Jeremy tells her that he is his new History teacher. He does the introductions and soon sees a spark of attraction the two have.
Elena invites Caroline and Bonnie to dinner so that they can try and be friends again. When Bonnie arrives, she tells Caroline that the "necklace" drama is all over and that she threw it in a field. They decide to do manicures and Caroline goes into Bonnie's bag to get the kit out. Seeing the necklace in the bag, Caroline calls her a liar. Bonnie tries to convince her that she was telling the truth and that the necklace shouldn't be in there. Realizing that she over reacted, Caroline apologized to Bonnie. Suddenly, Caroline has the idea to have a séance to see what "Emily" wants from Bonnie.
After Jeremy takes off for home, Jenna decides to join Ric at his table. They two hit it off and soon are discussing their past relationships. Jenna tells him about her history with Logan and he tells her that he had a wife but she died early on in their relationship.
During the séance, the threesome start to get scared when a breeze blows through and the candles begin to flicker. The candles begin to flicker some more and Bonnie decides it's enough. She throws the necklace down by the candles. A moment later, the necklace is nowhere to be found. Once again, Bonnie and Elena believe that Caroline has taken it. Caroline convinces them that it was not her.
Trying to get Damon to discuss the necklace and his desire to retrieve it, Stefan soon finds that Damon will not budge. After trying to bond with him over football, Stefan decides to just come out and ask Damon about it. Stefan tries to tell Damon that what they felt for Katherine wasn't real and she "compelled" them to love her. Damon does not believe him and finally tells Stefan that the necklace is going to help him bring Katherine back.
Looking for the necklace, Bonnie, Caroline and Elena are about to give up. Soon, Bonnie is surprised to see the necklace laying on the bathroom floor. Bonnie enters the bathroom and suddenly the door shuts after her. Caroline and Elena rush over to help her but they can't seem to open the door. Finally after a struggle, the door opens and Bonnie appears calm and slightly different. Telling them she's fine, Bonnie walks away towards the door. Passing by the mirror, the image is not that of Bonnie but of Emily instead. Having had enough drama, Caroline decides to head on home.
Damon explains to Stefan that Emily put a spell on the necklace that saved Katherine from burning in the church fire so many years earlier. He explains that Katherine is in a "mystical" holding cell and that with the necklace, Katherine can come back. Damon had promised to save Emily's family and keep her future ancestors safe as long as she brings back Katherine.
Fearing for Bonnie, Elena yells for Bonnie not to leave. Noticing that Bonnie doesn't even hear her, Elena calls out "Emily" and immediately Bonnie stops. Bonnie/Emily tells Elena that she is going to destroy the necklace and that Damon will never get it back. Bonnie/Emily leaves and not knowing what to do, Elena calls Stefan. She tells him what's happened and that Bonnie/Emily is headed to Fell's Church. Overhearing this conversation, Damon rushes to the church.
Jeremy is surprised when his Aunt Jenna shows up at the door with his History teacher, Ric. Ric does not cross the threshold of the door because being a Vampire, he has to be asked to enter. Of course Jenna knows none of this. Though, she decides since Jeremy's there, she would call it a night and Ric takes his leave.
Once at the church, Damon sees Bonnie/Emily and demands that she honor her side of the bargain. Reaching out to grab the necklace, Damon is thrust back against a tree with a wooden stake in his side. Bonnie/Emily steps in a pentacle on the ground and it begins to burn. Luckily for Damon, Stefan shows up just in time to save him. Bonnie/Emily tells Stefan what Damon forgot to mention. Apparently, she would not just be releasing Katherine but she would be releasing the other 27 Vampires locked in there with her. Chanting a spell, Bonnie/Emily throws the necklace into the air and it explodes into a burst of sparks.
Devastated and fangs bared, Damon rushes for Bonnie and attacks her. He bites her and nearly kills her. Not knowing any other way, Stefan opens his wrist to allow his blood to flow and had Bonnie drink from him. Immediately, her wounds started to heal. Watching on, Damon tells Stefan that Katherine never compelled him to love her. That they really loved each other. Not knowing what to do anymore, Damon tells Stefan that he will leave town.
Seeing that Bonnie is fine, Elena tries to once again convince Stefan that she cares for him and that she wants to be with him. Making her even more upset, Stefan tells her that they can't be together and that he too must leave town.
Getting ready for bed, Caroline gets a visit from Matt as he sneaks in through her bedroom window. Caroline is still mad because of the way he treated her earlier at school but willing to listen to him. Matt tries to explain that he never liked her but lately, he feels closer to her. He tells her that they both are kind of in the same situation with their families. Her mother is the sheriff and is hardly around and his sister Vicky disappeared. Matt to has a mother that he rarely sees. Sharing a mutual loneliness, they decide that being together can help smooth the lonely feeling away.
Clearing away the boxes Jeremy searched through about their family heritage, Jenna is shocked to hear the door bell at such a late hour. Cautiously, she approaches the door. Opening it up, she gets a bigger shock when she sees Logan standing there.
History Repeating Pictures