Season 3 » The Murder of One
The Vampire Diaries Season 3 Episode 18 Synopsis, Pictures & Soundtrack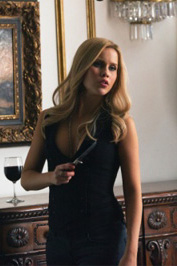 Elena stopped by to check up on Alaric but found Damon blocking the door. Taking the muffins she brought for Alaric, Damon tells her Alaric is fine and does not allow her in. Elena leaves in frustration.
Once Damon shuts the door, he turns around to check on the progress of the stakes. Alaric is working on cutting the Wickery Bridge sign into stakes. Damon and Stefan whittle them down until they are nice and sharp.
Afterwards, Alaric puts on his coat and prepares to leave. He tells them that he was heading to the Sheriff and turning himself in for the murders. Damon and Stefan soon convince him that it was a bad idea. Listening to them, he also puts the ring back on.
Later in the woods, Stefan, Damon and Alaric meet up with Elena, Caroline and Matt to give them all a stake and to devise a plan.
Finding Fin in a large city, Klaus tries to convince him to come back to Mystic Falls but Fin wants no part of it. Trying to escape, Fin soon finds himself up against Rebecca too. Klaus begins to attack Fin and soon he is dragged back to Mystic Falls.
Upon arriving at Klaus's mansion, Fin looks up the stairs and is shocked to see Sage waiting there for him. The two embrace. Rebecca prepares to leave and tells Klaus that he has some unfinished business with Damon.
Back at the Salvatore home, Alaric and Damon discuss their plan until Damon hears something. He heads downstairs to see what or whom it is. A moment later, he sees Alaric being tossed down the stairs. Turning back around, he looks into the angry eyes of Rebecca. She plunges her sharp dagger in deep.
In the town square, Caroline and Elena spy upon Sage and Fin deep in conversation. Elena calls Stefan and he tells her not to do anything until he or Damon arrive.
Hanging up with Elena, Stefan sees Alaric sitting on the couch nursing a small head wound. Asking Alaric what happened, Alaric tells him that Rebecca paid them a visit.
Klaus walks into a large empty room and sees that Rebecca now has Damon strung up with chains and animal traps. She begins to cut Damon's chest, telling him that she was going to bleed the verbena out of his system.
Klaus shows up to offer some advice on her methods of torture. Rebecca tells him that she knows what she's doing and for him to go back to his witch.
Klaus does just that and enters the den to see Bonnie waiting there for him. He is angry that she hasn't found the spell yet to put an end to the curse that binds them all.
Calling his brother Kol, Klaus soon receives a video message from him. Showing the video to Bonnie to make her try harder. Bonnie glances at the video and sees it's a video of Jeremy playing with his dog. He tells her that he would hate to see something happen to Jeremy. Understanding his threat, Bonnie begins to earnestly search for the right spell.
Later, Caroline stops on by to check up on Alaric and bring him his herbal tea. The two begin to talk and soon Alaric apologizes for killing her father. Caroline explains to Alaric that she understands and knows that it wasn't really him. Dealing with things you cannot control makes them all do things they regret. Alaric is relieved that she is so forgiving.
Elena meets up with Stefan and tries to convince him to go save Damon. Stefan tells her that Damon would have wanted him to kill Klaus first. Knowing she's not happy with his decision, Stefan walks off.
Hearing someone cry out in pain, Bonnie asks Klaus who that was. Not wanting her to get distracted, Klaus doesn't tell her that Rebecca was torturing Damon. Once again, Klaus threatens to cause harm to a loved one, this time her mother. Knowing that he was serious, he hands her the blood from all of his siblings and she begins the spell.
Down at the Mystic Grill, Sage enjoys a few drinks with Fin as the two rekindle their romance. She admits that she has turned a man in town named Troy and warns him not to trust anyone. Calling Matt over, Sage orders two shots of Tequila. Bringing the drinks to them, the two drink them down but soon spit them out.
They know instantly that verbena was in them, they head outside. Stefan follows them to the alleyway. During this time, Bonnie is completing the spell and keeps on chanting.
Sage and Fin are attacked by Stefan. Seeing an opportunity, Matt plunges the wooden stake into Fin's chest. At that moment, Bonnie watches as the puddle of blood becomes forms into separate pools. Soon, Fin erupts into flames and Sage watches on in horror.
On her way out, Bonnie sees Damon tied up but refuses to help. Finally outside, she calls Elena and tells her that Klaus has Damon. Elena is shocked when she discovers that Klaus was still alive. Bonnie explains to her that she had to finish the spell because Klaus threatened to harm Jeremy and her mother.
Stefan immediately heads over to Klaus's to make a deal for Damon's return. Before he can leave however, he is attacked by Sage and her new Vampire Troy. Before she has a chance to further harm anyone, she collapses to the floor vomiting blood. Soon Troy falls down beside her. Within seconds, they both are dead.
Trying to figure out what had just happened, Stefan finally realizes that Sage and Troy were turned by Fin and had his bloodline. Understanding now that if an original is killed, everyone they had turned and shared their bloodline would also parish.
Stefan soon arrives at Klaus's with the duffel bag containing eight stakes. He tells Klaus that he will hand over all of the stakes for Damon's release. Not fully trusting Stefan, Klaus compels Damon into telling him exactly how many stakes there were. Damon tells him there were eleven.
Having enough of this little game, Rebecca releases Damon from the chains. Turning to Stefan, she tells him to bring the remaining stakes and they will not harm Damon or the others. Agreeing to the terms, Stefan leaves with Damon.
Alone with Klaus, Rebecca is not happy when she realizes that Fin's death meant nothing to Klaus. Telling him that at least the Salvatore's would do anything to protect their family. Klaus tells Rebecca that after he gets the stakes, he plans on taking Elena and leaving town. She expresses to him that she might stay in Mystic Falls. Calling her pathetic, Klaus walks out.
Alone with Elena, Stefan tells her that he is done fighting Klaus. Telling her that he hasn't gained anything and lost so much. She tries to convince him that he hadn't lost her but he doesn't believe her. Asking her directly if she loves Damon too, Elena tells him that she didn't know how she felt about him.
Meanwhile, Damon arrives at Alaric's to retrieve the last stake. Alaric heads over to the bookshelf and pulls down some books. He begins to panic when he realizes the stake is not there. He tells Damon that no one else knew where he hid it. Soon they both realize that meant Alaric's homicidal alter ego hid the stake.