Arielle Kebbel, Lexi, recaps "Resident Evil" on TVD Rehash!
KSite TV has posted stills and a synopsis for episode 5.21 of The Vampire Diaries titled, Promised Land. Check it all out below.
OUTRUNNING DEATH — When Stefan (Paul Wesley) and Elena (Nina Dobrev) escape from Markos' (guest star Raffi Barsoumian) control, only to find themselves stranded in a remote location, Stefan gets philosophical with Elena about her relationship with Damon (Ian Somerhalder). After their attempt to protect the dopplegangers goes badly, Liv (guest star Penelope Mitchell) and Luke (guest star Chris Brochu) come up with a dangerous new strategy. Damon recruits Matt (Zach Roerig) and Jeremy (Steven R. McQueen) to help him set a trap for Markos, who turns out to have a devastating surprise of his own. Bonnie (Kat Graham) finally admits to Caroline (Candice Accola) that she's been keeping the truth about the Other Side from everyone. Finally, while Bonnie searches desperately for a way to stop Markos, Caroline is witness to an unthinkable act of violence by one of the Travelers.
The CW posted a promo for next week's all new episode of The Vampire Diaries titles, Man on Fire. See a synopsis and stills for the episode over at our episode guide.
A new episode of The Vampire Diaries airs tonight on the CW at 8 pm.
The episode is called Resident Evil.
Head on over to our episode guide to see stills and synopsis for the episode.
After watching the episode head back here and let us know what you think in the comments.
Also if you aren't already follow us on Facebook and Twitter to keep up to date on all our latest posts for all your Vampire Diaries news!
Enjoy a couple clips from Thursday's all new episode (finally) of The Vampire Diaries titled Resident Evil.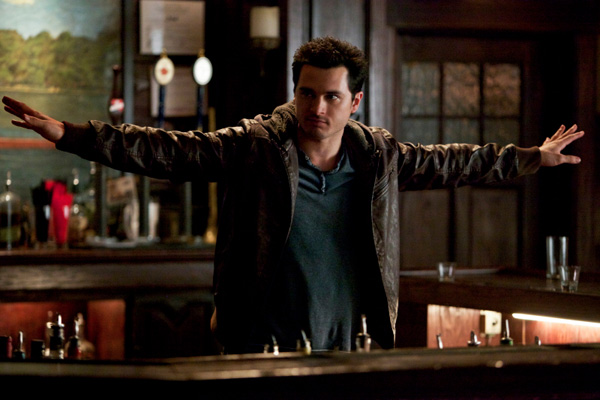 KSite TV has posted stills for episode 5.19 of The Vampire Diaries titled, Man On Fire. Check them out in the gallery below.