The Vampire Diaries Season 3 Episode 11 Synopsis, Pictures & Soundtrack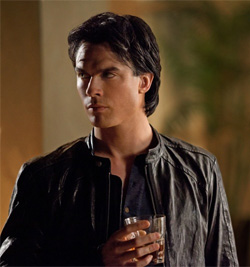 Stepping out of the shower, Damon doesn't hide the fact that he is in a really good mood since he kissed Elena. Stefan notices his good mood and comments on it. Damon of course doesn't tell Stefan anything and goes about his own way.
Meanwhile, across town, Elena is taking out all of her aggression on a punching bag. The kiss is not having the same chipper effect on her as it is Damon. Alaric watches her and wonders what is causing her to be so upset.
Once again, Bonnie tries to break the spell that is keeping one of the coffins shut. Nothing seems to be working. Before she begins again, she hears a sound outside.
Stefan and Damon were walking towards the mansion and they too sensed that someone was there. Quietly walking inside, Damon manages to destroy the hybrid before he has a chance to hurt Bonnie.
At school. Elena and Bonnie try to decorate Caroline's locker for her 17th birthday. When Elena sees Bonnie glancing at Jeremy, she takes this moment to tell Bonnie that Damon compelled Jeremy. Bonnie is not too happy and walks over to Jeremy. She tells him that it makes the most sense to leave town until the whole Klaus situation was over.
Caroline pulls up into the school parking lot and sees Tyler. After all that has happened between them, Caroline tells Tyler that she cannot be with him. As long as he has that bond with Klaus, there is no future for them. Tyler apologizes but tries to convince her that he would do his best to always put her well-being above anything else. Caroline knows it can't happen and walks away.
Stefan shows up at the mansion Klaus is fixing up to warn him about his hybrids. Not liking being threatened, Klaus tells Stefan that if he doesn't use his hybrids then he will begin to start killing those that are closest to him.
At that moment, his hybrid Mindy steps in to ask if Klaus needed any help. Stefan, wanting to prove his point, uses his speed and rushes over to behead Mindy in a matter of seconds. Leaving Klaus more than just a little bit angry.
Caroline arrives home to find Elena, Matt and Bonnie waiting for her with a birthday cake. She tells them that she appreciates their thoughtfulness but she was not in the mood. Explaining to them that she can't celebrate a birthday when she is dead. Elena tells them she has a new plan and they all head out.
Tyler shows up at Klaus's to inform him that he wants nothing more to do with him. He wants his free will back. Ignoring him, Klaus orders Tyler to bite Caroline. Tyler tells him no and expects Klaus to be angry. Ne become even more concern when Klaus doesn't say anything at all. Now Tyler has no idea what Klaus will do.
Elena, Bonnie and Matt bring Caroline to an ancient crypt. Knowing that Caroline didn't want to celebrate her birthday, she figured that they could celebrate her death. Caroline seems happy with the idea and they all begin to drink.
Alaric and Damon arrive at the council meeting and are not too happy when they see Klaus talking with Mayor Lockwood. Dr. Meredith Fell finds Alaric and once again remarks on how fast he had healed. He soon discovers that being a member of the Fell family that she was also a member of the council and knew all about the Vampires.
At Caroline's little birthday/funeral party, Elena is offended when Bonnie makes a comment about how Elena always has to control people. Bonnie opens up and explains to Elena that it isn't right that Jeremy had to be compelled to leave town. She feels that Jeremy should have the right to make his own decisions.
At the meeting, no one notices as Stefan picks up a butcher knife and follows a hybrid upstairs. Once upstairs alone, Stefan stabs the man. Before he can do anything more, Damon steps in to stop him. Stefan tells Damon that in order to stop Klaus, he must become a bigger villain then him.
Back at the crypt, Caroline and the others begin to feel the effects of the tequila but soon the mood changes when they see Tyler. Telling everyone it was ok, Caroline walks off with Tyler. Alone, Tyler tells Caroline that he loves her and he will do anything to protect her. They two begin to kiss.
Caroline pulls away with a shriek. Looking at her neck, she sees blood and realizes that Tyler had bitten her. Pulling away, she knows that she should never have trusted him. Yelling for him to leave, Caroline drops to the ground.
After not hearing from Caroline in some time, Matt and Elena head out to search for her. Surprising them, they bump into Stefan. Stefan knocks Matt out and takes Elena by force. When Matt regains consciousness, he finds Caroline and brings her home.
Alone with an angry Stefan, Elena cries for him to slow down and pull over. He refuses and goes faster. Stefan dials Klaus's number and demands that Klaus call off his hybrids. Klaus tells him no. Proving his desperation, Stefan bites open his wrist and forces Elena to drink his blood. He now threatens to kill Elena and since she has Vampire blood in her system, she would become one too. Hearing in his voice that he was serious, Klaus reluctantly agrees to call off his hybrids.
Finally pulling over on the very same bridge that her parents died, Stefan lets Elena out of the car. She is hysterical and yells at him, asking him how he could do that to her. He explains that he is not the Stefan she once loved. She realizes right there that he is purposely trying to get her to hate him. Why, she is not quite clear of.
Klaus shows up at Caroline's front door. He tells Sheriff Forbes that if she wants her daughter to live, she will have to invite him in. Knowing that he is their only hope, she invites him in. Standing next to Caroline's bed, Klaus explains to her that being a Vampire is not such a bad thing. That there are so many beautiful things to see and experience. Telling Klaus that she wants to live, Caroline drinks hungrily from his wrist.
Elena hugs Jeremy tight. She hates to see him go away but knows if he stays, there is a chance that he will be killed. Bonnie arrives and hugs Jeremy tightly too. She knows Elena was right to have Damon compel Jeremy but is still sad when she watches him walk away.
That morning, Caroline wakes up to a beautiful sunny morning. Looking on her night stand, she sees a small box sitting there with a bow from Klaus. Opening it up, she is surprised when she sees a beautiful silver bracelet inside.