The Vampire Diaries Season 2 Episode 4 Synopsis, Pictures & Soundtrack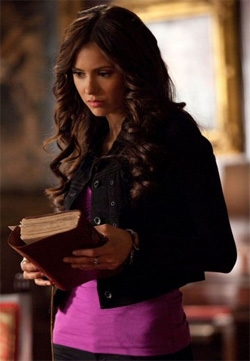 Stefan wakes up from a dream to find out that he is laying next to Katherine and not Elena. Jumping up quickly, Stefan confronts Katherine and demands to know what she wants from him. She tells him that she wants him. She tells him that he loved her once and he will love her again.
At the Lockwood's, Tyler confronts Mason about the curse and why he changes into a werewolf. Mason tells him to drop it but Tyler keeps at him. Telling Tyler that he is headed over to Jenna's for a BBQ, Mason takes off.
Stefan walks in to find Katherine reading his journal. Grabbing the journal from her, Stefan hands her a glass of blood. Flashing back, Katherine tells Stefan about what happened back in 1864 at the Founder's Day Ball. At the ball is when she discovered that George Lockwood was a werewolf.
Pulling her picture from his journal, Katherine questions him on why he still kept it. Within a second, Stefan is standing right in front of Katherine and whispers "what it is about her that makes him still care". Catching her off guard, Stefan plunges a needle full of verbena into Katherine. Stefan brings her down to the cellar and ties her up in chains.
Trying to get her to tell him the truth of what she wants, Stefan takes a stem of verbena from the plant and rubs it on her cheek, causing Katherine to cry out. Katherine reflects back to the Founder's Ball and tells Stefan about George Lockwood and the fact that she knew he was a werewolf.
Jenna and Elena have a BBQ and invite Damon, Alaric, Mason, Caroline and Damon. Jenna was not too keen on inviting Damon but Alaric insisted. Damon tells Elena that he is there to discover if Mason is a werewolf.
At the BBQ, Caroline tells Elena that Stefan told her that he has to fight the temptation to drink her blood every time he's around her. She also tells her that he said he finds it hard to be around her. Caroline informs Elena that it was the reason she broke it off with Matt.
Down in the cellar, Katherine tries to get Stefan to remember that he once truly loved her and she him. He doesn't want to believe her but he starts to remember when they first kiss and he confessed his love for her. She had not compelled him to feel that way.
At the BBQ, Jenna begins to get tipsy after doing shots with the boys. Getting ready to serve up the pie he brought, Damon carries it in with the sterling silver pie server. Placing the pie in front of Mason and asking him to cut the first piece, Damon is frustrated when Mason takes a piece with his hands.
Katherine tells Stefan that George Lockwood told the founding families that the recent attacks were due to Vampires in order to get them off of his trail. After admitting that they know what they both are, Katherine and George strike up a deal. The plan allowed her to escape but allowed all of the other Vampires to burn.
Elena tells Caroline that she wants to check up on Stefan. Caroline tries to convince her to stay and tells her that no one likes a clingy girlfriend. Caroline soon gets Elena to let her drive her to Stefan's. On the way out to the car, Caroline drops her keys and bends over to pick them up. While she's bent over, Caroline lets the air out of her tire.
Mason enters the kitchen and sees Damon. After one more wolf innuendo, Mason finally confronts Damon. Mason tells Damon that he knows Damon is a Vampire and tells him he doesn't want to start anything but Damon won't back down.
On the drive to Stefan's, Caroline keeps trying to convince Elena that dating a Vampire will never work out. A moment later, they pull over because of a flat tire. After waiting a long time for a tow truck, Elena informs Caroline that she plans on walking the rest of the way. Caroline stops her and tells her that she doesn't know why she racing off to a relationship that is doomed. The tow truck finally arrives but Elena insists on walking anyways.
Outside of the Mystic Grill, Damon approaches Mason and plunges a sterling silver knife into his chest. Walking away, Damon is surprised when Mason get's up and tells him that it's just a myth that silver can hurt werewolves. Walking towards Damon, Mason tells him that he has just made an enemy.
Back down in the cellar, Katherine tells Stefan that she can kill Elena anytime she wants. She insists that he have nothing to do with Elena. If he doesn't break it off, she will kill everyone that loves her and then she will kill Elena in front of him.
Stefan is shocked when he sees Katherine easily break the chains and stand up. Katherine informs him that she has been using verbena for 145 years to build up her tolerance. They both hear Elena enter the house but before Stefan can react, Katherine stabs his leg with a wooden stake.
Mason arrives at home and is once again confronted by Tyler. Not being in the mood, Mason tells Tyler to tell him where the stone is. Tyler demands to know what triggers the curse. Grabbing Tyler by the shoulders, Mason breaks down and tells him that he must kill someone.
Once upstairs, Katherine confronts Elena. They are both curious of each other and Elena is shocked to see that they look exactly alike. Katherine is already gone when Stefan finally arrives upstairs.
Caroline is in the bathroom at the Mystic Grill and she gets an unwanted visit from Katherine. Katherine is mad because Caroline did not stop Elena from reaching Stefan's house. Telling Caroline that she killed her once and she could kill her again if she doesn't help her out.
At the Mystic Grill, Caroline sees Elena and Stefan arrive. Elena stops be her table and Caroline apologizes for the way she had acted earlier. Elena tells her that she understands and knows what she said about her relationship with Stefan is true.
Sitting together at a table close to Caroline's. Elena and Stefan begin to discuss Katherine. Stefan tells her that maybe they should listen to Katherine and break up. If they stay together, too many people will get hurt. Elena get's up and leaves.
Back in her room, Stefan arrives to hold Elena. They planned their conversation at the Mystic Grill carefully so that Caroline would overhear what they were saying and report back to Katherine. Unfortunately, Damon was also listening in and now thinks that Stefan and Elena have broken up.
Memory Lane Pictures