Season 3 » Ordinary People
The Vampire Diaries Season 3 Episode 8 Synopsis, Pictures & Soundtrack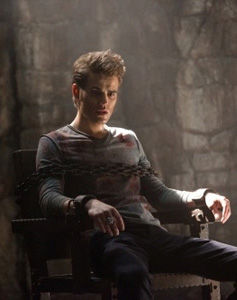 Elena and Alaric follow the dark paths through the caves until they come upon the wall where ancient markings had been discovered. Looking over them, Alaric was able to figure out that the markings are in an ancient Viking script. Deciphering some of the markings, he was able to read the names Michael, Klaus, Elijah and Rebecca.
While Alaric tries to figure out the photos of the markings he had taken, Damon tries to show Elena some defensive fighting moves. He, of course always got the best of her. Elena soon heads out to find Rebecca and ask her about the markings.
Elena finds Rebecca at cheer practice and is received rather coolly. Showing her a picture of the markings, Rebecca ignores her and walks off. She soon stops when Elena threatens her with waking up Michael.
Damon heads to the cell where Stefan was locked up to pay him a little visit. After a brief chat, Damon decides to break the chains that were binding him and he set Stefan free. The two head to a bar for a drink. Compelling the bartender Callie, Stefan is soon drinking from her.
After Elena leaves, Rebecca flashes back all those years ago when they were still mortals. She was carving her name into the wall of the cave while Klaus watched. Later, Klaus and Elijah have a good time fighting each other until their father joins in. He attacks Klaus and it was apparent to all that he didn't have much love for him.
Later, Elena receives a text from Rebecca asking her to meet at the Salvatore's home. She begins to explain how they first came there. A plague had struck their village in Europe, killing one of their children, so Michael and Esther moved to Mystic Falls. A friend and a powerful witch named Ayanna helped them get settled there.
The only other inhabitants were a small village of people who were also werewolves. They learned to live together. They knew that every full moon, they were to hide in the caves. One full moon, Klaus and his youngest brother stayed behind to watch the villagers change. Klaus arrives back at the village the next morning, carrying the lifeless body of his young brother.
Michael and Esther beg Ayanna to help them but she tells them she will not do what they ask of her, which is to make them Vampires. Michael turns to Esther and tells her that it is she that must help them. Rebecca explains to Elena that their mother was also a witch. One of the original witches.
Since their mother was a witch, she could not go against nature and become a Vampire too. That night she performed the spell and their father served them wine laved with blood. Shortly after, he took his sword and stabbed them all through the heat. That night, they all became Vampires.
Meanwhile, at the bar, Stefan asks Damon why released him from the cell. Before Damon could really give an answer, Michael shows up at their side. He tries to get Stefan to tell him where Klaus was but Stefan doesn't budge. He soon convinces Stefan to tell him after he practically rips out Damon's heart.
Rebecca continues telling Elena that Michael soon discovered that Esther had an affair with one of the werewolves. Michael goes on a rampage and kills over half the village, including Esther when he realizes Klaus was not his son.
Elena heads back to the cave where Alaric was still trying to decipher the markings on the wall. There were a few images he couldn't figure out. Looking at them closely, Elena is shocked when she realizes that Klaus had lied to Rebecca. It was he that had killed their mother.
Heading back to the Salvatore home, Elena shows Rebecca the images that prove Klaus had been lying to her all these years just so she would never leave him. Realizing she was right, Rebecca breaks down in tears.
Finally getting ready for bed, Elena isn't surprised when she sees Damon laying there already. She tells him about what had happened between her and Rebecca and he informs her that he found Michael. She finally falls asleep exhausted while he watches.