Season 1 » Friday Night Bites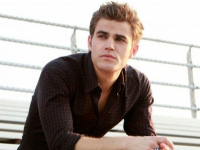 Waking up frightened, Caroline tries to sneak off to look at her neck. Damon suddenly appears in front of her. Not knowing what to do, Caroline begins to throw anything she can get her hands on at him. With fast reflexes, Damon avoids all the objects. Fangs appearing, Damon lunges for Caroline.
Bonnie warns Elena to take it slow with Stefan. Not understanding why, Elena tries to press Bonnie for her sudden aversion to her dating Stefan. Bonnie doesn't budge and decides to leave. Bonnie is concerned about Caroline since she hasn't heard from her all morning. Deciding to get Bonnie and Stefan together so they can be better friends, Elena asks Stefan to dinner that evening. He accepts.
Trying to shake things up and catch him off guard, Tyler throws a football at the back of Stefan's head. Surprising Elena and Tyler, Stefan turns around with lightening speed and catches the ball. Seeing this, Elena tries to convince Stefan into joining the football team.
Watching football practice from the bleachers, Stefan tries to decide if he wants to join or not. Giving in, he heads on down and convinces Coach Tanner to let him try out. Everyone is surprised and pleased to see how well he does. Everyone that is minus Tyler who seems more jealous than anything.
Meanwhile, Elena makes a surprising appearance at cheerleading practice. Telling Bonnie that she wants to try and be herself again. Voicing her concerns about Caroline not being around, Bonnie is suddenly dumbfounded when she sees Caroline pull up in a convertible Mustang driven by Damon. After kissing Damon goodbye, Caroline bounces out of the car, Caroline tells Elena that at least she gets to date the brother of Stefan.
Later, Bonnie helps Elena set up the "take-out" she ordered for their dinner. Bonnie tells her that for some reason she keeps seeing the numbers "8-14-22" and has no idea why. Elena laughs it off and is still not convinced that Bonnie is psychic. At dinner, Bonnie warms up to Stefan after he shows great interest and knowledge in the Salem witches.
Rising to get the doorbell, Elena is surprised to see Damon and Caroline standing there with dessert. Knowing that he cannot enter her house unless she "invites" him in, Damon waits outside. Stefan of course tries to prevent Damon from coming in but soon Elena invites him in not understanding Stefan's hesitation.
Damon joins Elena in the kitchen to help clean up. Deciding it was a good time to ask about Katherine, Elena finds out that Katherine died in a fire. Listening to Damon talk about Katherine, Elena realizes that not only did Stefan love Katherine but Damon did as well. Elena expresses to him that she is sorry for his loss, knowing that he too lost someone he cared deeply for. Feeling uncomfortable, Damon soon changes the subject and in a roundabout way convinces Elena to quit cheerleading.
Alone with Caroline, Stefan questions her about the scarf she has around her neck. Asking her to take it off, Caroline tells him that she is not supposed to take it off. Before he can question her any further, Damon enters. Damon asks Caroline to help in the kitchen but she says no. Using his Vampire "ways" he commands her to leave and help Elena. Warning him to stop hurting Caroline, Damon refuses and making Stefan even more mad, Damon tells him that he will continue to pursue Elena.
Hanging out all alone at the Mystic Grill, Jeremy watches Vicky while she works. Deciding he's had enough, Jeremy heads on out. Tyler. Being the jerk that he is, bumps hard into Jeremy. Jeremy confronts Tyler and asks him if he feels like a big stud now in front of Vicky. Once again, Jeremy threatens Tyler to fight him. No answer, Jeremy leaves.
Later that evening, Elena and Stefan are alone in her bedroom. Discussing the evening, Stefan soon silences Elena with a kiss. Laying down on the bed, the kiss deepens and Elena begins to undress. Stefan puts his arms up to also undress but when he brings his arms down, it isn't Stefan it's Damon. Elena begins to scream and wakes up suddenly. Shaken but relieved to find that it was indeed just a dream and she doesn't notice the black crow watching her from the window sill.
At the pre-game pep rally, Stefan remarks on why Elena's not dressed in her cheerleading outfit. Elena tells him that she wasn't into it and had quit the squad. Feeling it's a good moment, Stefan surprises Elena with a necklace that was in his family for many years. Elena has Stefan put it on her neck for her and she tells him that it has a lovely mysterious scent.
Coach Tanner addresses the crowd at the rally and praises his newest talent "Stefan". This of course infuriates Tyler and he storms away. Tyler soon runs into Vicky and becomes even more angry when he sees Jeremy off in the distance drinking a bottle of booze. Tyler heads off to start something with Jeremy but Vicky tries to hold him back.
Breaking into a fight, Tyler soon is on top of Jeremy viciously attacking him. Thankfully, Stefan arrives just in time to help. Seeing an opportunity to attack, Jeremy reaches for the broken bottle and goes after Tyler. Stefan steps in and gets his hand cut instead. Elena runs to Stefan to help him but is shocked to see that his once bloodied hand is now healed. He tells her that it wasn't his blood and that he wasn't injured. Elena still feels convinced that she saw his blood.
Still feeling unsettled, Elena confronts Bonnie again about what she "felt" when she touched Stefan. Bonnie finally opens up to her and tells Elena that she felt "death" when she touched Stefan's hand. Once again, Bonnie expresses her feelings that the numbers "8-14-22" have a mysterious meaning.
Approaching her car to leave, Elena is surprised to see Damon show up suddenly. He tells her that he was hiding from Caroline. Expressing that Caroline talks way too much and that he couldn't see their relationship going much further. Using his Vampire "ways" Damon tells Elena that he knows she's attracted to him too. Thinking he has her in his "spell", Damon bends down to try and kiss her. Thankfully for the necklace, his power does not work on her and she slaps him hard.
Behind the building, Damon congratulates Stefan for using the necklace with "Verbena" in it to protect Elena. Warning Damon to stay away from Elena and telling Damon that he must have a tiny bit of humanity in him. Damon, of course reacts by showing him otherwise. Coach Tanner walks out and Damon races to him to attack and kills him almost instantly.
Matt lets Tyler know that he is not happy with his bullying behavior lately. Tyler tells him that he is on Matt's side but Matt doesn't believe him and walks out. Once outside, Matt stops suddenly when he sees the prone body of Coach Tanner.
Bonnie's watches on in horror as the ambulance pull up to take Coach Tanner's body away. Looking around at the grizzly scene, she is shocked to see the numbers "8-14-22" in various areas.
Seeing Jeremy sitting all alone by the bleachers, Vicky approaches him and tells him that it wasn't just the drugs that made her keep coming back to him over the summer. Feeling better, Jeremy begins to smile.
Alone, sleeping in her bed, Damon appears and begins to stroke Elena's face softly. He looks upon her lovingly as she peacefully sleeps. Obviously, he must have a small trace of humanity if he can still feel love.
Friday Night Bites Pictures