Got a few interviews here for you with the charming Candice Accola. She talks about Caroline's emotional journal after the loss of her mom, Bonnie's return, Steroline and that kiss and much more. Just click on the links below to see what she has to say.
TV Guide: The Vampire Diaries' Candice Accola: Caroline's Devastating Arc Has Been Gratifying, But Exhausting
TV Line: Vampire Diaries' Candice Accola Breaks Down Stefan and Caroline's First Kiss, Previews What's in Store for Them
E! Online: Candice Accola Warns The Vampire Diaries Is About to Get More Emotional: "Thank God For Waterproof Mascara!"
MTV: Candice Accola Dishes On Steroline, Klaroline, And Tonight's Emotional 'Vampire Diaries' Funeral
Movie Pilot: The Vampire Diaries' Candice Accola Talks Slow Burns and What Elena Thinks.
Got a few interviews here for you with Candice Accola talking about tonight's episode of The Vampire Diaries. She talks about the arrival of the new baddie Markos, road trip with Enzo and more.
EW: 'The Vampire Diaries': Candice Accola on Steroline's 'raw' moment, Markos' arrival, and her road trip with Enzo
Zap2it: 'The Vampire Diaries': Candice Accola promises a 'strong' Caroline leading up to the finale, teases what's coming next
Access Hollywood: 'The Vampire Diaries': Candice Accola On Caroline's Road Trip
Candice Accola shared some Traveler and Virus scoop with TV Guide:
I can't believe Damon is feeding on vampires! What's coming up now on The Vampire Diaries? — Simon
Everyone better stay away! Of course the gang will do just the opposite. "Caroline will focus her attention on finding out what this virus is capable of," Candice Accola says. "We're [also] going to have a big wake-up call to the new mythology we've slowly gotten to learn about over the season with the Travelers, as well as the who, the what and the why of it all." Let me guess, they're not part of a traveling circus?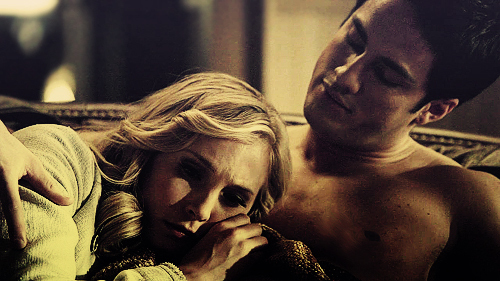 Candice Accola chatted with TV Guide about the future of Caroline and Tyler's relationship and finally hooking up with Klaus! I'm hoping that's not the last time we will be seeing Klaus and Caroline together.
See what she has to say here.
Below is an excerpt:
Klaus and Caroline finally had sex — hot sex. Were you happy they went there?
Candice Accola: Yes. When I get very into a storyline as a TV viewer and want something to happen so bad and there's so much build-up, it's exciting to watch. To my knowledge, the writers never had any intention of bringing those two together, especially with the spin-off, so I think it was a great moment and I think the whole 100th episode was written with the viewers in mind to give them what they wanted.
EW chatted with Candice Accola about college life:
Can you tell me whether or not I can still expect scenes between Vampire BFFs Caroline and Stefan? — Amy
I'm sure you can bet on it! But I wouldn't expect it immediately, since Candice Accola reports that Caroline is quite focused on her new college life as the season begins. "She's very hung up on her mini-fridge and small appliances she needs for her dorm room that she needs to, like, cook up quesadillas or something," Accola says with a laugh. "That's really what's on her mind, in the forefront. She's not thinking of anything else. She just wants to go to college with Elena and Bonnie and have Tyler come meet her and that's it." Of course, this being TVD, we're sure other things interrupt the fun…
Wetpaint has another interview with Candice Accola. In this interview she talks about how the characters will be spending their time in college and more.
Check it all out here.
Below is an excerpt:
What's Caroline majoring in?
Caroline is acting as any other college freshman would and is just showing up and hoping she can figure out what she's going to do with the rest of her life… one kegger at a time.
Will we see some parties?
There is a really fun college party in the season opener. So we get to see the girls go out for their official college experience and go to their first college party.