The Vampire Diaries Episode Eighteen Synopsis, Pictures & Soundtrack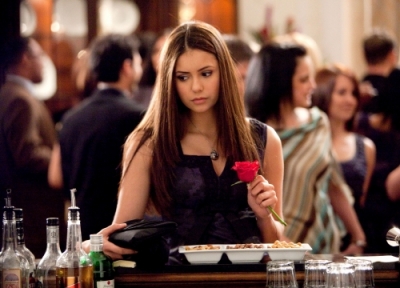 Stefan tries hard to keep his hunger for human blood with the help of exercise and alcohol. Of course, Damon is no help at all. He leaves the room and forgets his half glass of blood. Stefan fights his desire to drink it when Damon comes back in to retrieve it.
Jenna tries to get Elena and Jeremy out the door to school. Opening the front door, they all get a not so pleasant surprise when they see Uncle John there. Racing off to school, Elena and Jeremy say hello and race off. Apparently, Uncle John is not everyone's favorite uncle. Once alone, John confronts Jenna about trying to sell one of the Gilbert properties. Being the trustee for Elena and Jeremy, he tells her she has no right to sell the property and he won't allow it.
At school, Jeremy tells Tyler that he doesn't believe Vicky died from an overdose. Discussing with him the fact that there had to be another person there because Vicky was buried. There is no way a person who overdoses can bury themselves afterwards.
Damon shows up at the Founder's Hall for a town meeting. At the meeting, Mayor Lockwood informs the crowd that they are telling everyone that Vicky's death was a drug overdose and not a Vampire attack. John Gilbert steps in and tells the members that he thinks the Vampires are back. Informing them that there have been break ins at the blood bank and many people have suddenly gone missing. Having John back is definitely not making Damon happy.
At school, Alaric shows Elena the paper Jeremy wrote. It was all about Vampires. He asks her if maybe Jeremy suspects that the Vampires are real. Not having an answer, Elena talks to Stefan later about it. Stefan assures her that there is no way Jeremy would remember anything about Vicky's attack. Damon had made sure of that.
Soon, Elena and Stefan begin to kiss. Kissing a bit more passionately, Elena starts to get nervous when she notices that Stefan has become more forceful. Looking up, she can see that his face has changed slightly. Having a hard time controlling himself, Stefan jumps off of the bed in a hurry and leaves.
The next day, Elena invites Damon over to discuss what Stefan is going through. Damon hints that maybe Elena is finally seeing the real Stefan. Damon also tells her that her Uncle John is very involved with the Founder's Council and that he is stirring everyone's interest about Vampires again.
Later, Elena stops by Jeremy's room to see if he would like to go for a walk with her. On their walk, Elena let's Jeremy know that she had recently found out that she was adopted. He seems shocked but Elena assures him that he will always be her brother. Seeing the opportunity, Elena tries to find out more about his interest in Vampires. Jeremy tells her that he wrote the paper about Vampires because he was bored.
That night, Damon and Stefan arrive at the mayor's house for the Founding Father's party. Once there, Stefan heads straight to the bar. Elena shows up and sees Stefan. After talking with him, she notices that he seems a bit drunk.
Stefan surprises her by asking her to dance. Knowing that he hates dancing, he explains that it is the liquor and she should take advantage of it. Not liking the music, Elena declines. Stefan takes it upon himself and walks up to the DJ and compels him to play more upbeat music. Happy for better music, Kelly heads over and dances with Stefan instead.
Damon approaches Sheriff Forbes and compliments her on her cocktail dress. His good mood doesn't last long when she tells him that John Gilbert's claims about Vampire attacks is true. This news of course makes Damon extremely uncomfortable.
Finally getting a chance to dance with Stefan, Elena is whirled onto the dance floor. In the excitement, Stefan swirls Elena a little too much and she bumps into another dancer. The gentleman doesn't seem to find it funny. Elena tells him that she's sorry and she's a bit clumsy. He tells her to get off the dance floor than. Stefan steps in and compels the man to apologize. He does but Stefan tells him to do it again and mean it this time.
Tyler catches Matt's mom Kelly ditching her empty cocktail glass in a planter. Noticing his full drink, she grabs it and asks if it is soda. Taking a sip, she soon is happy to find out it's Vodka. With a smile, Kelly asks Tyler where the bathroom is. He decides to escort her there himself.
On the terrace, Damon tries to start a friendly conversation with John Gilbert. Soon the conversation turns to the subject of Vampires. Shocking Damon, John tells him that he knows he's a Vampire and that he was the one that set the Vampires free from the tomb. Telling him, he's wasting his time, Damon walks away. Within seconds, Damon comes back and snaps John's neck and sends him over the rail.
Tyler and Kelly begin to hit it off. They both reveal that they are lonely and have no one to talk too. The two begin to kiss. About this time, Matt and Elena step outside for some fresh air. Both of them are shocked when they see Tyler and Kelly together. Matt throws Tyler aside, making Kelly fall and hit her head. Matt and Tyler begin to fight. Alaric shows up to break up the fight.
Getting ready to leave, Stefan stops suddenly when he smells blood. He approaches Kelly in the corner and notices that there is a bloody cut on her forehead. As if in a daze, Stefan reaches down and touches the blood with his fingers. Seeing Kelly's reaction, Stefan races outside. Once in private, he tries to resist the urge but eventually, he puts his bloodied fingers into his mouth.
Back at the party, Damon gets a big surprise when he sees John Gilbert walk into the room. Approaching Alaric, he tells Alaric to look at John's ring. Apparently, they both have the same one.
Out in the parking lot, Stefan is confronted by the rude man from the dance floor earlier. He can tell the man is itching for a fight. Stefan tries to avoid him but the man is insistent. Finally, Stefan grabs the man's hand and shoves him down to the ground. Seeing his face, the man asks "what are you"?
Jeremy arrives home early from the party and uses this time to look in Elena's bedroom for any proof that she knows about the Vampires. His search pays off when he finds her diary. Opening it, he soon discovers that she wrote all about Vicky and the Vampires. He also reads that Damon had erased all his memories about Vicky and what had happened to her.
Mayor Lockwood discusses with Tyler about what had happened earlier at the party with Kelly. Tyler tries to apologize and tell his father that he was drunk. Of course, that is no excuse and Mayor Lockwood slaps Tyler across the face. He tells him that it will be the last time Tyler ever embarrasses the family again.
At Matt's house, he is packing his mother's clothes into a suit case. Kelly arrives and tells him she's sorry. He doesn't want to hear anymore about it, telling her that he is much better without her. Kelly tries to plead with him to give her one more chance but Matt demands that she be gone in the morning.
Outside the party, Alaric and Damon confront John about what he knows. John informs them that he knows more than anyone could guess. When asked about the ring, John tells him that he inherited the ring from his deceased brother. The one that was passed down to him, he gave to Isabel. Seeing their shocked faces, he tells them that he would never have given it to Isabel if he knew she would give it to Alaric. Informing them also that it was he that sent Isabel to Damon, knowing that Damon would turn her into a Vampire.
Elena finally arrives home later and gets a shock when she sees Stefan in her room. He tries to tell her that he is not doing ok and that the hunger is the worst he's ever felt before. Holding him close, Elena tries to tell him that she knows he'd never hurt her and that she loves him. Stefan soon leaves because he's afraid of what he might do.
Once at home, Damon notices that Stefan doesn't look so good. He sees that his hunger is really taking a toll on him and that this time it's much worse. Purposely leaving a glass of blood on the table, Damon tells him good night and leaves the room. Once alone, Stefan fights his urge but soon gives in and drinks down the glass of human blood.
Under Control Pictures