The Vampire Diaries Season 2 Episode 6 Synopsis, Pictures & Soundtrack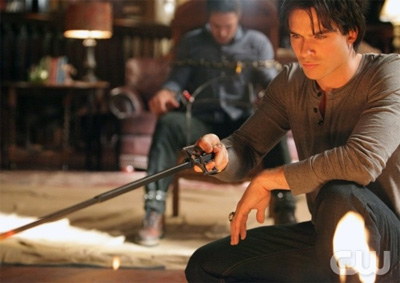 Elena and Stefan wake up together and Stefan teases her about watching him while he sleeps. Around this same time, Katherine and Mason also wake up in each others arms.
Jeremy shows up at Damon's house insisting that he can help with the Katherine situation. Damon really doesn't want Jeremy to help but Jeremy refuses to go away. Jeremy tells Damon about the moonstone and where it is. Of course, this does peak Damon's interest.
At the Lockwood's, everyone is volunteering to help set up for the Lockwood's annual masquerade ball. Elena sees Bonnie and approaches her. Bonnie is upset that Elena has chosen to take Caroline's side instead of hers. Bonnie is having a difficult time letting Caroline back into her since she is now a Vampire.
Caroline visits her mother down in the Salvatore basement and sees that as usual, her mother hasn't eaten and refuses to talk to her. On her way out, Caroline tells her mother "it's not like I dies or anything". This makes Liz think twice and ask Caroline "you really are dead"? Caroline comes back into the room and the two finally begin to talk.
Alaric shows up at Damon's house with a box of research items that might be useful with Mason. They discover that the curse stated as an Aztec legend. A witch put a spell on the stone that makes the person turn into a werewolf during a full moon. They now know they will need Bonnie to break the spell.
Elena pulls Bonnie aside to talk more privately about exactly what's been going on with Katherine and Caroline. Elena hopes that maybe now Bonnie can try and give Caroline another chance and be her friend.
Arriving to help for the ball, Mason is quite shocked when he sees Stefan there and not destroyed. Mason asks if Sheriff Forbes is ok and Stefan tells him that she is fine. Stefan informs him that from now on, he will have to do his own dirty work. On his way to leave, Mason accidently bumps into Bonnie. Stefan immediately sees that Bonnie senses something. Questioning her, he finds out that she saw Mason kissing Mason. Stefan realizes that it was Katherine and not Elena Bonnie saw.
Jeremy approaches Tyler to try and find out if he could borrow the stone. Tyler tells Jeremy that he gave the stone to Mason. When asked why he did, Tyler tells Jeremy that he was tired about hearing about legends and curses.
Stefan and Damon bring Bonnie off to the side to try and get her to help them with Mason. At first she refuses but finding out that it will in the end protect Elena, Bonnie agrees. A moment later, Bonnie tries to appear as though she is having trouble getting a table down from a truck so that Mason will come over to help. Once Mason is next to her, Bonnie uses her abilities and soon Mason is grabbing his head in pain. Damon and Stefan step in to help put him into the truck and they drive off.
In the basement, Caroline opens up to her mother and tells her all that has happened. She is even explains to her mother that she has a desire to kill but with Damon and Stefan's help, she is managing that desire.
Back at the Salvatore house, Bonnie reluctantly helps Damon tie up Mason. Bonnie begins to lay her hands on his head and try to read his thoughts. She soon discovers that the moonstone is hidden in a well on the Lockwood property. On her way out, Bonnie bumps into Caroline. Not knowing what to say, Bonnie prepares to leave but seeing Caroline's face, Bonnie decides to invite with her to look for the well.
Damon begins to use a hot poker to encourage Mason to tell him everything about what Katherine wants with the stone. Mason doesn't answer him and Damon continues with the hot poker.
After receiving a text about where the stone is, Stefan and Elena head over to the well. Once there, Stefan jumps down into the deep well. Immediately, he recoils in pain. The well is full of verbena. Stefan tries hard to scream to Elena what has happened. Thankfully, Caroline has just arrived.
Jeremy shows up at Damon's house again and tells him that he has found something that might help with Mason. Jeremy shows Damon the wolfsbane and tells him that it is toxic to werewolves. Of course, Damon waste no time using it on Mason. Seeing Mason's harsh reaction to the plant, Jeremy turns away in disgust.
Caroline lowers Elena into the well to get to Stefan. Once down there, Elena sees that Stefan is in very bad shape. She hooks the chain around him and Caroline begins to bring him back up. Elena stays behind to try and locate the moonstone. She finds it but she also finds a lot of very wicked looking black snakes. She screams for Caroline to bring her up before she is bitten.
After Damon's talents with interrogation, Mason begins to tell him what he wants to know. Mason tells Damon that he is giving the stone to Katherine so she will use it to break the curse. Making Damon laugh, Mason also shares with Damon that he and Katherine love each other.
Damon informs Mason that Katherine only loves herself but Mason refuses to believe it. Damon tries to tell Mason that Katherine only uses people to get what she wants. To Mason's shock, Damon tells him that Katherine will only rip out his heart when she's finished with him. Damon, being Damon decides to rip out Mason's heart first.
Back at Elena's, Jenna and Alaric are enjoying cooking dinner together. Alaric sees Elena come in and notices she seems upset. Asking her if everything is ok, Elena tells him she's fine and proceeds to go up stairs.
In the Salvatore basement, Caroline tells her mother everything that had just happened with Stefan. Her mother just stares at her and is amazed at how strong she has become and begins to see her daughter in a whole new light. Liz tries to convince Caroline not to compel her. Telling her that she will keep her secret. As much as Caroline wants to trust her mother, she knows she can't because Stefan and Damon would also be in danger. Seeing no other way, Caroline begins to compel her mother and sets things right again.
Using Mason's phone, Damon poses as Mason and texts Carol Lockwood that he has decided to go back to Florida and he will send for his things later. Finishing up, Damon calls the last number dialed against Stefan's wishes, knowing it will be Katherine. When Katherine answers the phone, Damon boasts to her that her lover Mason is now dead.
Elena comes down to finish helping with dinner. She sees Jenna on the phone and asks Alaric if he knew who it was but he doesn't. A moment later, Jenna hands the phone to Elena and she hears Katherine's voice.
Katherine also lets Elena know that she knows about her fake break up with Stefan. Katherine informs her that she has been compelling Jenna and that she can get anyone anywhere to do what she wants. Proving her point, Elena looks over and sees Jenna grab the butcher knife and plunge it into her chest. Elena looks on in horror.
Later, at the hospital, Jeremy and Elena are relieved to find out that Jenna is going to be ok. Embracing each other for comfort, Jeremy swears to Elena that he will make Katherine pay for this.
While Stefan is standing near his fire place, he sees Elena approach and already knows what she has to say. After this last attack against Jenna, they know they have to break up for real. Knowing that Katherine is a huge threat, they must stay away from each other. Crying, Elena leaves but Damon stops her on her way out. He sees her tears and tries to apologize for getting Katherine mad and possibly causing this revenge.
Back at the B&B, Katherine is already setting her next plan into action. She now has Matt in her room and he has been compelled by her. Telling him that she needs another werewolf, he will now have to keep going at Tyler until he snaps and ends up killing him in the process. After killing Matt, Tyler's curse will now be activated.
Plan B Pictures