The CW has released stills for episode 6.16 of The Vampire Diaries titled, The Downward Spiral. The episode airs March 12th and is directed by Ian Somerhalder! Caroline has flipped the switch and she looks amazing!
For this week's The Vampire Diaries rehash we have a special host..Malese Jow. Watch the video above for a recap of last week's very moving episode of the show titled, Let Her Go. Avoid the video if you haven't seen the episode yet are you will be completely spoiled!
The Vampire Diaries returns with all new episodes Thursday, March 12th. The Episode is called The Downward Spiral. Bonnie's back and Caroline has flipped the switch…should make one crazy episode.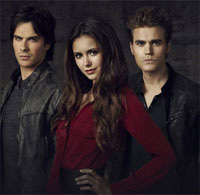 The CW has released a synopsis for episode 6.16 of The Vampire Diaries titled, The Downward Spiral. The episode is directed by no other than Ian Somerhalder.
IAN SOMERHALDER MAKES HIS DIRECTORIAL DEBUT — After shutting off her humanity following the death of her mother, Caroline (Candice Accola) gives her friends an unexpected ultimatum. Not knowing how to handle the new Caroline, Stefan's (Paul Wesley) attempt to intervene sets off a dangerous chain of events, leaving him and Elena (Nina Dobrev) in a race against the clock. Meanwhile, after seeking answers from Kai (guest star Chris Wood) about the prison world, Damon's (Ian Somerhalder) world is turned upside when he learns some devastating news about his mother Lily (guest star Annie Wersching). Elsewhere, Enzo (Michael Malarkey) finds himself becoming increasingly intrigued by Sarah Salvatore (guest star Tristan Mays), and Bonnie (Kat Graham) begins to struggle with the effects of being back in the real world.
A new episode of The Vampire Diaries airs tonight on the CW at 8 pm.
Watch the video above for a preview of the episode which is titled, Let Her Go. Then head on over to our episode guide to check out the official synopsis and stills for the episode.
After watching the episode head back here and let us know what you think in the comments. Share your views and see what other fans have to say.
Also if you aren't already follow us on Facebook and Twitter to keep up to date on all our latest posts for all your Vampire Diaries news!
Got a few interviews here for you with the charming Candice Accola. She talks about Caroline's emotional journal after the loss of her mom, Bonnie's return, Steroline and that kiss and much more. Just click on the links below to see what she has to say.
TV Guide: The Vampire Diaries' Candice Accola: Caroline's Devastating Arc Has Been Gratifying, But Exhausting
TV Line: Vampire Diaries' Candice Accola Breaks Down Stefan and Caroline's First Kiss, Previews What's in Store for Them
E! Online: Candice Accola Warns The Vampire Diaries Is About to Get More Emotional: "Thank God For Waterproof Mascara!"
MTV: Candice Accola Dishes On Steroline, Klaroline, And Tonight's Emotional 'Vampire Diaries' Funeral
Movie Pilot: The Vampire Diaries' Candice Accola Talks Slow Burns and What Elena Thinks.