Enjoy the trailer for episode 6.04 of The Vampire Diaries, titled Black Hole Sun. Sorry it took so long for me to get this posted. I was out of town and forgot to post this before I left. Check out stills and a synopsis for the episode over at our episode guide. This is the 90′s flashback episode I've been waiting weeks to see. I'm so excited

A new episode of The Vampire Diaries airs tonight on the CW at 8 pm.
Watch the video above for a preview of the episode which is titled, Welcome to Paradise. Then head on over to our episode guide to check out the official synopsis and stills for the episode.
After watching the episode head back here and let us know what you think in the comments. Share your views and see what other fans have to say.
Also if you aren't already follow us on Facebook and Twitter to keep up to date on all our latest posts for all your Vampire Diaries news!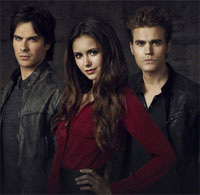 The CW has released a synopsis for episode 6.06 of The Vampire Diaries titled, The More You Ignore Me, The Closer I Get. Looks like we are going to be getting some more background information on some of the new characters who have joined the show this season. Can't wait to get some scoop on Jo, Tripp and Sarah.
A RESCUE IN THE NIGHT — When Alaric (Matt Davis) realizes that Jo (guest star Jodi Lyn O'Keefe) can't be compelled, he asks Elena (Nina Dobrev) to do some digging into her background. After learning that Enzo (Michael Malarkey) has been captured by Tripp, Caroline (Candice Accola) teams up with Matt and Stefan (Paul Wesley) to rescue him before Tripp learns their true identities. Armed with some new information about her past, Sarah (guest star Gabrielle Walsh) breaks into Tripp's (guest star Colin Ferguson) office and is surprised when she finds Matt (Zach Roerig) there, doing some investigating of his own. Meanwhile, Elena is forced to deal with the consequences of her actions, and Jeremy (Steven R. McQueen) hits rock bottom, lashing out in a destructive way. Lastly, Damon (Ian Somerhalder) is determined to take matters into his own hands when he receives some upsetting news.
The CW has released some additional stills for episode 6.05 of The Vampire Diaries titled, The World Has Turned and Left Me Here. Check them all out in the gallery below. Most of the stills feature Alaric and his potential love interest Jo bloody in a creepy corn field. That should of been their first clue. Never go into a corn field ever! Nothing good comes from it. Oh and there's one of Caroline in a towel standing in front of Stefan. I'm just saying



The Vampire Diaries executive producers Julie Plec and Caroline Dries give us an inside look at the tonight's all new episode of the show titled, Welcome to Paradise.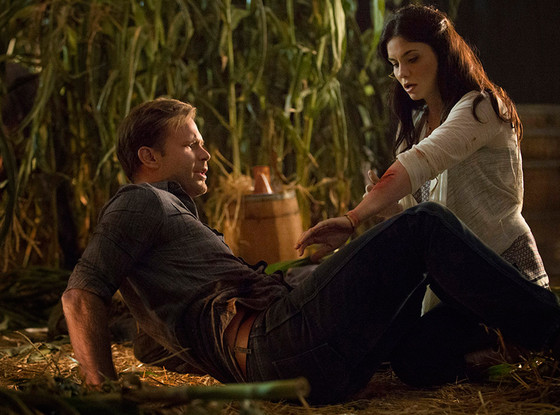 E! Online has our first look at episode 6.05 of The Vampire Diaries titled, The World Has Turned and Left Me Here.
Looks like Jo and Alaric were involved in a little altercation. It's homecoming so that means they probably won't be the only ones who are at risk. No major social gathering on this show has ever ended in anything but bloodshed.
Plus there is a corm maze involved. I mean it's a corn maze people. Have you never seen a horror movie? Never go into a corn field that's where "He Who Walks Behind the Rows" resides. (Props to anyone out there who recognizes the reference

)