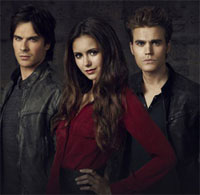 Got a few more season 6 spoilers for The Vampire Diaries for you guys to dig into. Looks like Alaric and Stefan are gonna be chasing down some new professions and Damon and Stefan are gonna be having a brotherly moment.
Spoilers from TV Guide:
Any scoop on The Vampire Diaries? — Jessica
You've probably already Season 6′s first teaser, which features Stefan telling Elena to move on. Well, there's a reason their convo wasn't face-to-face. When the season begins, Stefan will definitely not be anywhere near Mystic Falls. In fact, he will have taken up a surprising new profession in his new "home." And while we're the topic of professions, Alaric also has a new job. Hey, newly resurrected vampires have rent to pay too!

Scoop from EW:
Any word on how long until Damon's back in Mystic Falls on The Vampire Diaries? — Jenna
Since Mystic Falls is still being cloaked by the Travelers' spell that will kill any vampire who steps foot in town, probably not anytime soon. However, Damon could actually come face-to-face with someone in the land of the living fairly quickly. (And no, that's not counting Elena using some witchy drug to hallucinate him.) Ian Somerhalder teased that brother bonding isn't far off. "I had some really great scenes with Paul [Wesley] not too long ago, like last week," he says. "You definitely see some great stuff with those boys. It's good when they're not at one another's throats." So unless Stefan joins Elena's drug trip, it sounds like we could have a Salvatore reunion within the first batch of episodes.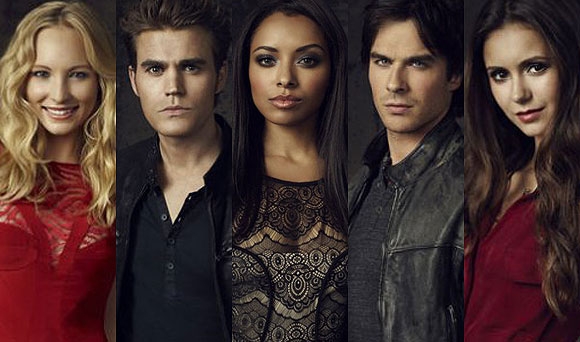 We are one month (yes only one month) away from the season 6 premiere of The Vampire Diaries! I can not wait till the new season begins and we finally get to see what all our supernatural residents are up to.
The CW released a recap of what went down in season 5 and what's about to go down in season 6. Check it all out below. It looks like it's gonna be a wild ride.
Season five of THE VAMPIRE DIARIES began with a sense of hope for Elena (Nina Dobrev). After a passionate summer with Damon (Ian Somerhalder), Elena headed to Whitmore College with Caroline (Candice Accola), not knowing that Bonnie (Kat Graham) sacrificed her life to save Jeremy (Steven R. McQueen). As Bonnie's friends fought to bring her back to life as the Anchor to the Other Side, Stefan (Paul Wesley) had to face-off with his doppelganger Silas, and a newly human Katherine (Nina Dobrev) struggled with mortality and motherhood. Damon's relationship with Elena was put to the test when Enzo (guest star Michael Malarkey), an old vampire friend from Damon's past, revealed he was still alive and looking for revenge. Stefan and Caroline's friendship deepened as they stood up to the Travelers, a nomadic witch tribe driven to strip Mystic Falls of magic and cast out its supernatural residents. Finally, with time running low until the inevitable collapse of The Other Side, Damon and Bonnie made the ultimate sacrifice in order to bring back their friends.
Now, months after this devastating tragedy, everyone is dealing with the loss of their loved ones in different ways, some more destructively than others. What happened to Bonnie and Damon, and if they can even be saved, remains a mystery. Meanwhile, their beloved hometown of Mystic Falls continues to be a magic-free zone, protected by a mysterious new community watch program. If there's any hope of salvaging their former lives, our heroes must find a way to push through their grief and band together. This season will explore themes of loss, denial and what it means to move on in the face of immortality, ultimately begging the age-old question – can you ever really go home again?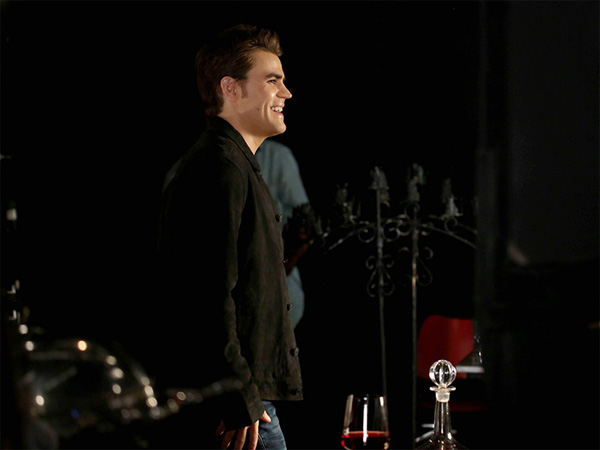 We got a new BTS promotional photo from season 6 of The Vampire Diaries thanks to Facebook and this one features a smiling Paul Wesley. Just got a side view of the actor, but I love the set up so I'm hoping the final product is gonna look fantastic.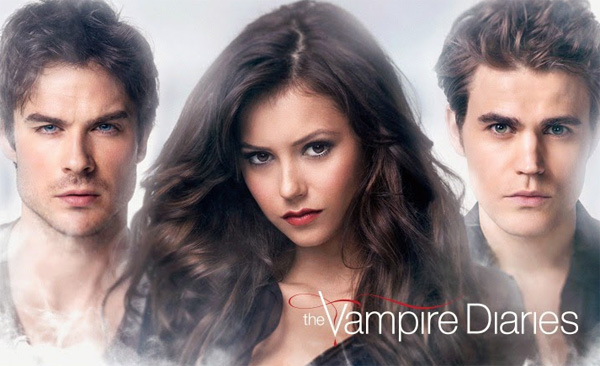 The Vampire Diaries returns for it's sixth season on Thursday, October 2nd at 8 p.m. on The CW and I for one can't wait. Actress Nina Dobrev and executive producer Julie Plec gave E! Online a little scoop on what we will be seeing once the show returns. They talk about Damon and Bonnie's little "predicament" and how Elena is handling losing her man and best friend in one swoop! Get the details here.
Check out the video above to see Candice Accola play a very fun game of CWestionator. Candice is the first participant of TVD CWestionator where she gets to answer random questions including what her doppelgänger name might be!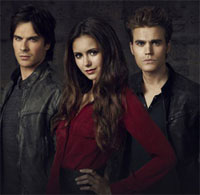 EW has some season 6 Delena scoop from The Vampire Diaries executive producer Caroline Dries. Even with Damon in 'who knows where' we will still get our treasured Delena moments

Any spoilers on The Vampire Diaries' Delena y'all can share would be delightful! What can Delena fans look forward to season 6? — Margarita
Considering that Damon is stuck, well, wherever he is, getting back to Elena isn't going to be easy. However, when my colleague Samantha Highfill asked executive producer Caroline Dries about potential Delena flashbacks to hold the fans over, she promised there will be something for the 'shippers. "I've been getting all of these hate messages like, 'You think you can do a season without Delena? You're crazy,'" Dries says. "The fans have nothing to worry about. We know what we're doing. Nobody's going to abandon any love triangle. Everything will be fine. There will be plenty of Delena goodness for people." So now the question is: Will it involve rain?