Season 1 » You're Undead To Me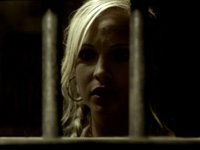 Weakened from the Verbena, Damon wakes up in the basement. Stefan is there to inform him that he intends to keep him there until he becomes almost a corpse or a "undead" corpse. Then he will transfer him to the family burial plot where he will spend eternity.
Elena gets a shock when she enters her bathroom and sees Vicky brushing her teeth. She realizes that Vicky spent the night with Jeremy. She confronts her Aunt Jenna about it but she seems fine with it. Aunt Jenna asks Elena about Stefan and Elena tells her that she hasn't heard from him in a few days. She decides not to dwell on it and heads out to school.
Elena gets another shock when she sees Caroline at school and acting like nothing happened. She doesn't understand because at the party, she confronted Caroline about all the bite marks and bruises on her body. Now, Caroline is back at school acting like nothing happened and she passing out fliers about a charity car wash called "Sexy Suds".
Back at the Salvatore house, Zachary lets Damon know that it would be no good for him to drink his blood because he's been putting Verbena in his coffee for the past 16 years. After saying his "final" farewell, Zachary turns to leave but is suddenly grabbed against the bars by Damon. Luckily, Stefan was there just in time to save him.
Waiting for Stefan at the Mystic Grill, Elena begins to get frustrated again because Stefan is an hour late. This was supposed to be the time Stefan was finally going to explain his past to her. Moments later, Stefan shows up. Suddenly an elderly gentleman steps up and tells Stefan that he "knows' him. Stefan denies that he knows him at all. This gentleman seems so sure and tells Stefan that "he hasn't aged at all". Of course, this makes Elena more suspicious of Stefan.
Laying on her bed feeling confused, Elena tries to figure out what's going on with Stefan. Seeing her down, Jeremy steps into her room and tells her that she should eat because it will make her feel better. Agreeing, Elena heads on down to the kitchen. Stepping in the kitchen, Elena is surprised to see Stefan in there preparing her favorite meal. While he cooks, Stefan opens up and discusses some of his past with her. While she cuts up the garlic, the knife slips and she cuts herself. Seeing the blood, Stefan's face begins to change slightly and Elena comments on it. Saying nothing's wrong, Stefan changes the subject and continues cooking.
Vicky joins Jeremy upstairs in his bedroom and she wants to get high. She finds Elena's prescription pills and cuts a few of them up. This of course upsets Jeremy because all he feels they do is get high and he wants more out of the relationship.
While Caroline is in her room, she gets a sensation that someone is calling her. She just shakes off the strange feeling, not really understanding it. Turning around, she sees a crow on her window sill and "shoos" it away.
At the car wash, local news reporter Logan has his camera team covering the event. Jenna steps forward and thanks him for the dinner the night before. It seems like their relationship is being rekindled. Proceeding slowly this time since Logan hurt her many years before.
Caroline heads into the school to get more dry towels when once again she gets the sensation that Damon is calling her. This time she heads out to where his voice is leading her. Caroline enters the Salvatore house and heads down to the basement. There, she sees Damon and doesn't understand why he's locked up. He convinces her to unlock the door but soon regrets it. Zachary steps in to help but it's too late. Damon pushes him down and he heads out to find Caroline. Running out of the house into the light, Caroline is lucky because Damon can't come into the sun. She manages to get away unhurt.
Collecting the money for the car wash, Elena sees the older man that she met the night before. She questions him about how he knows Stefan. He tells her that he used to live at the Salvatore boarding house. He also tells her that he saw Damon and Stefan briefly back than after the murder of their Uncle Joseph. Joseph had been attacked and killed at that time and it was in June, 1953.
Walking over to where her aunt Jenna and Logan are talking, Elena asks Logan a huge favor. She needs to use the archives at the TV station to research her "homework". Trying to stay in Jenna's good graces, Logan quickly agrees to help.
Alone in the archives at the station, Elena searches for any articles about an attack in 1953. Finding what she was looking for, Elena watches a video about the mysterious attack and is shocked when she sees Stefan's image. He looks exactly the way he does now but the date was indeed June 1953. Now, Elena is even more confused and frightened.
Cleaning up at the car wash, Bonnie enters into a semi-trance while she looks at a big puddle by a car. Staring at it intensely, she makes the water turn into fire. She stays mesmerized until Stefan steps in and snaps her out of it. Knowing that he saw what just happened, she has him promise not to tell anyone else. He quickly agrees. Scared, Bonnie heads over to her grandmother's house.
Vicky takes Jeremy to the cemetery where her friends are partying. Jeremy is ok with it until he sees that Vicky had brought Elena's prescription pills with her. He is quite upset and snatches the pills back. Storming off, Jeremy tells her that her friends are a bunch of losers and she doesn't have to be like this. Vicky decides that he must think she's a loser to. She tells him that she doesn't need anyone to make her feel bad about herself and walks back to the party.
Stefan arrives home to find that Zachary has been killed and that Damon is once again free. Later at the party, Vicky hears the radio turn off and heads over to the truck to turn it back on. She hears a man coughing and steps closer to help. Realizing too late that it was Damon. Damon grabs her and begins to drink her blood savagely.
Seeing an opportunity to search for the antique watch while Jenna gets some wine, Logan heads up to Jeremy's room to look for it. Once he finds it, he turns around and sees Jeremy standing there. Jeremy asks him "what he's doing in his room "? Logan answers quickly and tells Jeremy he was "looking for the bathroom". Of course, Jeremy doesn't believe him.
Alone, Elena thinks back to all the strange things she noticed with Stefan. Thinking about his quick healing, his face changing and his ability to not age, she only has one conclusion…that he's a Vampire.
You're Undead To Me Pictures