Season 3 » Heart of Darkness
The Vampire Diaries Season 3 Episode 19 Synopsis, Pictures & Soundtrack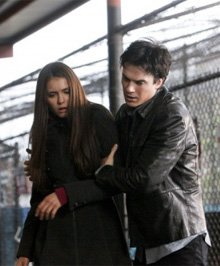 Elena arrives at the cell located in the Salvatore basement to bring Alaric some much needed supplies. Elena tries to tell him that being locked up all alone may not be the answer. Alaric however feels that it is very much needed. He tells her that until his crazy alter ego makes an appearance and tells them where the last white oak stake is, it I better for everyone that he stay locked up.
Alaric doesn't look too pleased when he finds out that Elena and Damon were taking off to Denver together to pick up Jeremy. Elena explains to Alaric that it was all Stefan's idea. He knew they had unresolved feelings and they needed to be worked out.
Caroline arrives at the school gym and is not too pleased when she sees the Decades Dance being decorated for a Roaring 20's theme. Rebecca shows up and tells her that Caroline's idea of a 70's dance would have been too boring. She even manages to get Matt to agree with her. Seeing Matt on Rebecca's side becomes too much for Caroline and she walks out of the gym fuming.
Matt runs after her and meets her at her car. The two smile at each other and congratulate one another for their perfect performance. Now this will give Caroline a chance to search for Tyler without Rebecca checking up on her.
Stefan arrives with a bottle of whiskey to help Alaric pass the time and hopefully pass out. Later, they get an unexpected visit by a very impatient Klaus. Stefan explains to Klaus the situation regarding Alaric and his alter ego. Not wanting to waste time in waiting for Alaric to pass out, Klaus snaps his neck.
Elena and Damon arrive at the batting cages where Jeremy was hanging out. He is surprised to see them and they soon explain to him why they are there. They need him to contact the spirit of Rose so they could find out who Sired her.
Jeremy tells them he will help but they are soon joined by Jeremy's friend. Looking to see who it was, they are shocked to see it was Kol. Grabbing up a bat, Kol begins to attack Damon. Grabbing the broken bat, Damon plunges it through Kol's chest. They all take off.
They all soon arrive at a motel for the night. Once situated, Damon begins to talk about his last few moments with Rose. He talks about how he compelled her into a fantasy so the pain of her death would not be bad. Soon, Rose appears to Jeremy.
Walking through the woods, Caroline stops suddenly and looks around her. Smiling, she turns around and Tyler is standing there. Telling her how happy he was to see her, the two embrace and head back to the cavern underground.
Matt arrives at Rebecca's home to drop her off. Looking at him, she tells him that it is hard for her to believe that he is just being nice to her and that he didn't want anything from her.
Smiling up at Matt, Rebecca jumps out of his truck and heads into the house. Walking into the living room, she is shocked when she sees her mother Esther standing by the fireplace. Grabbing her by the throat, Rebecca asks her why she shouldn't kill her. Her mother replies that she was dying.
Jeremy begins to talk with Rose. Rose tells him to tell Damon that she missed him and that she was rooting for him and Elena. Jeremy is not too happy about this news. Speaking to her further, he discovers that she was sired from a woman named Mary Porter. Damon says great and calls her "Scary Mary".
Alone with her mother, Rebecca listens as her mother tries to explain why she wanted to destroy the family. Esther tells her that she did watch over Rebecca from the other side but that it was not right that they all lived for 1,000 years.
Taking Rebecca's hands into her own, Esther begins to shake slightly and falls to the ground. At this moment, Klaus walks in and Rebecca looks up and tells him that Esther was dead.
Laying down together, Tyler tells Caroline that he wasn't worried about Klaus anymore. Saying that he hasn't felt this free since he left the Appalachian mountains. Not wanting to change his mood but knowing she had to tell Tyler, Caroline explains to him about what Stefan and Damon had discovered. If they discover that they were not sired by Klaus, they were going to kill Klaus.
Finishing up in the shower, Damon pours himself a drink. Looking at Elena laying in her bed, he sees that she has been watching him. Seeing it as an invitation, Damon walks over to the bed and lays down next to her.
Looking closely at him, Elena asks him why he never lets people see his softer side. He tells her if he does, then people will expect too much of him. Better to think he was a scoundrel. Turning over, soon Damon's hand comes into contact with hers.
Becoming overwhelmed, Elena gets out of bed and heads outside. Damon follows her outside but doesn't approach her. Turning around and seeing him, Elena rushes into his arms and they begin to passionately kiss. Moments later, Jeremy comes out and tells them that Rose found out where Mary Porter was.
Alaric finally awakens but unfortunately, he is just Alaric and not his psycho alter ego. Alaric tells Stefan that maybe if he attacks him, his alter ego would want to appear to defend himself. Stefan doesn't like the idea but soon he is convinced it might work.
Elena, Damon and Jeremy head to Mary's rundown mansion in Kansas. Jeremy is not too happy when they make him wait in the car. Elena and Damon walk slowly into the home and search for Mary. They are shocked when they see they are too late as they look up at Mary's lifeless body staked to the wall. The lights go on and they see Kol waiting there for them. He tells them that Klaus told him everything and why they were searching for Mary.
Damon attacks Kol but Kol is much stronger and gets the upper hand. He tells Damon that he had a score to settle with him. Knowing it to be true, Damon let's Kol attack him.
Stefan gets in one good punch to Alaric's nose and soon there is blood everywhere. Seeing Stefan's bloodlust, Alaric tells him to channel into his "Ripper" persona and to attack him. Stefan does just that and shoves Alaric across the cell. As Alaric looks up at Stefan, Stefan can see that Alaric's alter ego has finally appeared.
Alaric begins to provoke Stefan and Stefan attacks him. Soon Stefan has Alaric in a headlock and threatens to kill him. Reaching his breaking point, Alaric tells him that the stake was in the cave where no Vampires could enter. Locking Alaric back up in the cell, Stefan turns around and sees Rebecca and Klaus waiting there for him.
Recovering from Kol's attack, Damon looks at Elena and asks her why she really went on the trip with him. She confesses to him that it was Stefan's idea. That Stefan felt she had some unresolved feelings and needed to figure out what she wanted. Looking into her eyes, Damon asks if she did. Elena replies that she didn't know.
On the drive home in the rain, Damon and Elena don't speak to one another. Jeremy watches on in confusion. Soon Rose appears and tells him not to tell the others. Looking at Damon and Elena, Rose tells Jeremy that they were good for one another. That Damon challenges Elena and helps her grow. She explains to Jeremy that Elena makes Damon a better man. Stefan's love was pure and that Damon would either be the best thing or the worst thing for Elena.
Caroline tries to get Tyler settled in at her house. Telling him that her mother said he could sleep on the couch. Tyler sees a sketch on Caroline's night stand that Klaus drew for her. He asks her about it and Caroline tries to blow it off.
Tyler is not too happy knowing that Klaus has a crush on Caroline. Caroline tries to convince Tyler that there was nothing between her and Klaus. Tyler becomes angry and leaves the house.
Rebecca brings Alaric to the cave to retrieve the white oak stake. Once in the protected cave, Alaric grabs up the stake and asks why he should give it to her. Rebecca tells him that he may only want to kill one original but she wanted to kill them all. Rebecca walks into the protected cave while Alaric looks on in shock. Looking up into his face, Rebecca tells him that she was actually Esther