The Vampire Diaries Season 2 Episode 10 Synopsis, Pictures & Soundtrack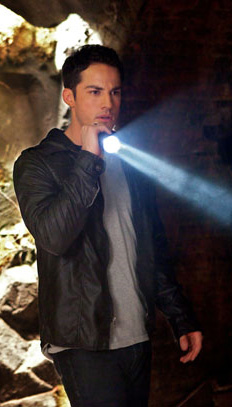 Elena wakes up to a strange noise outside of her room. Walking into the hall, she gets a big surprise when she sees it's a naked Alaric. While Alaric and Jenna awkwardly try to explain to Elena why they are naked, Dr. Martin enters Elena's room to retrieve some personal items he can use for a spell.
Damon and Stefan enter the tomb to once again try and get Katherine to turn over the moonstone. Of course, Katherine wants no part in helping them unless they break the spell on the tomb and sets her free. Later, they arrive at Elena's house to tell her that with Bonnie's help, they may be able to break the spell on the tomb long enough to get in and obtain the moonstone.
Bonnie and Luca's friendship seems to grow every day. She opens up and explains to Luca that lately the spells have been too hard on her. Grabbing her hands in his, he shows her how to channel his energy. He explains that together they can be strong.
Elena arrives at Damon's house and finds instead Rose in a short satin robe. After getting dressed, Rose finds out why Elena is there. Elena wants Rose to take her to Slater. Elena convinces Rose to help by telling her that she could get her to have the ability to walk in the daylight. Wanting that more than anything, Rose agrees to help.
Matt approaches Tyler at school and tries to apologize for starting the fight at his house. He tells Tyler that he feels terrible about it all and feels awful about Sara dying too. Matt walks away and Caroline joins Tyler. She tries to find out what Tyler is going to do since it was almost the full moon. Convincing him that he needs her help, Caroline feels somewhat relieved.
Bonnie agrees to help Damon and Stefan break the spell on the tomb long enough to get them in there to retrieve the moonstone. Jeremy of course is upset because he knows that it will be too much for Bonnie.
Rose and Elena arrive at Slater's house and soon discover he is dead. They also discover that Slater's girlfriend is there hiding. Knowing that she was only with Slater so that he would turn her, Rose and Elena use that information to their advantage. Elena tells Alice that if she helps them access Slater's computer, Rose will turn her. Once the files have been accessed, Elena has Alice send an e-mail to another Vampire, telling him that the doppelganger was there and she is ready for them to take her to Klaus. Rose becomes quite upset when she realizes that this was a suicide mission.
Tyler takes Caroline to the old tomb to show her where Mason used during his transformation. While there, Caroline discovers a journal from Mason. The journal chronicled Mason's every step during the transformation. Inside the journal, they also find a memory card.
Jeremy to convince Bonnie that she is not strong enough to carry out this spell. Bonnie of course will not listen. After they have done the spell and have the ashes from Katherine's picture, Bonnie turns her back to retrieve something to put the ashes in. While her back is turned, Jeremy places some of the ashes in his wallet so that he can go to the tomb and grab the moonstone himself.
Jeremy arrives at the tomb and throws the ashes into the tomb, allowing him to enter the tomb and get the moonstone. Of course, Katherine grabs him and begins to feed but not before he is able to throw the moonstone out of the tomb.
Damon receives a call from Rose telling him where they were and what Elena had planned on doing. Leaving Bonnie and Stefan to handle Katherine, Damon heads over to Slater's house. Bonnie and Stefan enter the tomb and discover the moonstone already outside the tomb and Katherine holding Jeremy like a rag doll.
At Dr. Martin's house, he uses the items collected from Elena's bedroom and takes Elijah's hand to begin the spell. Within seconds, Elijah has a vision where Elena is and he heads on out.
At Tyler's house, Caroline and him watch the tape of Mason's transforming into a werewolf. Seeing the pain Mason goes through, Tyler becomes frightened. He now knows what is in store for him.
Damon shows up at Slater's to take Elena home but she refuses to leave. Minutes later, 3 Vampires show up to take Elena. Surprising them all, Elijah appears and kills all three Vampires. He then surprises Damon and Elena by leaving just as fast as he had arrived.
Back at the tomb, Bonnie channels Luca's energy to try and get Jeremy out but she ends up passing out. Taking matters into his own hands, Stefan races into the tomb and tosses Jeremy out. Now he too is locked in the tomb with Katherine.
Later at Dr. Martins home, Elijah explains to him why he didn't kill Damon. He tells him that he wants Elena alive and safe. He knows that Damon and Stefan would die trying to protect her.
Back at home, Jeremy is upset that Bonnie risked her life tonight. Seeing the look in his eyes, Bonnie tells him that he can't have those feelings for her. Damon arrives and they tell him what happened at the tomb. Damon races to the tomb and promises Stefan that he will get him out.