Season 2 » Brave New World
The Vampire Diaries Season 2 Episode 2 Synopsis, Pictures & Soundtrack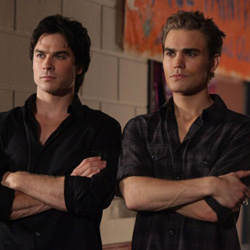 Caroline wakes up suddenly and has is strangely starved. Caroline asks the night nurse if she can have something to eat. The nurse informs her rudely to get back to her room. Before going, Caroline smells something and questions the nurse about the odor. Once again the nurse tells her to go back to her room. Once the nurses back is turned, Caroline heads over towards the smell. It's a blood bag and once again the nurse scolds her about being out of her room. Finally back in her room, Caroline pulls out the blood bag and begins to drink.
Bonnie and Elena are busy trying to set up for the Mystic Falls HS carnival. Bonnie tries to discuss what happened with Katherine and the fact that Damon killed Jeremy but Elena doesn't want to discuss it at all. They both decide to try and focus on making the carnival a success.
In the hall way at the school lockers, Stefan approaches Jeremy and gives him a small bottle of Verbena. Stefan explains what the Verbena will do and he also gives him a crash course on how to take down a Vampire.
Elena joins Stefan and tells him that she just wants to have a normal day and enjoy the carnival. She explains to him that she just for one night wants to be a normal couple. Maybe even ride the Ferris Wheel and once they are at the top, they could kiss.
At the Lockwood's, Mrs. Lockwood explains to Damon that until the election for Mayor, she will be stepping in. She will not have time to lead the council and asks Damon if he could. Damon of course agrees to the new position.
Damon sees Mason and Tyler come in the front door from playing basketball and tries to listen to their conversation. Mrs. Lockwood gets up to close the office door but that doesn't stop Damon from being able to listen in. He hears Mason talk to Tyler about his sudden outbursts and not being able to control his rage sometimes. Mason tries to give him pointers on how to control it.
At the hospital, Caroline is scared when she discovers that any amount of sunlight hurts her skin. Matt stops on by and tells her she should open her curtains. Caroline races out of bed to hide from the light and demands that he close them again. Not understanding Caroline's mood, Matt leaves.
Damon tells Stefan that he suspects that the Lockwood's have a family secret. Damon tells Stefan that he believes they are some kind of supernatural creatures. Stefan of course really doesn't believe anything Damon says.
Caroline quickly dresses to escape the hospital. Putting her necklace from Elena on, Caroline soon feels a sudden burning sensation. Not understanding, Caroline throws the necklace containing Verbena on the floor. Suddenly, she feels a weird sensation around her eyes and in her mouth. Looking in the mirror, Caroline is horrified when she sees fangs coming in.
Hearing her scream, the nurse stops on by and Caroline grabs her by the neck. Discovering her new power of compelling people, Caroline soon gets the nurse to calm down and Caroline sinks her fangs into her neck.
The carnival is in full swing and Bonnie and Elena make sure everything is running smoothly. Seeing one of the carnival maintenance men named Carter, Elena has Bonnie go with him to show him the broken karaoke speaker. Since Carter is cute, Bonnie leaves with a smile on her face.
Tyler enters his father's study and sees Mason searching all over for something. Tyler questions him and finally Mason tells him that he is looking for a family artifact. He explains that it is a worthless moonstone. Tyler tells him that he hasn't ever seen it and they both leave for the carnival.
Damon approaches Jeremy at a snack booth and sees that Jeremy is feeling pretty cocky now that he has the special ring on. Damon doesn't appreciate Jeremy threatening him with exposing to everyone what he is so he drags Jeremy off to the side. He soon shows Jeremy that ring or no ring, he can easily kill Jeremy.
Later, Damon and Stefan look on as one by one Tyler beats people at arm wrestling. Finally his Uncle Mason shows up and challenges him. Mason soon wins. Asking who's next, Damon volunteers Stefan. Sitting down, Stefan soon finds himself quickly beat by Mason. Walking back to Damon, he tells Damon that Mason was extremely strong and he is not what he appears.
Knowing now that they might be dealing with a supernatural, Damon compels Carter to start a fight later with Tyler. He wants to see what Tyler does when he is provoked and to see if Mason will step in and display any unusual powers.
Walking down a deserted school hallway, Damon is confronted by Caroline. She tells him that she knows everything he did to her. Damon tells her that it is impossible for her to remember unless she's a Vampire. Damon soon realizes that Katherine has turned Caroline. Caroline walks closer to Damon and tells him that she has a message from Katherine.."Game On". Caroline turns to leave and Damon tries to stop her. He is quickly tossed aside.
Damon tells Elena that it is urgent and he needs to talk to her. Seeing that he is serious, Elena goes with Damon. Back in a class room, Damon explains to Stefan and Elena just what Katherine has done. Damon tells them that they must kill Caroline but Elena and Stefan both agree not to.
Stefan watches on as Carter bumps into Tyler in the parking lot. Tyler tries to tell Carter to back off but Carter continues to provoke Tyler. Soon the two are fighting. Suddenly Mason appears and tries to stop the fight. Carter doesn't listen and continues on. Mason jumps over cars and tries to help Tyler. Tyler looks up and is shocked to see Mason's eyes change to a different color. Tyler and Mason take off and Stefan steps in to help Carter.
Crying alone, Caroline sees Carter wiping up his bloody nose. Asking if she's ok, he soon gets more than he bargained for. Caroline jumps him and begins to feed off of him. Not being able to control herself, Caroline ends up killing him.
Pulling one of the tents sharp spikes up, Damon comes closer to Caroline. Seeing Carter's lifeless body, Caroline asks Damon for help. Damon tells her that he can help her but it means that he must kill her. Luckily Stefan and Elena arrive. Bonnie also arrives and is horrified to see that Caroline has become a Vampire. She of course believes that it is all Damon's fault. Stefan pulls Caroline aside to go get her cleaned off.
Back at home, Tyler tries to confront Mason about what he witnessed in the parking lot. Mason denies that anything unusual happened and walks off. Once alone, Tyler heads over to his father's office and opens up the floor safe. He soon discovers the moonstone Mason was looking for. Putting it in his pocket, Tyler closes up the safe.
Blaming Damon for what has happened to Caroline, using her powers, Bonnie soon has Damon on the ground clutching his painful head. She than has a river of gasoline heading towards him. Elena watches on in horror as Bonnie sets the gas on fire. She screams for Bonnie to stop when she sees the fire reach Damon. Elena jumps over the fire and shakes Bonnie out of her trance. The fire stops and Damon is ok.
Later, fixing himself a drink, Damon is surprised to see Jeremy waiting for him. Before he takes a sip, Jeremy confesses to putting Verbena in it. Jeremy even shows Damon the wooden stake he was going to use on him but has decided against it. Soon, they both begin to talk about their fathers and their hatred of Vampires.
Matt climbs in Caroline's window to surprise her but is surprised instead when he sees her standing there waiting for him. Not wanting him to see her like she is, Caroline tries to get him to leave. He explains that even though she's acting a bit strange, he has found out that he truly loves her. Fighting back the urge to feed like Stefan showed her, Caroline hugs Matt back.
In another window, Stefan climbs in and asks Elena to come with him. He surprises her when they are back at the carnival. He told her that he promised her a Ferris Wheel ride. Holing her close, Stefan flies up with her until they are seated. Once there, he turns to give her the kiss he promised her.